Casnin's Ice Candy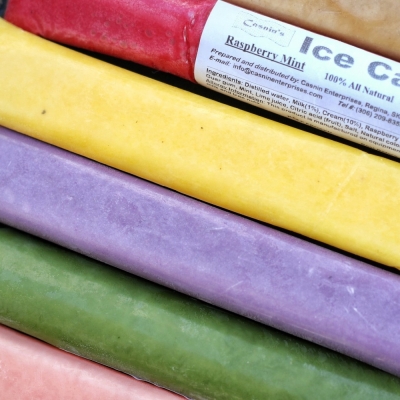 Regina, Saskatchewan, Canada
(306) 209-8355
---
---
Market Attendance:
outdoor - most Wednesdays & Saturdays
indoor - does not attend
---
Erlinda, of Casnin's Ice Candy, decided to start a new business by introducing one of her grandma's favorite frozen snacks and the all time favorite Filipino summer treat to beat the heat in the Philippines.
People of all ages (especially school aged children) continue to be on the lookout for a delicious frozen snack with unique flavours, that are also healthy. Casnin Enterprises would like to introduce Casnin's Ice Candy (commonly called freezer pops in Canada) that are made from natural ingredients.
Ice Candy flavours are made from combining either fruit or vegetable purees with herbs and spices, or a unique take on coffee and tea. The company is focused on providing an alternative to freezer pops for children and adults that are made of natural ingredients.
To start, the company has created 4 product lines and 6 flavours:
Fruit

- Raspberry Mint

- Four Seasons (Guava, Pineapple, Mango & Orange)

Vegetable

- Purple Yam with Coconut

- Sweet Corn with Cinnamon

Coffee/Chocolate

- Coffee Crumble

Tea

- Matcha with Almond Milk
Photos