Holiday Night Market (LOCATION CHANGE!)
Nov 29, 2018
---
---
50.4434577;-104.58663239999998;445 14th Avenue, Regina, SK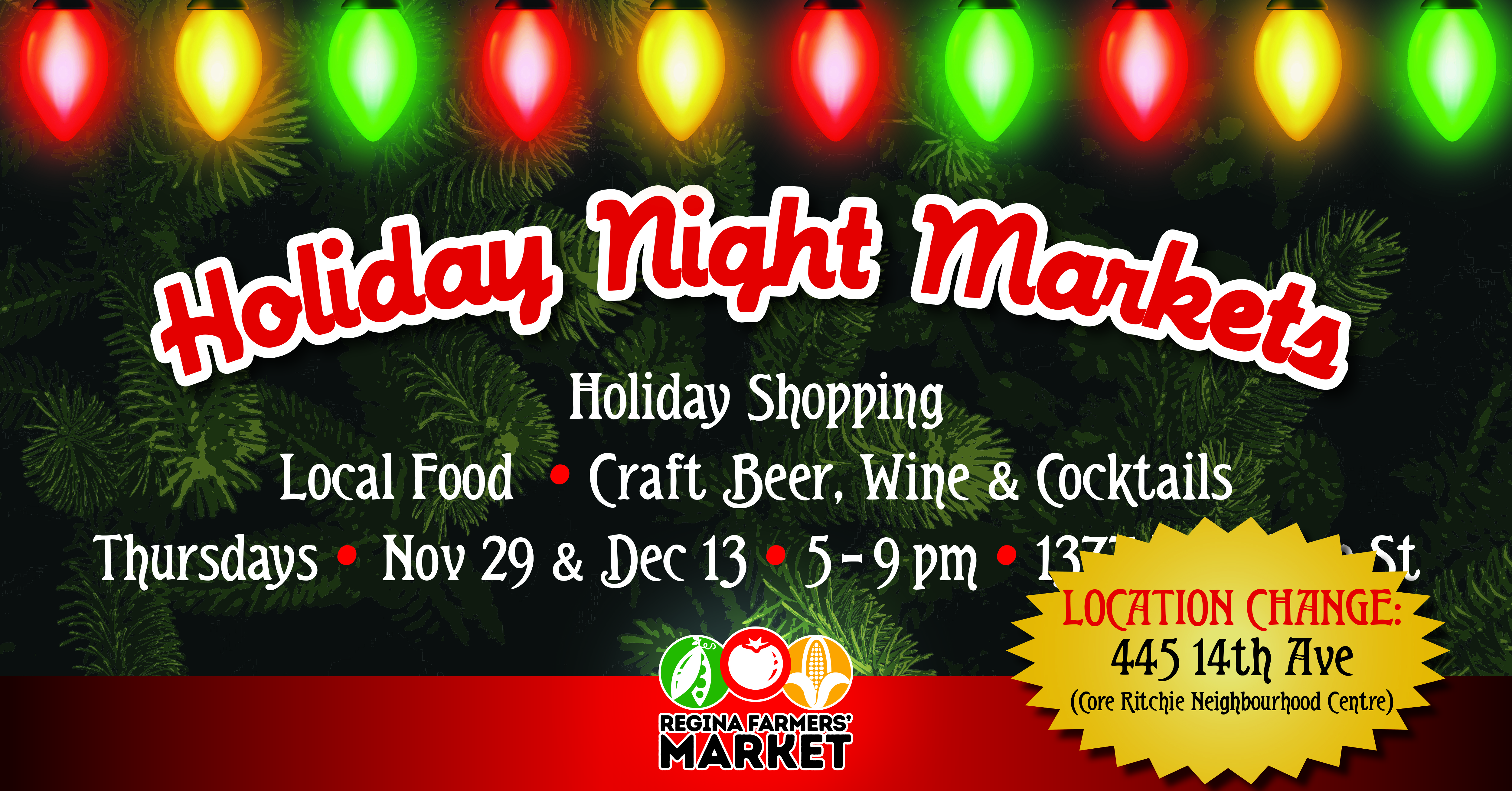 Join us for TWO festive evenings of holiday shopping combined with local food, drinks & music!
Dates: Thursday Nov 29 & Thursday Dec 13
LOCATION CHANGE TO: Core Ritchie Neighbourhood Centre (445 14th Ave)
Time: 5 pm - 9 pm
Admission: $2 suggested donation
This year we're bringing you double the holiday cheer with two Holiday Night Markets in a brand new location:
CORE RITCHIE NEIGHBOURHOOD CENTRE (445 14th Ave)
Holiday Shopping
Shop the best in Saskatchewan-made food, beverage, art, & craft, and find the perfect gift for everyone on your holiday gift list! Your favourite Regina Farmers' Market vendors will be in attendance with everything you need to prepare for the holidays. (See below for updated vendor list and market map.)
Local Tastes
Enjoy made-in-Sask supper prepared by the following RFM food vendors:
Baba's Food Spot: offering perogies (vegetarian option) and kuba dogs

Larry's Bread Machine: offering cheese fondue with homemade bread

Prairie Smoke & Spice: offering chili and smoke chicken jambalaya (both gluten friendly options)
Local Drinks
Our licensed area will feature the RFM's stable of artisanal alcohol producers, who will be on hand to hook you up with beer, wine, and coolers (drink tickets $4/each). You can also stock up on full bottles of your favourite local wine and spirits for the holidays. PLEASE NOTE: children ARE allowed in the licensed area when accompanied by a parent, guardian or spouse of legal drinking age!]. You can plan to sip on one of the following craft beverages:
Black Fox Farm & Distillery/Living Sky Winery: offering Mingle, a refreshing spritzer featuring internationally-awarded Black Fox gin blended with the internationally-awarded wine from Living Sky Winery.

District Brewing Company: offering Bavarian Dark and SMaSH Pale Ale

Over the Hill Orchards: certified organic fruit wine

Prairie Bee Meadery: mead (a.k.a. honey wine)
Kids' Shopping Area
Bring along your little local eaters to this family friendly event! Our special kids' shopping area features RFM products priced at $6 or less, with volunteer Elves on hand to help kids with their holiday shopping and gift wrapping.
Hashtag - Please share your experience with us using #HolidayNightMarket on Facebook, Twitter, and Instagram!
Questions? Please contact Regina Farmers' Market at (306) 209-1130 or for further information.
We gratefully acknowledge the financial support of the City of Regina.
Market Map And Vendors Attending
Find out where your favourite vendors are located by referring to the map below (click image for PDF version). See the full list of participating vendors below the map; click on the vendor name to see their Vendor Page.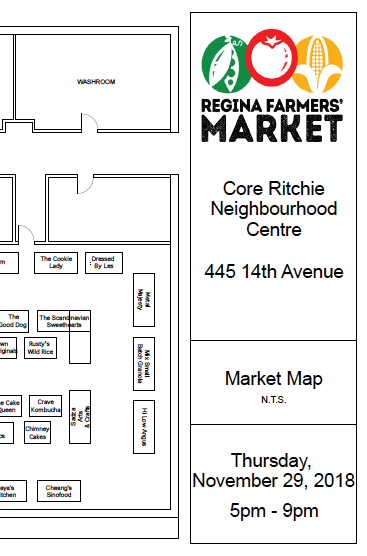 Vendors Attending
(subject to change)
---