Outdoor Farmers' Market
Oct 6, 2018
---
---
50.4490595;-104.6127267;2220 12 Ave, Regina SK
Last Outdoor Market of 2018!
As usual, our last outdoor market falls on the Thanksgiving long weekend. It's always a fitting end to the outdoor season, and a wonderful opportunity to see our local Saskatchewan bounty at its finest. Whether you're coming to buy a pumpkin pie or the pumpkin, eggs, flour, and honey to make one, we've got you covered!
As we wrap up our outdoor season on this special holiday weekend, we find ourselves asking: what are some of the things we're most grateful for? Here's what tops our list:
We're Grateful for Our Farmers!
Growing and raising food is no joke, and we're so thankful to have such exceptional farmers join us week in and week out. The farmers who will be joining us this weekend for the last time in 2018 include:
Clay's Plants & Baking - bedding plants in spring; baking and some fresh veggies in summer
Howland's Honey - honey
Kim's Fresh Fruit - fresh fruit
Lincoln Gardens - fresh veggies
Original Family Farm - chicken and bison
Southland Colony - fresh veggie and eggs
Spring Creek Garden - fresh veggies
The Garlic Garden - garlic
Waldeck Colony - fresh veggies
The growers that we're grateful to have joining us tomorrow AND at Fall Indoor markets starting next Saturday (October 13) include:
Black Fox Farm & Distillery - locally grown spirits
Golden Prairie Wild Boar - wild boar
Floating Gardens - fresh greenhouse veggies
Heliotrope Organic Farm - fresh veggies
Hi Low Angus - Angus beef
JE Ranch - goat, beef, eggs
Over the Hill Orchards - fruit and orchard products
Prairie Bee Meadery - locally grown mead
Pure T Organics - certified organic pulses and grains
Rocky Acres Orchard - orchard products and preserves
We're Grateful for our New Indoor Venue!
It's always a little sad to say goodbye to City Square Plaza and our outdoor market season, but this year we can't wait to launch our Fall Indoor Markets in our brand new venue. Starting next weekend (October 13) and running every Saturday until December 22, indoor markets will take place at the Core Ritchie Neighbourhood Centre (445 14th Ave, corner of 14th Ave and Edgar St).
Special thanks to the City of Regina for welcoming us to the Core Ritchie! See you there next weekend!
We're Grateful for Our Customers!
Finally, the thing we're most grateful for has got to be you! Our customers' passion for locally grown and crafted products makes our jobs as RFM vendors, staff, and volunteers fun. Thank you for all your support this outdoor season, and Happy Thanksgiving!
Our Flok customer loyalty program is one of the ways we try to show our customers how much we appreciate you! This Saturday, if you've collected 20 Flok punches AND purchase any item from Victoria and Dmitriy of Sweet Kingdom, you will get a FREE delicious Zephyr dessert (pictured here). Zephyr is a light and fluffy dessert made from apples, egg whites, sugar and agar-agar.
Market Map And Vendors Attending
Find out where your favourite vendors are located by referring to the map below (click image for PDF version). See the full list of participating vendors below the map; click on the vendor name to see their Vendor Page.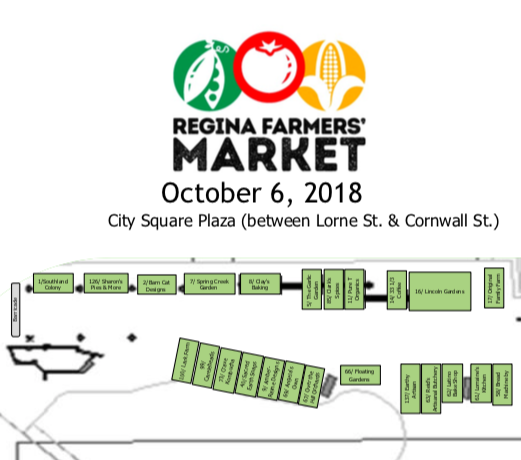 Vendors Attending
(subject to change)
---