El Tropezon Authentic Mexican Food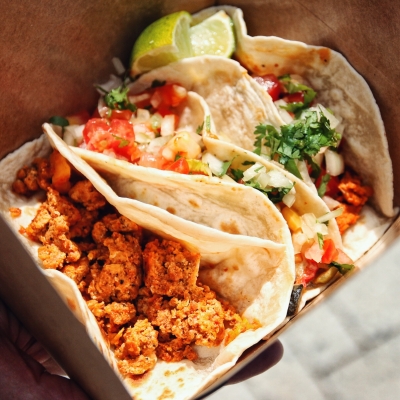 Regina, SK
306-570-9529
---
Market Attendance:
outdoor - most Wednesdays & Saturdays
indoor - occasionally
---
Regina's only food truck serving authentic Mexican food! Food truck menu varies every market. Take-home meals also available.
Products:
food truck:

tacos

burritos

tamales

carnitas

tostadas

chilaquiles

nachos

quesadilla

menudo

gorditas

cochinita huarache

take home frozen:

discada (beef & pork)

carne al pastor (pork)

cochinita pibil (pork)

tamales (pork or chicken)

take home fresh:

salsa molcajeteada

salsa verde

spicy seasoning

corn tortillas (original or spicy)
Have you met Roberto and Valeria of El Tropezon? If you've ever attended a Plaza market in the summer and heard the fast-paced, upbeat sounds of salsa music, chances are it led you to the El Tropezon food truck. An RFM staple, El Tropezon has been serving up authentic Mexican dishes to Saskatchewan locals for several years.
El Tropezon is the Flores' labour of love and their desire to bring a little bit of Mexico to the prairies. They offer a variety of fresh and frozen dishes crafted from traditional and family recipes, including chorizo and tamales passed down from Roberto's great-grandmother (when it comes from abuela, you know it's good!).
During food truck season, you'll find classic Mexican street food at the El Tropezon truck, including tacos, tamales, and chilaquiles. When not in the truck, Roberto and Valeria can be found in a booth at the RFM with all kinds of goodies already prepped for you to take home. At their booth you'll find totopos, tamales, chorizo, and salsa, to name a few. Vegan tamales and chorizo are also available.
You'll find El Tropzeon and all of their Mexican flair at most markets this season!
Photos