Sacred Earth Soaps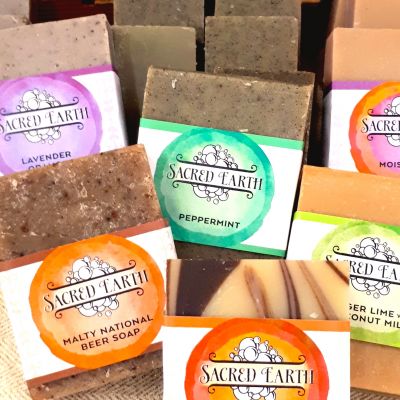 Regina, Saskatchewan, Canada
306-522-7384
---
Market Attendance:
Outdoor - Most Wednesdays & Saturdays
Indoor - Most Saturdays
Available on the RFM Online Store

---
Introducing: Laura + Jordan of Sacred Earth Soaps
Laura + Jordan of Sacred Earth Soaps began providing natural bath and body products to the community in 1998. A family-run business based in Regina, Sacred Earth originated from a desire to use sustainable and natural healing skincare products when their family grew and they had children. After researching and perfecting their recipes, Sacred Earth has grown into a full-time business and a trusting local brand for bath and body goods.
As Saskatchewan residents they make products that keep your skin moisturized despite dry summers and winters, healing salves that alleviate cracked heels + hands, (especially for those with sensitive skin), and as their name suggests, mild soaps that lather well and last substantially longer than conventional soap. Safe to use on kids, their gentle products are available in scented and unscented varieties all made with natural ingredients. Over the years they have expanded from soaps and salves and also offer bath bombs, lip chaps, 100% beeswax candles, shampoo bars, spray deodorants, bath bombs, insect repellants, and more! Regular attendees of the Regina Farmers' Market, be sure to try their products, and hopefully hear Jordan's contagious laugh!
Best Known for: Soaps, Shave/Shampoo Bars, and Healing Salves.
Photos