The Good Dog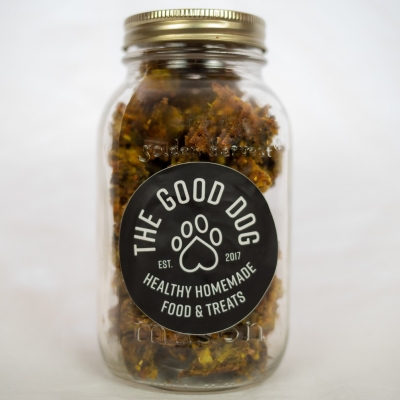 Regina, Saskatchewan, Canada
(306) 501-1463
---
Market Attendance:
Available on the RFM Online Store
---
Introducing Robin & Jena of The Good Dog
Robin and Jena are proud to be a Saskatchewan Made and Woman Owned business, crafting homemade and healthy gently dehydrated premium kibble, slow cooked premium soft blend dog food, and a variety of different healthy dehydrated treats for our four-legged family members. All of their ingredients are human grade, but we encourage you to leave these delicious treats for your pets to enjoy.
They use a variety of local and fresh ingredients in their products including ground beef, grass fed beef liver, fresh veggies, farm fresh eggs, organic kelp powder and organic turmeric. They have even teamed up with RFM vendor JE Ranch Inc who supplies eggs, meat for the Goat Jerky, liver for the Beef Liver Chips, and organ meat for their dog food. There are no preservatives, additives or synthetically added vitamins and minerals in their products.
It was the sad loss of both of their dogs to cancer that led Robin and Jena down the path to build The Good Dog. They knew that good health comes from the inside and from the food we use to fuel ourselves with so they did their research, took courses, and listened to the advice of holistic veterinarians, and together they came up with an incredible lineup of products. They started by sharing their products with friends and family in 2017 and quickly realized they wanted to expand, bringing them to the Regina Farmers' Market.
Best Known For: An Assortment of Tasty Treats
Photos