Zak Organics Food Co. Ltd.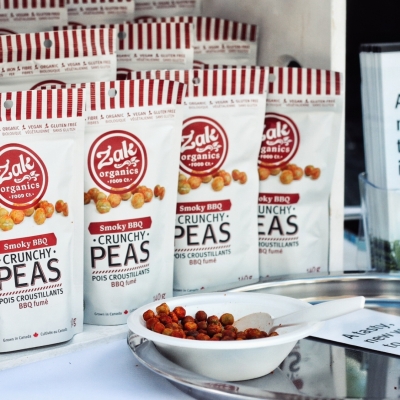 Fir Mountain, SK
1 (800) 897-4803
---
Market Attendance:
outdoor - occasionally
indoor - occasionally
---
We're a family-run organic food company that's been farming for four generations. From planting, to harvesting & production, we're sharing how we do it!
One of the benefits of farming organically is having some of the best ingredients available to our family. It would be a shame if we didn't share this with others. So it made perfect sense to start a local company committed to sharing our natural and organic foods. Thus began our quest for the perfect snack – because everyone loves to snack, right?
We began making our snacks with a simple goal: to create a clean, healthy alternative to typical snack food. Naturally rich in protein, iron and fiber, we knew that our WHOLE GREEN PEAS would be the perfect base for our first line-up of snacks. Then we made sure we used only the best organic ingredients, dressing every bag of our Crunchy Peas in aromatic, natural herbs and spices. Zak Organics was born.
All of our products are USDA and Canada Organic Certified, and free from trans-fat, cholesterol, dairy, gluten and artificial flavours or colours.
We're committed to making simple, healthy snacks that are fun to eat, easy to share, and hard not to love! Zak Organics' Crunchy Peas are proudly grown, made and packaged right here in Saskatchewan. Our mission is to inspire people to snack better and buy local.
Products:
crunchy pea snacks:

Smoky BBQ

Garden Herb

Sea Salt & Lime
Photos