Amber Rayne Designs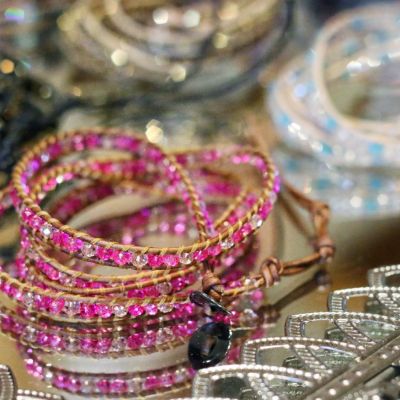 Introducing Jamie of Amber Rayne Design
Jamie has been with the Regina Farmers' Market since 2016, but has been crafting since she was 11. She has worked with a variety of mediums over the years including drawing, cross-stitching, pottery, weaving, glasswork, and painting. In recent years she has been creating unique stone jewelry for the Regina Farmers' Market and loves crafting with glass when she has free time.
The rose quartz and moonstone bracelets and Chakra multi-wrap bracelets are two of her most popular products. It's easy to see why, both are beautiful and it's evident that Jamie is passionate about the pieces she creates.
Best Known For: Handmade Bracelets
From Jamie of Amber Rayne:
I love what I do! Since an early age I have crafted, stitched and created. Each bracelet is 100% hand made by me with loving care and attention to detail. It gives me great pride to hear of people getting stopped in the street to find out where they got their bracelet. I hope you love yours as much as I love making them.
We love what you do too, Jamie!
Photos