50.4488066933339;-104.61231710422976;2220 12th Avenue, Regina SK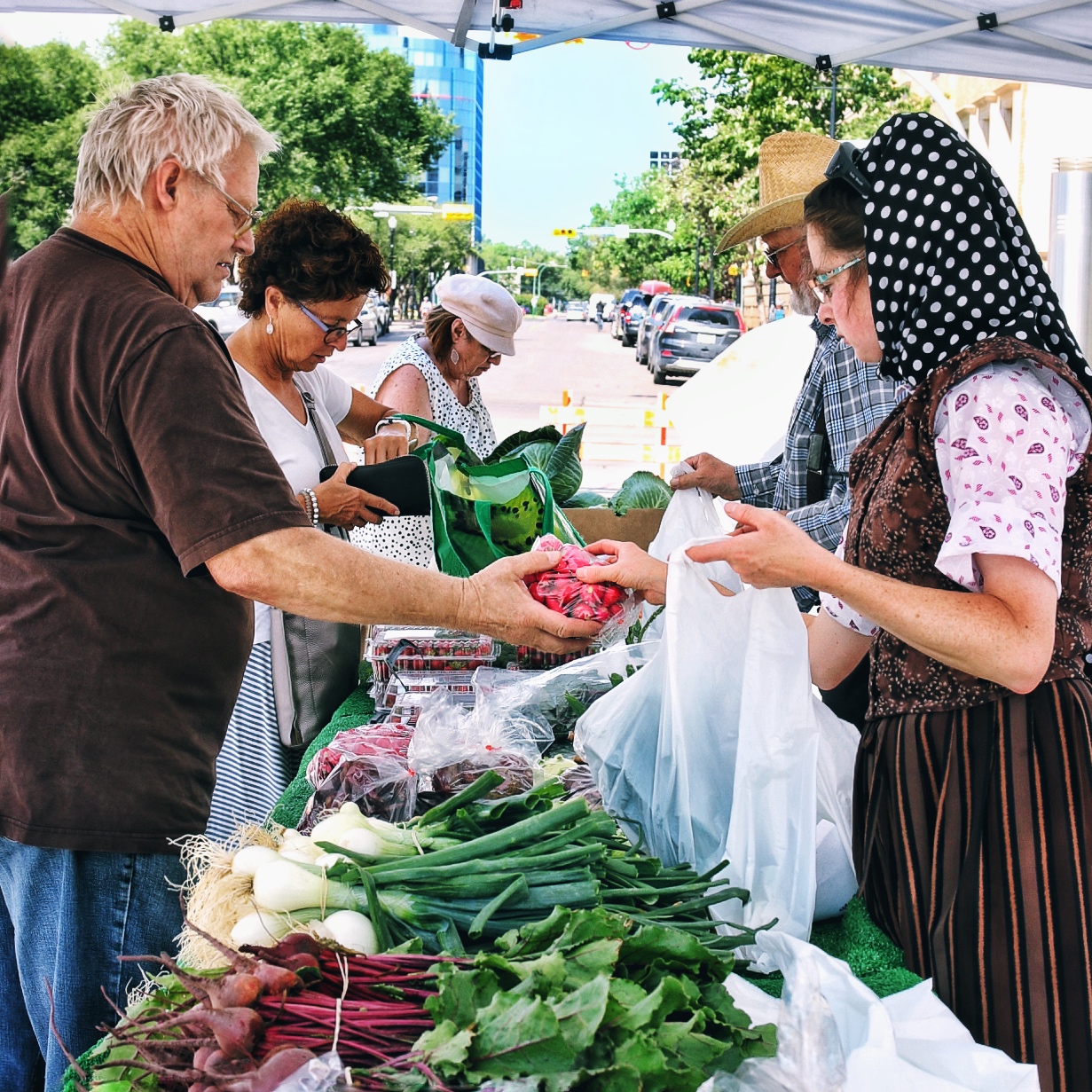 Now is the time!
We're 9 days into August, the month that brings the most variety of produce to the market. If you're all about local fruit and veg, make a point of visiting us as often as possible this month. When September rolls around, there will be less green on the Plaza and more orange. Not that fall vegetables are any less tasty (certainly not!), there will just be less in season and more to look forward to next year.
All of these vendors will be attending this month with vegetables and/or fruit:
Belle Plaine Colony
Clay's Plants & Baking
Floating Gardens
Heliotrope Farms
Kangro Gardening
Kim's Fresh Fruit
Lincoln Gardens
Loon Creek (1 or 2 more markets)
Miller's By-Gone Farm
Mitchell's All Natural Foods
Novictus Gardens (new vendor)
Over the Hill Orchards
Rocky Acres Orchard
Southland Colony (pictured)
Spring Creek Gardens
Stellar Gourmet Mushrooms
The Garlic Garden
Waldeck Colony
Natural Sun Care
Summer isn't over yet, so we still have to be diligent about protecting our skin from the elements. If you'd like to do so naturally, visit Beyond Naturals for homemade 30 SPF sunscreen. It contains ingredients your skin will love (such as almond oil, vitamin E oil, and beeswax) along with sun-blocking zinc oxide, raspberry seed oil, and carrot seed oil. Don't forget to moisturize regularly with Beyond Naturals Body Butter to keep your skin healthy, whether sunscreen is necessary or not!
Who's back?
Beyond Naturals
JE Ranch (first Wed market!)
Loon Creek
Lorraine's Kitchen
Irene's Stitches Galore
Thrive Juice Co.
Customer Rewards
D'licious Treats has the honour of providing our very first flok customer reward! If you've successfully punched all 20 holes on your virtual punch card, feel free to stop by D'licious Treats for a free giant chocolate chip cookie!
No idea what we're talking about? No problem. Take a look at the details of our new customer rewards program here.
Market Map
Find out where your favourite vendors are located by referring to the map below (click image for PDF version). See the full list of participating vendors below the map; click on the vendor name to see their Vendor Page.
Vendors Attending
(subject to change)
---