50.44699528217497;-104.61080557249147;2025 Victoria Avenue, Regina SK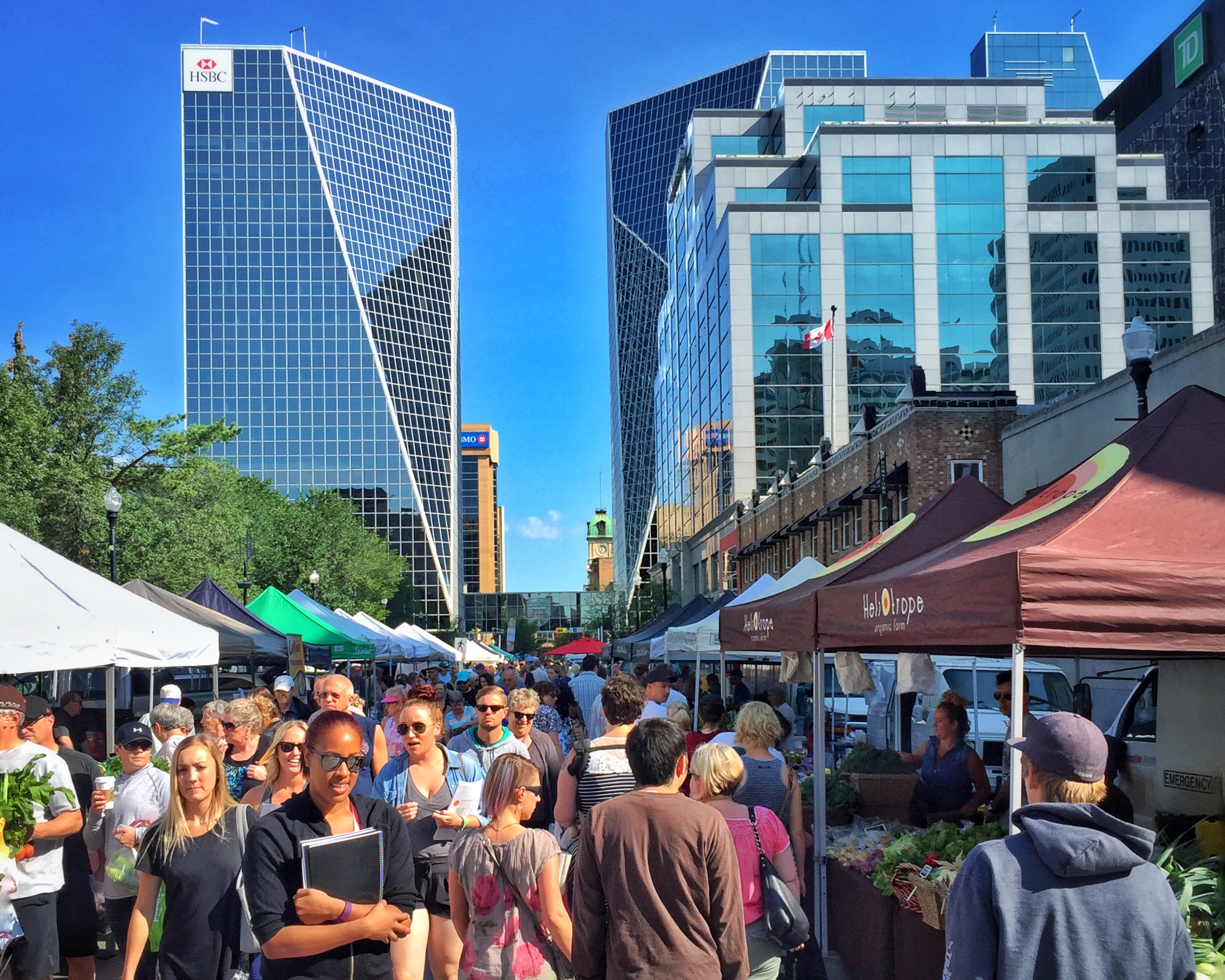 Location Change
THE MARKET IS MOVING TEMPORARILY! This weekend, Regina Folk Festival will take up much of Victoria Park as well as City Square Plaza. Therefore, we'll move the entire market to the 1900 and 2000 Blocks of Scarth St. (NORTH and SOUTH of Victoria Ave.) for August 12 ONLY. The market will be open from 9 am to 1 pm, as usual; we will NOT be extending the hours. The market will return to the Plaza on the following Wednesday, August 16.
Don't miss these vendors South of Victoria Avenue:
33 1/3 Coffee Roasters
BarnCat Designs
Beyond Naturals
Cheang's Sinofood
Do Si Donut
Dressed by Les
Earthy Artisan
Kaleidoscope Vegetable Gardens
Last Mountain Distillery
Malty National
Mandy's Cake
Mitchell's All Natural Foods
Name Your Nuts
Novictus Gardens
Prairie Bee Meadery
Pure T Organics
Rusty's Wild Rice
Sacred Earth
Southland Colony
South Valley Farm
Stellar Gourmet Mushrooms
Sweet Tree
The PupCake Bakery
Zak Organics
Zee-Bee Honey
Conservatory of Performing Arts (community group)
Regina Public Library (community group)
Parking
Due to the set-up and parking requirements of Regina Folk Festival, Lorne St. and Cornwall St. near Victoria Park will be either closed or restricted. Quite obviously, Scarth St. will also be closed to traffic. Fear not – parking is FREE all day in the lot behind SaskPower. Metred parking is free for up to 2 hours; spots are usually available on Hamilton St., Cornwall St., and Lorne St. South of Victoria Ave.
Folk Fest Necessities
Sometimes outdoor festivals are unpredictable, so it's a great idea to take along a few supplies. Even better, some of those supplies are homemade locally and available at the market tomorrow! Here are a few ideas:
Beverages:

coffee (hot or cold) - 33 1/3 Coffee Roasters*, Wheelie Good Coffee
iced tea - Cuppa' T'
juice - Glow Juicery, Over the Hill Orchards, Thrive Juice Co.
kombucha - Crave Kombucha
lemonade - Regina Made Lemonade
fruit smoothies - The Very Berry Bun Company
alcohol - Black Fox, Last Mountain*, Living Sky Winery, Malty National*, Over the Hill Orchards, Pile O' Bones Brewing, Prairie Bee Meadery* (please enjoy at home, after the show!)

Snacks:

nuts - Name Your Nuts*
granola - Mix, Over the Hill Orchards (bars)
crunchy peas - Zak Organics*
ice cream/frozen treats - Casnin's Ice Candy, Cuppa' T'
sandwiches - Best Food Forward
naturally sweetened confections - Nosh, Sweet Tree*
donuts - Do Si Donut*

Must-haves:

sunscreen - Beyond Naturals*
insect repellant - Beyond Naturals*, Sacred Earth*
hand sanitizer - Your Natural Life
* - All vendors followed by an asterisk can be found SOUTH of Vic Ave.
Flok Reward
Tomorrow's customer reward is sponsored by Lake of the Rivers Ranch! If you've punched all 20 holes on your virtual punchcard, you're eligible to redeem a reward of 25% off beef roasts.
If you haven't got a clue what we're talking about, learn more about the flok app and our customer rewards program here.
Market Map
Because we move the entire market to Scarth St. once a year, we often have challenges finding spots that work well for every vendor. Many vendor placement decisions are made onsite, as a result. For this reason, we're unable to release a map in advance. If you have trouble locating a particular vendor, please visit the Information Tent across from O'Hanlon's to view our large canvas map, which is updated at 9 am.
You can still refer to the list below to see which vendors will be in attendance. Click on the vendor name to be directed to their Vendor Page.
Vendors Attending
(subject to change)
---