Riverview Sausage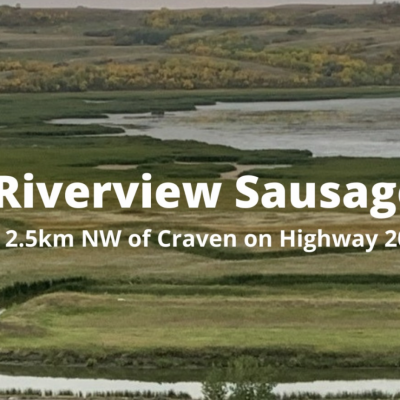 Riverview Sausage, 2.5 km North West of Craven On, Hwy 20, Craven, SK S0G 0W0, Canada
1 306 305 9144
---
Market Attendance:
Most Outdoor Markets
RFM Online Store
---
Introducing: Curtis + Dawn Hicks of Riverview Sausage
Based in Craven, Saskatchewan, husband and wife team Curtis and Dawn are the owners of Riverview Sausage and are known for their high quality, Saskatchewan-made sausage. For years, Curtis learned the family recipes of sausage-making and over time grew the demand for the family recipes into a business. The key to Curtis' success is attributed to the help of Dawn who brings her expertise in marketing, communication, and problem solving. Combine that with Curtis' passion for quality ingredients, hardwork, and dedication to his craft, these two make an excellent team for their business. In 2022, Curtis and Dawn joined the Regina Farmers' Market and they are both passionate about bringing local farm meat to the Saskatchewan table.
If you're wondering what to expect at their booth? Expect to find a variety of sweet + savoury smokies and sausage flavours, peperettes, jerky, bison variety boxes, and more! All products are ethically, and carefully sourced from beef, pork, or bison that is raised in Saskatchewan. Curtis and Dawn are very knowledgeable and passionate on what goes into raising and making quality farm meat fit for a family table. Definitely stop in and have a conversation with them at the market as they hold a lot of knowledge!
Please note, the Riverview Sausage bison products are sourced directly from the partnership with Qu'appelle Valley Bison (QVB).
Best Known For: Saskatchewan Sausage and Bison Products
Photos