Street Beets April 17th, 2015: Beautiful Bread, Beef, & Goat Cheese. Plus Vendor Map!
---
---
If you regularly attend the Markets you know the most beautiful products can be bought there. When I think of the time and love that goes into a simple loaf of bread made by Ashley from Saltine Baking Company, it makes it even more lovely to behold. And eating sandwiches with it. And dipping it in Soup...simply soup. Oh I feel lucky and full of good food!
Dan from Hi Low Angus has been busy with calving this time of year. Knowing him for a long time, he can often be woken up in the middle of the night several times for a month at a time. If there is still snow on the ground it makes it more of a worry. His job is to safely get the next generation of amazing genetics into the world, and it is exhausting. This is the life of a farmer! My boys have an addiction to his various flavours of Angus Jerky. It is good, nutritious snack packed with proteins growing young men need! Dan sells cuts of beef, sausages, jerkies, and ground beef.
The happy (and much awaited) news is that Salayview Farm is going to make it to Market tomorrow! Lots of people assume that they produce goat milk products year round. They actually like to give the goats a rest during pregnancy. Goat milk cannot be frozen, so for a few months production grinds to a halt. They have been blessed with a healthy group of kids this year. I for one can't wait to sit down with Mini Me and eat some soft and delicious chevre. Mini Me has been a big fan for a few years, just eats it on crackers. With so many flavours you are sure to find one that suits your fancy!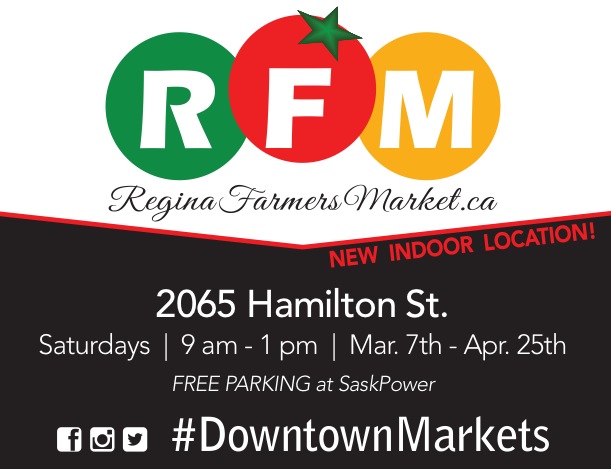 Hard to believe that it is only two weeks until Outdoor Plaza Markets. If you saw the planning that goes on behind the scenes you would never believe it. The map alone is a gigantic undertaking! You should see what Regina Downtown does to prepare for summer. They put on so many events and activities during the year. I hope you all come down to the Plaza soon to enjoy it all!
Until then there are two more Saturday Downtown Markets. Here is a map so you can find your favourite vendor. Come and visit us. Get some gorgeous local products. Bring home a taste of amazing. 2065 Hamilton Street, 9am to 1pm, FREE Parking across the street at SaskPower. Ada
---