Love Local Food? Join our Board of Directors Today!
---
---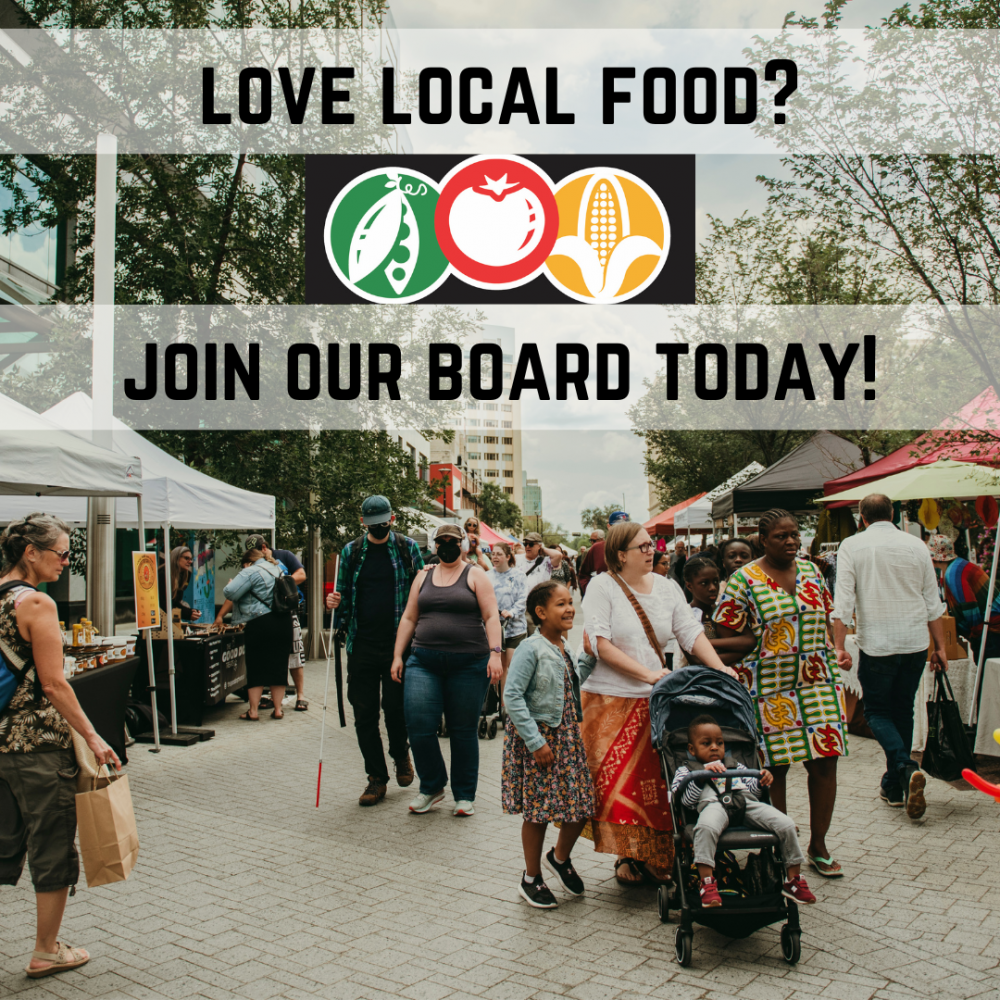 For the first time in our history, the Regina Farmers' Market (RFM) is looking outside of our membership and into our community to fill two vacant seats on our Board of Directors. This is an exciting opportunity for an individual who is passionate about strengthening our local food system and keen to get involved in the governance of a non-profit organization. Board terms last for three years and board members can serve up to two consecutive terms.
RFM is a non-profit co-operative, the members of which are our Saskatchewan-based vendors. RFM operates in Regina, Saskatchewan as a popular destination for locals and tourists to connect directly with local producers. All products at the RFM are made, baked, grown, or designed in Saskatchewan and represent the growing diversity of our city and province. Beginning in 1975, the RFM is proud to collaborate with local entrepreneurs and farmers as the original farmers' market experience in Regina.
In addition to the standard roles and responsibilities of a board member, all nine of our board members are active advocates and ambassadors for the organization and are fully engaged in identifying and securing the financial resources and partnerships necessary to advance its mission.
Regina Farmers' Market Co-operative is committed to equity and accessibility. We encourage applications from members of equity-seeking communities including women, racialized and Indigenous persons, persons with disabilities, and persons of all sexual orientations and gender identities/expressions.
Position:
Volunteer Board Member (2 seats available)
Time Commitment:
· One 2-3 hour meeting every 4-6 weeks
· Committee meetings and work as needed
Director Responsibilities:
· Board Meetings – Directors are required to attend ten board meetings per year (every 4-6weeks) either in person or virtually. They are expected to read board materials in advance of board meetings and to come prepared to ask questions and participate in discussions.
· Committee Work - Directors are expected to serve on one or more committees of the board and to actively participate in committee work.
· Financial Acumen – Directors are required to read and understand monthly financial statements and to otherwise help the board fulfill its fiduciary responsibilities. They are also expected to play an active role in securing the financial resources necessary to achieve the RFM's mission.
· Advocacy – Directors are expected to responsibly represent the RFM to their respective communities and to advocate for RFM's mission, programs, and services as appropriate.
Desired Skills and Expertise:
We are currently recruiting for diverse leaders with expertise in any of the following areas:
· Sponsorships
· Fundraising and grants
· Accounting and financial acumen
· Strategic planning
· Business development
· Marketing
· Legal expertise
· Human Resource Management
· Non-profit board governance
Interested?
Express your interest by sending an email (including your CV) before November 15, 2022. Contact our ED, Holly Laird, at [email protected].
You may also wish reach out to any of our current directors with questions or for more information:
---