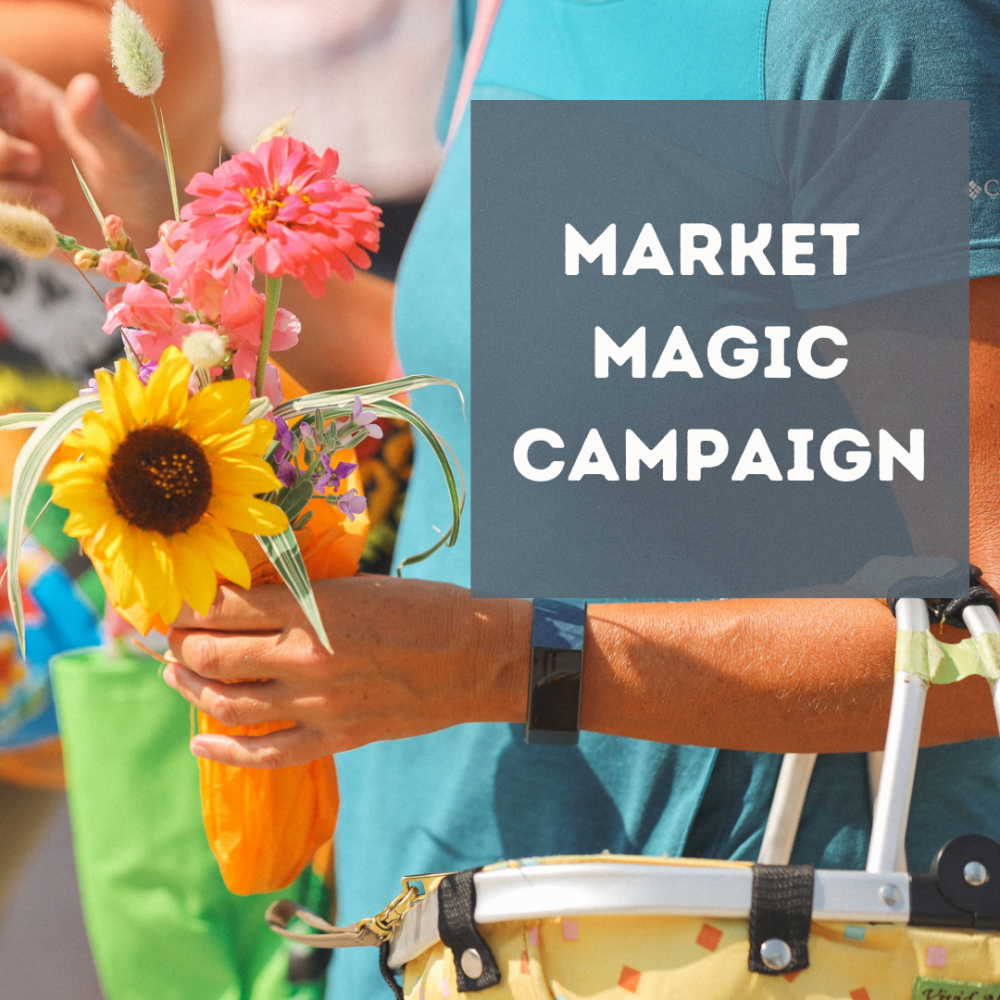 The Regina Farmers' Market Launches Market Magic Campaign!
After two highly innovative years during the Covid-19 pandemic, the Regina Farmers' Market is pleased to be refocusing on its goal to bring market magic to our home in downtown Regina. It has taken a great deal of resources, volunteerism, leadership, and amazing staff to get us to this far in the Covid-19 pandemic, and now we are seeking the help of the community we serve to support our growth and invest in our future.
With the guidance of our recently developed strategic plan, the Regina Farmers' Market is laying down the foundation of a long-term plan to ensure a prosperous future for farmers' markets in our community. Our vibrant farmers' market activates downtown Regina on Wednesdays and Saturdays from May to October and this season we are ready to rekindle the market magic we've all been missing. We care deeply about keeping local food accessible and can hardly wait to welcome everyone back Saturday, May 7!
What is Market Magic?
Market magic is the coming together of the community in a welcoming, inclusive environment. This includes a direct connection and relationship with the people who grow and produce our food, entertainment by local musicians and artists, support for small businesses, and so much more.
Please help us continue to provide direct access to over 100 Saskatchewan farmers, producers, and small businesses by donating to our non-profit co-operative. With your donation we can continue to provide all of the services you love: our year-round in-person farmers' market with the convenience of pre-ordering and home delivery through our online store.
Donate to the Market Magic Campaign Here!
(100% of proceeds go directly to the Market Magic Campaign)
Other ways you can grow Market Magic this Season:
Engage with RFM Social Media (Follow our page, Like our posts + Stories, Share our campaign on your newsfeed)
Attend and visit us at the market this season (Wed + Sat from 9am - 1pm at City Square Plaza - May 7 - Oct. 8)
Place an order and utilize the RFM Online Store
Connect with us on Sponsorship Opportunities:

[email protected]

Subscribe to the RFM Newsletter
We truly thank-you for any amount of support you are able to offer this season; a like on social is always greatly appreciated!
---