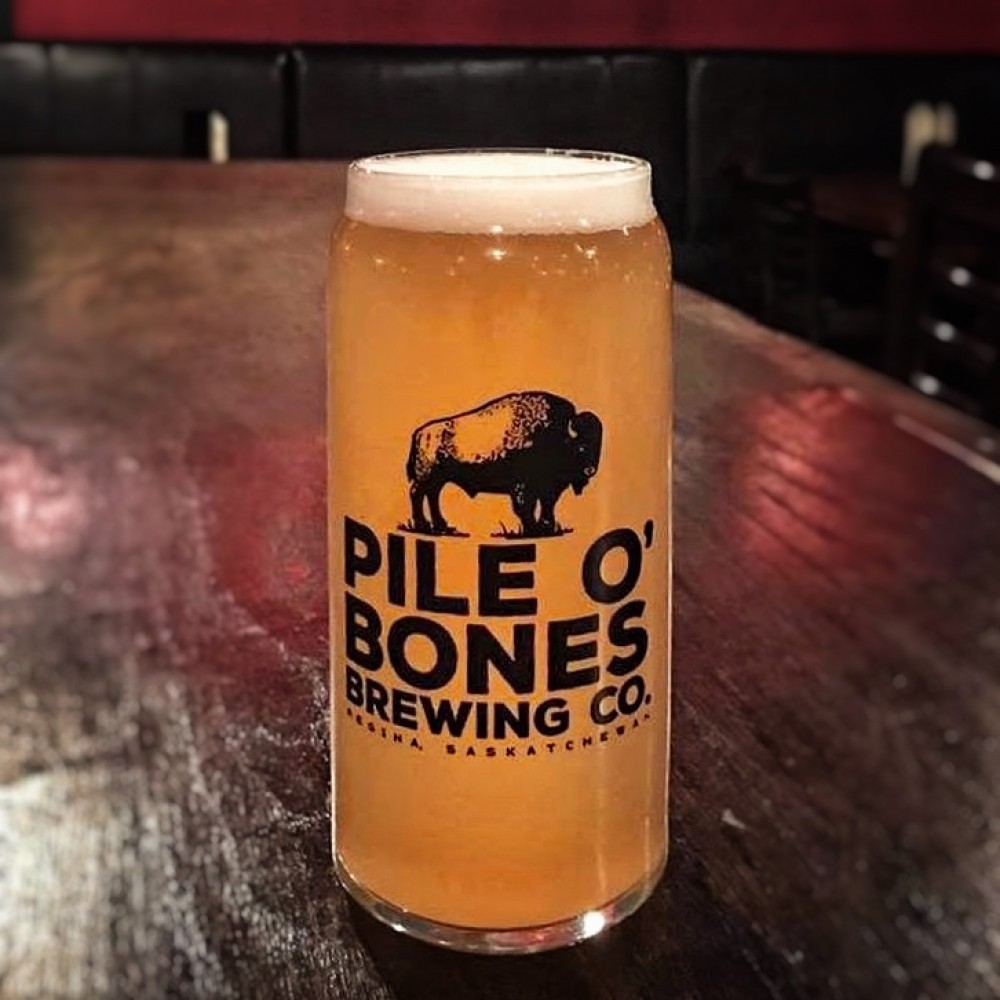 Photo: Pile O' Bones Brewing Co.
Beer
Big news - BEER is back at RFM! Pile O' Bones Brewing Co. has recently been approved as a new vendor, and will be filling growlers tomorrow. It's perhaps the most local beer we can offer, as the brewery is literally just around the corner from the Plaza!
Cider
Beer isn't your thing? Living Sky Winery will have their NEW Redwing Spring cider (strawberry rhubarb) tomorrow! Two growler sizes are available, but the bigger one is obviously the right choice.
Food Court
If you've been to the market for lunch recently, you may have noticed a new arrangement for the food trucks. They wrap around the vendors on the south side of the Plaza, most of them facing towards the park. The goal is to create a "food court" area within the market that encourages customers to use the tables, chairs, and grass to relax and enjoy their food. We hope it will also relieve congestion caused by food line-ups.
Within this new area, you'll find food trucks, beverage carts, and vendors with fresh prepared meals. There are two entrances: 1) across from the Plaza stage and 2) between Heliotrope and Cuppa' T'. Alternately, you can cut across Victoria Park.
Vendors in the food area tomorrow:
Baba's Food Spot

Bon Burger

Best Food Forward

Cuppa' T'

Glow Juicery

Mr Spudd's Poutinerie

Nacho Fiesta

Pile O' Bones Brewing Co.

Prairie Smoke & Spice

Wheelie Good Coffee
In-Season Produce
The market is beginning to come alive with fresh produce! Here's an idea of what we have this time of year and where you can find it:
Floating Gardens - greens, herbs, cucumbers, eggplant, tomatoes

Heliotrope Farms - asparagus, lettuce, kale, green onions, seed potatoes, rhubarb

Kaleidoscope Vegetable Gardens - spinach, kale, green onions, radishes

Kangro Gardening - cucumbers, lettuce, cilantro

Miller's By-Gone Farm - rhubarb, spinach, chives, mint, thyme

Rocky Acres Orchard - rhubarb

Stellar Gourmet - mushrooms

Market Map
Find out where your favourite vendors are located by referring to the MAP. Take a look at the full LIST of participationg vendors.
---