NEW SPACE! Big Announcement about Indoor Markets!
---
---
We do have Markets after the Plaza Outdoor Market Season is over on October 11th, 2014. We have been at the Cathedral Neighbourhood Center on Saturdays for seven years now in the winter and spring. Unfortunately while we loved the neighbourhood, we were running out of space. I could see this coming, we are growing by leaps and bounds! So for years we have been looking at spaces, until recently I came across a new event space listing online. This was a building that had never been used as event space but is now open to the public.
We are moving our 2014 Indoor Markets to 2065 Hamilton Street, the Shriners Building. It is the building located directly south of Golf's Steakhouse and the old STC Bus Depot. The event space is twice the size of our old space, offers free parking at the SaskPower parking lot right across the street, and has a convenient central location. Vendors will be able to expand their booths, customers will have a more comfortable shopping experience, and our rental will raise money for a great cause, the Wawa Shriner's Children's Hospital. Not only will you support local by coming to our new Market location, you will support children in need of medical support.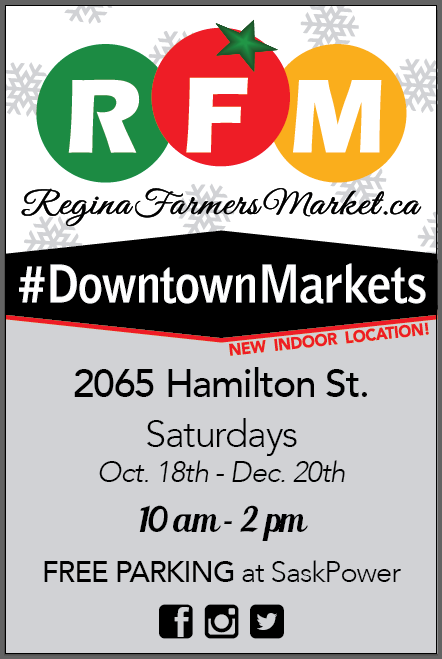 Cathedral Area, we will miss you! We were supported by the Cathedral Business Association and our partnership with Canada Safeway for parking. Thank you for many years of happy memories! We are so excited about this big move! I am most relieved that we have found a solution to the Indoor Market challenge so we can achieve our goal, providing you with an awesome and high quality shopping experience.
We would especially like to thank the Wawa Shriner's Organization. We are so pleased to be able to begin this work with a group that we already have a great relationship with. Wawa Shriners have been coming to Market for years to fundraise for a cause close to their hearts. We encourage you to visit their permanent booth at the Indoor Market to donate!
We cannot wait to welcome you to the new space at 2065 Hamilton Street! Please see the listings below for all of our Market locations:
Outdoor Markets:
City Square Plaza, 12th Avenue & Scarth Street
Wednesday & Saturday, 9am to 1pm
Until October 11th
University of Regina Markets
Research & Innovation Center Atrium
Thursdays, 10am to 2pm
October 2nd to December 4th, 2014
Public Parking in Lot 8
Downtown Indoor Markets
2065 Hamilton Street *NEW LOCATION*
Saturdays, 10am to 2pm
October 18th to December 20th, 2014
Free Parking at SaskPower Parking Lot
---