RFM Open-Air Markets: Safety Protocols
---
---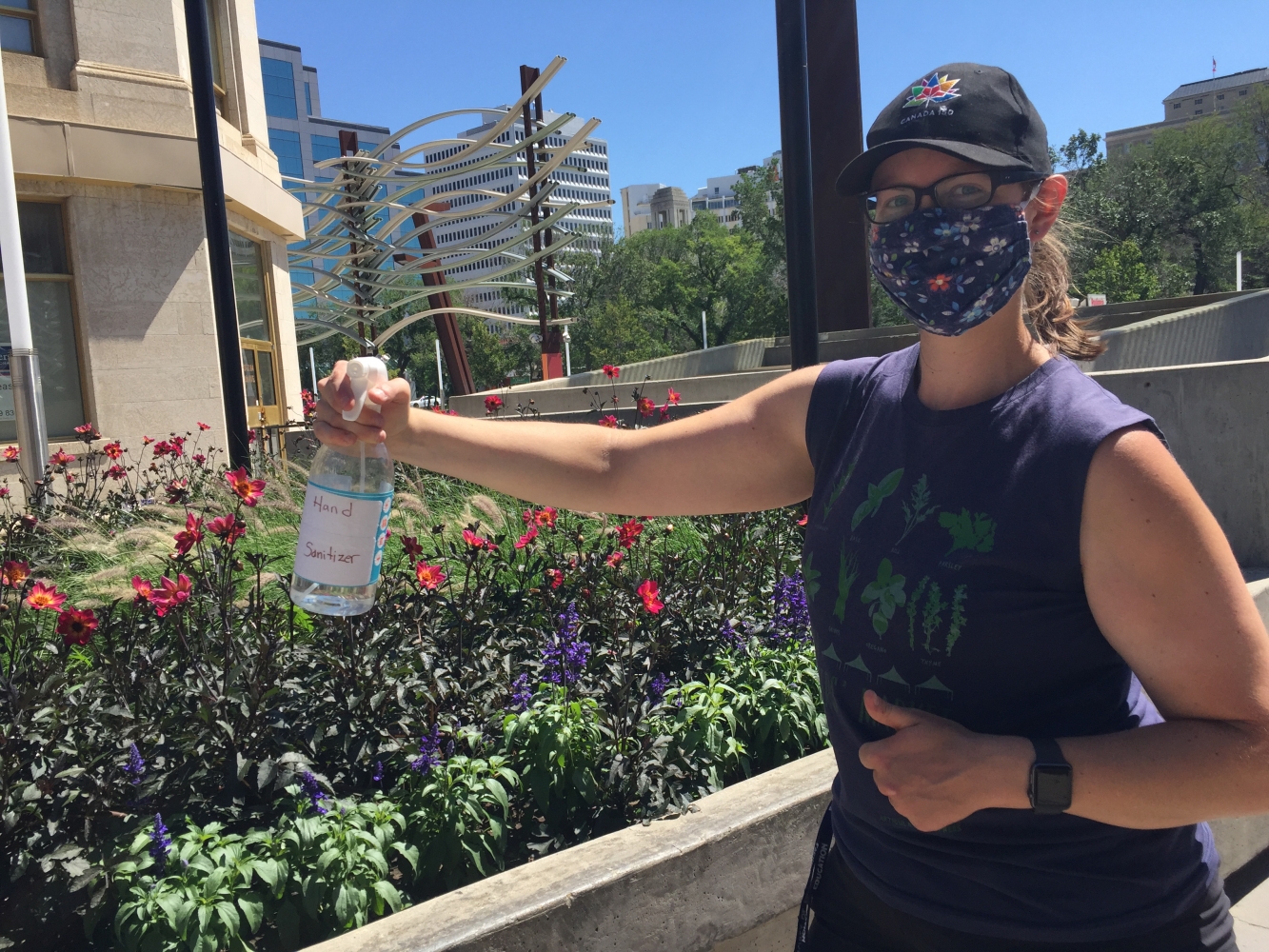 Photo: RFM Team Member Kerri ready to welcome you with a Complimentary Hand Sanitizer Spritz at our Open-Air Markets. July 2020.
RFM Open-Air Market: Safety Protocols
As of July 15, there has been a new surge in COVID-19 cases throughout Saskatchewan. This is unfavorable news, however it has allowed our RFM team the opportunity to re-emphasize our safety protocols intended to keep our staff, vendors and customers safe in their interactions with the Regina Farmers' Market (RFM).
Our goal continues to be connecting the local community with Saskatchewan made, baked, and grown goods in a safe environment. In order to achieve this goal, it has resulted in some modifications to our regular open-air market setup and yielded the innovation of our RFM Online Store. Please continue reading for some changes you can expect this year.
When attending 2020 Open-Air Markets, here are some set-up changes to anticipate:
- All vendors are spaced at least 6ft apart from one another to ensure adequate room to implement physical distancing
- This means there will be fewer vendors selling to accommodate physical distancing.
- The Farmers' Market is roped off with x2 entrances to manage attendance and traffic control
- There is a one-way direction flow of traffic
- Please let our vendors serve you and keep your hands from cross-contaminating vendor tables and products
- You will be greeted with a spritz of complimentary hand-sanitizer as you enter the market
- Digital tap payments are preferred (There is, however, an ATM on-site and some vendors are cash only)
- Anyone displaying symptoms of COVID-19 will be kindly asked to leave and return when they are in good health
- Vendors will not be sampling their goods to reduce high-touch interactions
- Please plan to leave the family at home and shop alone
- Entertainment and performers have been cancelled for this year
Are you well enough to attend our Open-Air Markets?
Please review these self-assessment questions and queues. If you are confident your answers to the self-assessment deem you in good health, we look forward to welcoming you to our markets!
• Please do not attend the market if you have a cough, fever, sore throat, or difficulty breathing.
• Please do not attend the market if you have been exposed to someone who is under investigation for COVID-19 or has been confirmed as having COVID-19 within the last 14 days.
• Please do not attend the market if you have returned from travel in the past 14 days.
• We recommend doing a COVID-19 Self-assessment before coming to market. It is available here: https://public.ehealthsask.ca/sites/COVID-19/.
• You may have heard in the news there has been an outbreak amongst a few Hutterite Colonies in southwest Saskatchewan. We have received many messages and calls inquiring about this in relation to the colonies that vend at the RFM. We have spoken with our three participating colonies and they have confirmed that they have zero cases of COVID-19 in their respective colonies and have not had contact with the affected colonies.
• Our stance on this is simple and clear. No one should come to the market if they're sick. All healthy RFM vendors are welcome; we are a community-based organization that values the inclusion of all people. That said, any vendor who is experiencing symptoms of COVID-19, has been in contact with a confirmed case within 14 days, or has just returned from travel are not permitted to attend the RFM.
• The RFM takes pride in the diversity and multi-culturalism of both our vendors and customers who attend our Farmers' Markets. We have zero-tolerance for discrimination and bigotry at our market. Please report any such instances to our Executive Director Holly Laird or fill out our feedback form here: https://docs.google.com/forms/d/e/1FAIpQLSe04A3nARbDgHKXvMMPotIZq74Dy7xKW7oZ3kXt8anIoVf8Fg/viewform.
Face Masks:
At this point in time, SHA has not made it mandatory for our vendors and customers to wear face masks. That said, we feel that wearing a face mask demonstrates an act of respect and kindness to those around you and therefore the RFM encourages our vendors and customers to wear them. For example, if you happen to sneeze, the face mask will contain your germs as a courtesy to others around you. Although wearing a face mask is ultimately your decision, we support all of our vendors and customers who choose to do so in consideration of the community around them.
Not Ready to attend Open-Air Markets? No Problem!
We understand everyone is in a different scenario, which is why we are continuing to service our RFM Online Store with Saturday distribution of Contactless Home Delivery and Pick-Up Options in Regina.
Click the link below to check out our RFM Online Store:
How does the RFM Online Store work?
Monday Noon: Online Store Opens
Thursday Noon: Online Store Closes Saturday:
Saturday: Distribution Day
Contactless Home Delivery | Noon- 7pm
AM Drive-Through Pick-Up Douglas Park | 10am-Noon
PM Drive-Through Pick-Up Douglas Park | 1pm-3pm
City Square Plaza Foot-Traffic Pick-Up |11am-1pm
Do you still have questions or concerns?
We welcome the opportunity to answer any questions you may have. If we have missed answering any of your concerns, please do not hesitate to reach out to us via e-mail: [email protected] or the Market line: 306.209.1130 (Holly) or 306.210.0101 (Adrea).
---