Street Beets May 12th, 2015: 40th Birthday, Vendor Map and Greenhouse Produce!
---
---
Greenhouses are in, greenhouses are in! Kangro Gardens, Don Mitchell, and Floating Gardens are going to bring in the produce, greens, herbs, and vegetables for the perfect salad. Salayview Farm's own Marin Waddell was suggesting a great salad on twitter last week that has me craving. She makes a salad with early greenhouse greens, goat chevre (of course!), and pecans from Name Your Nuts. Now she can add different types of cherry tomatoes and basil from Floating Gardens, plus mini cucumbers from Kangro Gardening. It is going to be salad day at my house tomorrow! Picture above courtesy of Dee Kitsch taken of Floating Gardens.
I heard from Southland Colony. They will be coming in to the Saturday, May 23rd Market with whole farm Chickens at 6 to 7 pounds each for $2.50 a pound. Ben, the Poultry Man, asks that you reserve ahead of time as demand is high for these naturally raised chickens. Please text or call 1-306-784-7799. They will also be bringing in carrots, potatoes, and eggs.
Today is our 40th Birthday! On May 12th, 1975 only five booths set up for the first ever Regina Farmers' Market with the encouragement of the Provincial Ministry of Agriculture. Only one vendor that still attends to this day is left of that original group. We ask you to visit Rose Fishley from Fishley Farms and congratulate her on a huge achievement. Imagine the hours of work she has put in to run a Market booth all these years! For all of us, we feel sadness that her husband Stuart Fishley did not quite make it to this 40th Anniversary, as he passed away just a few months ago. He was so looking forward to celebrating this important day. In celebration of this Anniversary, I will be helping the Market vendors select 40 special customers this year for gifts. We are looking for awesome supporters, local food lovers, and Market boosters! I hope it will be you!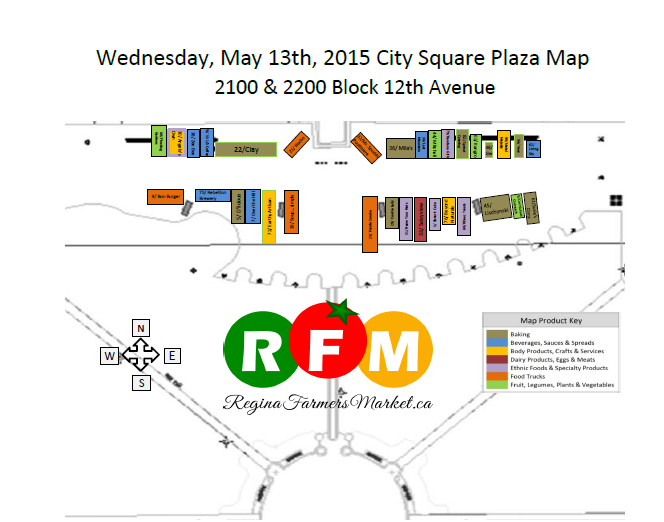 Of course, a website posting would not be complete without the Vendor Map. Please come back and visit as I will posting one the night before every Market! Here is the map for May 13th, 2015 in PDF, which is much more readable. I know tomorrow it is supposed to drizzle, but there some excellent products coming in. I hope to see you tomorrow! Ada
---