Street Beets November 1st, 2014: Vendor Map and Kids' Club
---
---
Regina, thank you! You supported our new space at the Shrine Center in droves! It was great to see so many of you out and in the building for the first time. Check out this week's map to see if your favorite vendors are in!
As an event planner for lots of years, you'll hear me asking people what they think, how it can be improved. This week we will have a rest area in the northeast corner of the space. I cannot guarntee that it will be there all the time, we may have to put it on the stage as we get even busier going forward.
Customers should be aware that we have a Stair Trac System for wheelchairs to get in the building. Unfortunately the washrooms in the space are not accessible for wheelchairs. Atlantis Coffee at Victoria Avenue and Hamilton Street have kindly provided us with accessible washroom just a short distance from the Shrine Center. Customers may exit through the southeast door of the space as the front stairs can get very crowded. We have an awesome gentleman, Kurtis, who will help you with strollers, excess bags, and the Stair Trac if needed.
I hope you are enjoying that there are more vendors! They really are so excited to be there. The news travelled all the way to Saskatoon where our vendors heard the Market was great and they plan to attend in the coming weeks.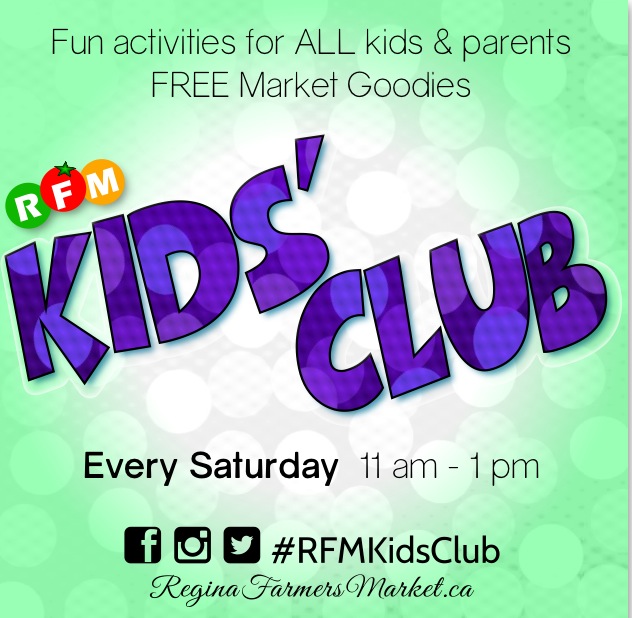 We will be running Kids' Club tomorrow. I have some more buttons and cloth bags for those of you that did not attend last week. We will be facepainting! Kids' Club runs 11am to 1pm every Saturday. Thanks again everyone! Ada
---