This Week at the RFM (June 12 & 15)
---
---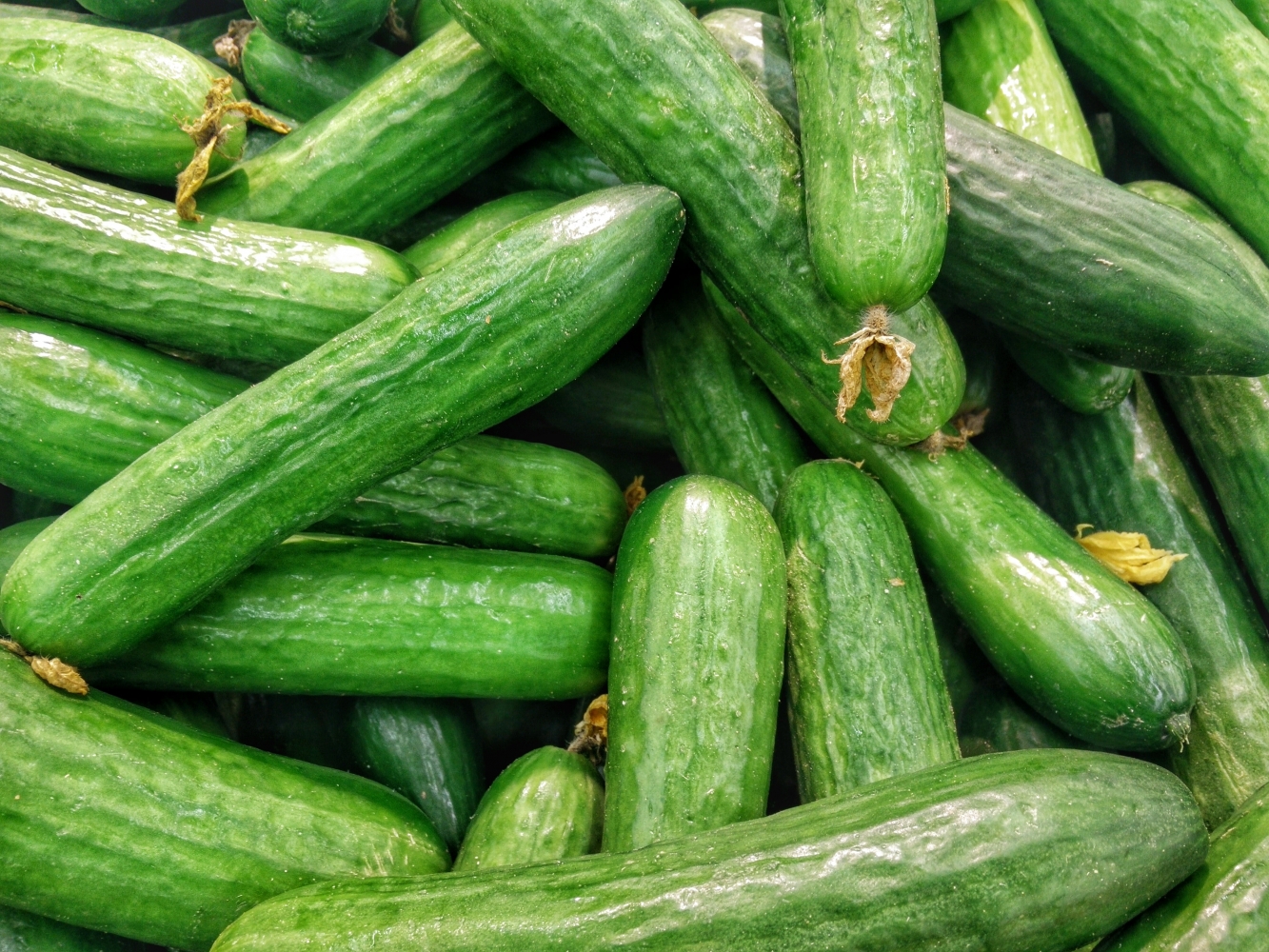 Join us at the Regina Farmers' Market this week on Wednesday June 12 and Saturday June 15. Farmers' Markets take place on City Square Plaza from 9 am to 1 pm.
What's in season RIGHT NOW (and where can I find it)?
New Vendor Alert: Essence Photography and Design
First Markets of 2019
Vendor Profile – Golden Prairie Wild Boar
Beat the Heat with Regina Made Lemonade
Building Community
What can you expect in June and into July?
2019 Summer Evening Markets
Click the dates below to visit our Market Calendar and see a complete list of scheduled vendors:
Wednesday June 12
Saturday June 15
What's in season right now (and where can I find it)?
• Cucumbers – certainly among the most refreshing of summer vegetables, nothing competes with fresh-off-the-vine local cukes! Find them on the Plaza this week at Floating Gardens (Wed & Sat) Heliotrope (Wed & Sat), Kangro Gardening (Wed).
• Tomatoes – beautiful and flavourful greenhouse tomatoes abound at Kangro Gardening and Floating Gardens this week. Pair them with fresh cucumbers for a delicious Greek Salad!
• Carrots!!?? Can it be? Incredibly, baby carrots are beginning to pop up on the Plaza. Come early this Saturday and you might just be able to snap some up from Belle Plaine Gardens and Heliotrope!
• Garden Plants & Supplies - for the gardeners among us, there will be plenty of garden supplies on both Wednesday and Saturday of this week. Check out:
An incredible assortment of pepper plants from Rocky Acres Orchard (pictured above), including Purple Flare, Caroline Reaper, Sedona, Scorpion, and Chocolate Reaper. PRO TIP: Perry of Rocky Acres is something of a pepper connoisseur, so be sure to pick his brain about which peppers are best to sweeten a meal or blow your top off! You can also season your meals year-round with RAO's line of farm-grown hot pepper flakes!

Fun decorative garden stakes handmade by Rod at BarnCat Designs

Perennials from S & S Flowers (Wednesdays) and bedding plants from Clay's Plant World (Wed & Sat) and Miller's By-Gone Farm (Saturdays). PRO TIP: if you haven't already picked up one of Kangro's epic hanging tomato baskets, don't miss out! A single basket will keep you in tomatoes for much of the summer!
• Mosquitoes… those pesky critters are starting to make their appearance, so it's time to stock up on your summer supply of all-natural Go Away Spray from Sacred Earth.
New Vendor Alert! Essence Photography and Design
This Wednesday, come meet one of the newest additions to the RFM 2019 Vendor Line-up: Essence Photography and Design (pictured above). Whether you're looking for family, children, or pet photography, be sure to make a stop at Essence's booth to view some examples of their work and chat with owner Melissa about photo sessions. Melissa also handcrafts tutus, wands, and other adorable photo props to add an extra special touch to your photos. After the shoot, she'll help you plaster those toothy grins on custom pillows, brag books, mugs, photo cubes or even a t-shirt!
(Essence might be brand new, but you may just recognize Melissa, who is no stranger to the RFM… she attended the farmers' market back in 2013!)
First Markets of 2019
This Wednesday, June 12, find Alie & Elsie Jewelry at their first market of the season, and pick up a unique charm necklace created by you! Choose your chain and choose your charms to create a one of a kind piece.
Also on Wednesday, find the RFM's nuttiest vendor, Name Your Nuts, at their first 2019 market!
On Saturday, June 15, check out Carelebeads (pictured above) who will be joining us for the first time this year with their handmade lampwork beads, jewelry, and accessories.
And also this Saturday, we are delighted to welcome back our good friends at Black Fox Farm and Distillery for the frist time in 2019! Nothing like a Saskatchewan grown gin and tonic with some fresh SK cukes muddled in!
Vendor Profile - Golden Prairie Wild Boar
The RFM is very fortunate to be home to many family farmers, many of whom have been bringing their products from home to the market table for years. Golden Prairie Wild Boar is one of our favourites. Owned and operated by Robert (pictured above) and Kathleen Barton, Golden Prairie will be celebrating a decade with the RFM this September!
Originally from northwest England, where they had a sheep and dairy farm, Robert and Kathleen came to Canada in 2007 and purchased a wild boar farm. After some trial and error, they hit their stride selling at farmers' markets.
The Bartons' wild boar are raised free range on Robert and Kathleen's farm near Foam Lake, SK, on a diet of green feed, alfalfa hay, and grass. The wild ancestor to the domestic pig, boar is different from pork in that it has a darker colouring (like beef) and is leaner with more texture. Cooking suggestions: low and slow. Golden Prairie offers a variety of cuts, from burgers and chops to bacon and kebabs.
If you haven't yet, pop by Golden Prairie's booth at your next market outing and pick up something for your next summer BBQ! You can find them every Saturday and every second Wednesday (next Wednesday market is June 19).
Reward Alert: If you've collected 20+ punches on your Flok digital loyalty card, redeem them on Saturday June 15 for FREE package of wild boar honey bacon!
Beat the Heat at Regina Made Lemonade
With their cheery yellow umbrella and chalk signs, Regina Made Lemonade (pictured above) is a summer staple at the RFM. Many a hot and sunny market has seen a steady stream of people looking for a refreshing drink to beat the heat!
Owned by Shawn Fraser, Regina Made Lemonade has been the RFM's lemonade stand since 2017, locally producing a classic lemonade in addition to one flavoured with fresh raspberries. They have also offered some special flavours at past night markets, including ginger and mint. Their lemonade is sweetened with honey, which helps to cut down on the sugar content and balance nicely with the tart lemons. They are also currently working on adding new products (including kettle corn), so keep an eye out for new things at the lemonade stand soon!
You can find Regina Made Lemonade at most nice weather summer markets this season. Our fingers are crossed that there will be plenty of hot markets for you to get your lemonade fix!
Reward Alert: If you've collected 20+ punches on your Flok digital loyalty card, redeem them on Wednesday, June 12 for a FREE lemonade AND a bag of kettle corn.
PRO TIP: looking for a more grown up drink? Try adding some Last Mountain Distillery Limoncello for a yummy summer cocktail! Check out the recipe here.
Building Community
We love to welcome non-profit community groups to the RFM! Please seek out these good people and causes at market this week:
Canadian Blood Services - book your next (or first!) blood donation!

City of Regina (Water, Waste, and Environmental Services) - learn more about recycling in Regina

Regina Public Library - library cards, loans, you name it!

Saskatchewan Brain Injury Association
What Can You Expect For The Rest Of May And Into June?
JazzFest will be programming the Plaza stage during market on Wednesday June 12 and Saturday June 15
Wednesday, June 12:
9:45 - 11:00 am Resonance
11:15 am - 12:30 pm Scott Anthony and Carter Powley
12:45 - 2:00 pm Frogsback

Saturday, June 15:
10:00 -11:15 am Rayannah
11:30 am - 12:45 pm Red Wagon Gypsies
1:00 - 2:15 pm Jeff Mertick
The 30th annual Queen City Pride Parade is taking place on Saturday June 15
104.9 The Wolf will be on location from the RFM on Wednesday June 12 and Wednesday June 26
SaskExpress – these colourful young dancers will perform on the Plaza Stage on Saturday June 15
Wanda Gronhovd will be performing on the Plaza stage on Wednesday June 26
Saskatchewan Writers' Guild will be programming the Plaza stage for a special Canadian Multiculturalism Day performance on Saturday June 29
2019 Summer Evening Markets
You know them as Market Under the Stars, but this year our Summer Evening Market series is making a few changes! Here's everything you need to know:
• Summer Evening Markets will take place from 4:00 to 8:00 pm, EVERY Thursday from July 4 to August 29

• Your favourite Regina Farmers' Market vendors will be on hand with special evening market features!

• Pick up all your local groceries on the way home from the office

• Grab supper at one of our many fabulous food trucks

• Sip a cool, locally made craft beverage in our licensed area

• Shake your tail feather and learn some sweet salsa moves with the Regina Salseros

• Kick back, relax and take in some live entertainment on the Plaza Stage!
---