This Week at the RFM (Wed June 19 & Sat June 22)
---
---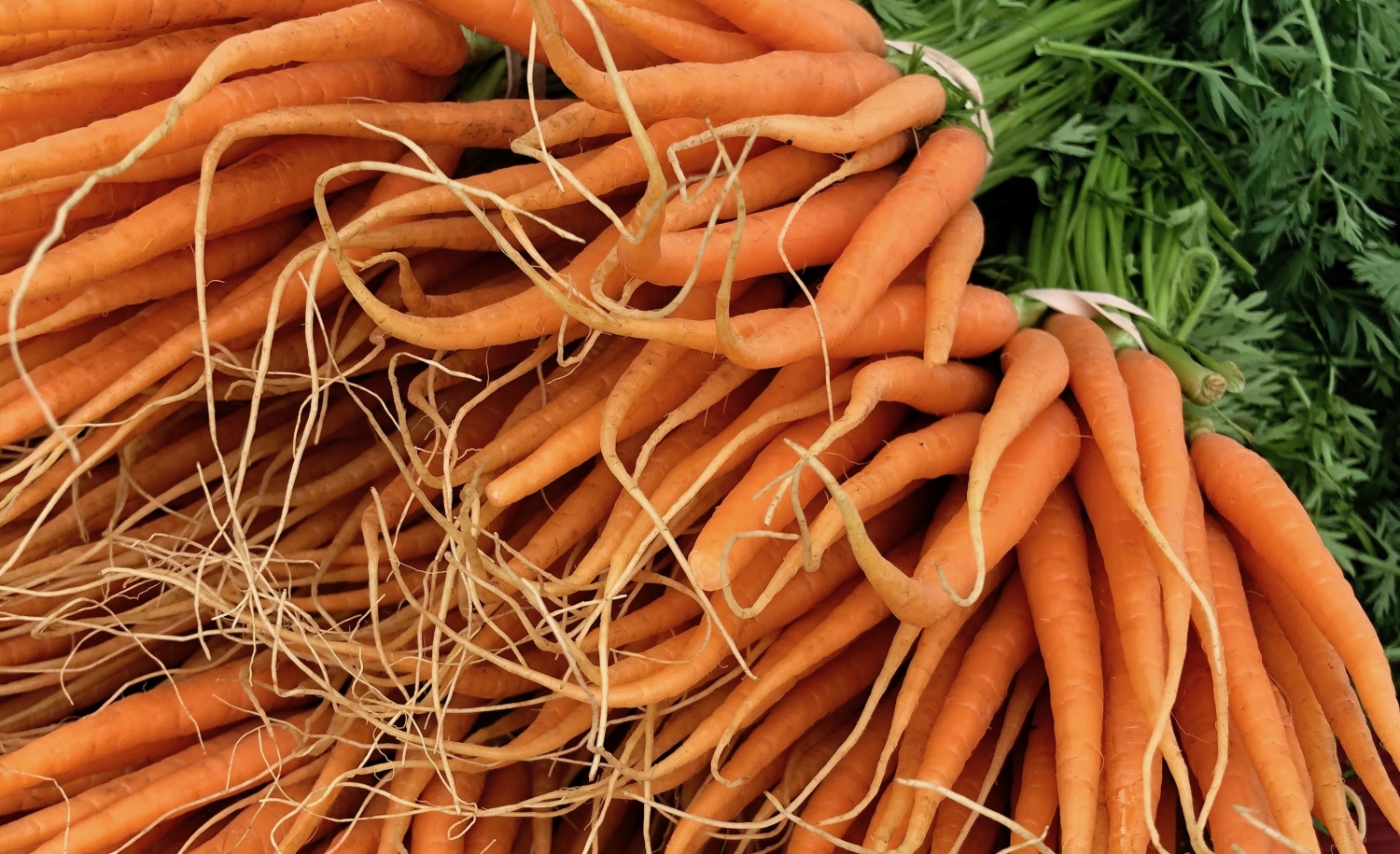 Join us at the Regina Farmers' Market this week on Wednesday, June 19 and Saturday, June 22. Farmers' Markets take place on City Square Plaza from 9 am to 1 pm.
What's in season RIGHT NOW (and where can I find it)?
Vendor Profile & Flok Reward – D'licious Treats
RFM Summer Evening Markets
New Vendor Alert! Past Prints Jewelry Designs
Vendor Profile & Flok Reward - Mix Small Batch Granola
PSA: Fur Babies at Market
Building Community
What can you expect for the rest of June and into July?
Click the dates below to visit our Market Calendar and see a complete list of scheduled vendors:
What's In Season Right Now (And Where Can I Find It)?
Carrots - there is absolutely nothing better than a crunchy baby carrot, fresh out of the earth! They don't come any fresher than straight from the farm. This week, visit Heliotrope Organic Farm (Wed & Sat) and Belle Plaine Gardens (pictured here, Saturdays (June 22 TBC)) for the freshest carrots in town!
Vendor Profile & Flok Reward: D'licious Treats
If you've got a sweet tooth and a taste for flavours like caramel, coconut, and butterscotch, then the goodies at D'licious Treats (pictured above) are calling your name! Dolores, the baker behind it all, has been bringing her treats to the RFM since 2003. D'licious Treats was born out of Dolores' wish to lend a helping hand during the holiday season in the form of ready-to-bake cookies. It went over so well that it led to more customers and eventually to the RFM.
Now, 16 years later, D'licious Treats has gone through a few evolutions but remains true to its beginnings. Dolores puts her heart and soul into the business, inspired by memories of her mum and the desire to recreate the treats she grew up with. On the D'licious Treats table, you can find everything from gooey cookies (the more chocolate the better!) and fluffy marshmallows, to churros and the most recent addition: doughnuts! Baked small-batch and with quality ingredients, your sweet tooth cravings will no doubt be satisfied.
Catch D'licious Treats at most Wednesday and Saturday markets this summer! And if you've collected 20+ punches on your Flok digital punch card, redeem them at D'licious Treats for a FREE half-dozen doughnuts! (You'll be the most popular one in the staff room!)
RFM Summer Evening Markets
RFM Summer Evening Markets (you know these as Market Under the Stars) are returning for their seventh year! This summer, join us at the Regina Farmers' Market EVERY Thursday in July and August for weekly evening markets full of local food, drinks, and FREE live entertainment.
Summer Evening Markets will take place EVERY Thursday from July 4 to August 29, 2019, from 4:00 to 8:00 pm on City Square Plaza. You can expect:
• Your favourite RFM vendors on hand with local produce, prepared foods, art, and craft;

• Summer Evening Market feature menus with tastes available ONLY at evening markets;

• Locally crafted beer, wine, mead, and spirits to sample in our licensed area, sponsored by District Brewing Company;

• Salsa dancing and lessons courtesy of the Regina Salseros;

• Live entertainment featuring music by an eclectic mix of artists from across Saskatchewan and Canada (stay tuned for the lineup!).
Find everything you need to know about Summer Evening Markets at reginafarmersmarket.ca. And share your experience with us by using the hashtag #RFMSummerEveningMarkets
Huge thank yous to our sponsors: District Brewing Co. and the City of Regina. And to our good friends at Regina Downtown BID!
New Vendor Alert! Past Print Jewelry Designs
Australian by birth, Allison of Past Print Designs returns to Australia every year. After years of bringing home gifts of cabochon jewelry for family and friends, she decided to take her interest in cabochon to the next level. She researched the process and began making her own jewelry!
Allison makes use of secondhand books and prints as images that go behind the cabochons, which are then mounted in the bezel settings. All her images are unique and upycled, hence the name Past Prints! Her products include rings, pendants, earrings, and gifts for children (using children's book images)!
Vendor Profile - Mix Small Batch Granola (June 22 Flok Reward!)
"Is the granola guy here today?"
In the long list of frequently asked questions at the RFM info booth, this one is definitely in the "mix". And for good reason – it's both delicious and addictive. Randy and Jan, the owners behind Mix Small Batch Granola (pictured above), are all about bringing a high quality, handcrafted product to your breakfast. Or smoothie. Or dessert. The possibilities are endless, as is evident by the number of foodie photos from customers on Mix's Instagram.
Mix is always experimenting with different flavours to develop delicious granola blends (Bananas Foster granola, anyone?) in addition to offering speciality granola items like Maple Pecan Berry Bark and Pecan Almond Granola Clusters. Be sure to snag a sample during your next market outing!
Randy and Jan are champions of supporting local; their granola is on a lot of menus and shelves, but we're especially glad it's at their RFM booth! Look for their booth on the corner of Scarth Street and 12th Avenue for some "good stuff for good people" on Saturdays this season.
And if you've collected 20+ punches on your Flok digital punch card, redeem them this Saturday for a FREE bag of granola (valued at $10!).
PSA: Fur Babies at Market
Fun fact: one of the most divisive issues that RFM staff comes across is (you'll never guess): DOGS!
Bringing a fur baby along to market is a favourite traditions for many of the dog lovers among us, and with a fantastic assortment of delicious homemade pet treats including Jenny's Bow & Meow, The Pupcake Bakery, and The Good Dog (who are ALL scheduled to attend market this week!), your pooch will never go hungry at the RFM.
We love to welcome your pups to the market! But just as much as dog lovers are fanatical about their canine companions, there are just as many folks out there who have real dog fears or allergies to contend with. So if you're planning a trip to the farmers' market with Fido, please be considerate of others and make sure that your pup is under your control at all times! Doggies who get riled up around people, kids, food, or other dogs are best left at home!
Building Community
We love to welcome good causes to the RFM! Be sure to visit these important community organizations at the market this week:
SK Prairie Conservation Action Plan

Canadian Blood Services

Regina Public Library

SK Brain Injury Association
What can you expect for the rest of June and into July?
104.9 The Wolf will be on location from the RFM on Wednesday June 26

Wanda Gronhovd will be performing on the Plaza stage on Wednesday June 26

Saskatchewan Writers' Guild will be programming the Plaza stage for a special Canadian Multiculturalism Day performance on Saturday June 29

RFM Summer Evening Markets start Thursday July 4th, and run EVERY Thursday until August 29!
---