This Week At The RFM (June 5 & 8)
---
---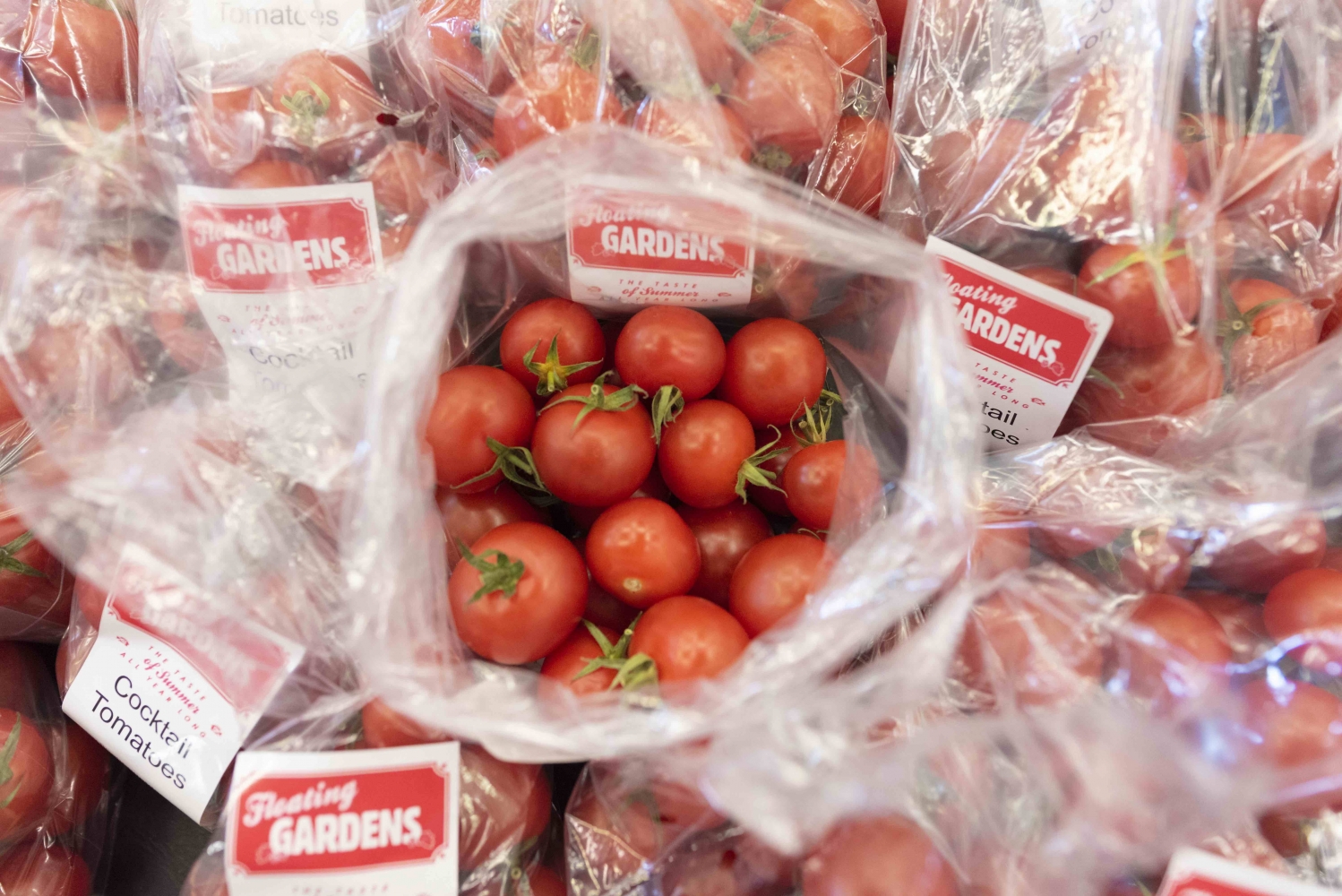 This week's forecast has more heat coming our way... and we might even see some rain this weekend, which will send our farmers over the moon!
Join us at the Regina Farmers' Market this week (RAIN OR SHINE!) on Wednesday June 5 and Saturday June 8. Farmers' Markets take place on City Square Plaza from 9 am to 1 pm.
What's in season RIGHT NOW (and where can I find it)?
New Vendor Alerts
First Markets of 2019
Vendor Profile - Nana K's British Pies
Insider Tip (Meat Lovers Edition)
Grab Lunch: Malinche
Building Community
What can you expect in June?
Click the dates below to visit our Market Calendar and see a complete list of scheduled vendors:
What's In Season RIGHT NOW (And Where Can I Find It)?
Tomatoes: Early June might sound early for fresh-off-the-vine tomatoes, but it's not when you have access to beautiful, SK-grown greenhouse tomatoes. It's near impossible to go back to the supermarket variety once you've had tomatoes from the likes of Floating Gardens (Wednesdays & Saturdays) and Kangro Gardening (pictured in the video above, Wednesdays and some Saturdays).
Asparagus: One of our earliest SK harvests and a sure sign that spring is in full swing, fresh asparagus is a true seasonal treat! Find some this week at Heliotrope (pictured above, Wednesdays and Saturdays)
Keep the salads coming: Find your lettuces, spinach, kale, chard, and green onions to make that perfect, freshest-ever spring salad! Find all your salad fixings at Heliotrope (June 5 & 8), Kangro Gardening (June 5 & 8) and Floating Gardens (June 5 & 8), and Waldeck Colony (June 8)!
Garden Starts & Perennials: Haven't finished getting your garden in? Never fear. Grab your garden starts at Clay's Plant World (Saturdays & Wednesdays) and Fishley Farms (Saturdays & Wednesdays); and beautiful perennial plants from S & S Flowers (Wednesdays). PRO TIP: don't miss the awesome assortment of pepper starts from Rocky Acres Orchards (varieties include Scorpion, Purple Flare, Carolina Reaper, Sedona, and Chocolate Reaper)!
New Vendor Alert - Prairie & Ivy Studio
Find brand new RFM vendor Prairie & Ivy Studio (pictured here) this Saturday, June 8, at their first EVER farmers' market! Rebecca of Prairie & Ivy handcrafts gorgeous macrame items, including plant holders, wall hangings, garlands and more. Check out Prairie & Ivy's RFM vendor page for more images of her beautiful work.
First Markets Of 2019
As the weather heats up, we look forward to welcoming back more of our hot season vendors. This week look for Absolute Zero (pictured above), who will be joining us on Saturday June 8 for the first time this year! Treat yourself to an ice cream, artisanal ice pop, or other frozen confection from their impossible-to-miss blue truck.
DID YOU KNOW the Absolute Zero truck can be powered by the sun? Make sure to pop by to check out their solar set up!
This week you'll also find the following folks at their first Wednesday market of the year on June 5. Don't miss:
Heliotrope Organic Farm with asparagus, lettuce, cucumbers, and green onions;

Sweets by Tsina, with their rainbow of assorted French macarons!

Zee-Bee Honey, with their delicious unpasteurized pure honey.
Vendor Profile: Nana K's British Pies
Inside the bright red tent set up on Scarth street at Saturday markets, you'll find Nana K. New to the RFM this year, Nana K's British Pies (a.k.a. Kathleen) brings a little bit of Britain to the farmers' market in the form of meat pies – in an assortment of savoury flavours ranging from Chicken & Leek to Beef & Veggie.
Kathleen calls Saskatchewan home but had a desire to recreate the tastes and dishes she grew up with in Yorkshire. She felt that the prairies were lacking in British pies and originally wanted to open a pie shop here in Regina. However, she says her daughter talked her into joining the RFM (and we're very glad she did!). Since starting at indoor farmers' markets in January, Nana K has added both sausage rolls and scotch eggs to her market offerings; bringing a little bit of Greggs to the RFM. (For those not in the know, Greggs is a bakery chain in the UK).
Find Nana K at most Saturday markets! PLUS: if you've collected 20+ punches on your Flok digital punch card, this Saturday's reward is an awesome one: a FREE 5-inch pie from Nana K!
Insider Tip (Meat Lovers Edition):
For the Meat Lovers among you, the RFM is the very best place to source your locally- and humanely-raised meat. Getting to know your meat producers by name is the very best way to ensure that you learn everything you need to know about the conditions under which your meat was raised. Here are the deets:
Fresh chicken season is coming, which means that now is a great time to find some great deals on last season's frozen chicken. Check out Peregrine Farm on Saturdays for some smoking hot chicken deals, and don't forget to ask Jeff how to get in on this summer's freshest pasture-raised chickens;

There are a couple brand new sources of pork at the RFM right now, including pastured Berkshire pork raised by brand new RFM vendor Joanna of Cobblestone Farm (find her Saturdays) and pork products from Original Family Farm (also Saturday attenders), who recently added pork to their RFM product list.

Cooking for one? Sometimes a whole package of sausage or burger patties is a little too much food for a single serving. But thanks to Robert and Kathleen of Golden Prairie Wild Boar, RFM customers now have some new options for smaller servings. Check out their single serving garlic sausage and 2-pack wild boar patties (pictured above) on both June 5 and 8 this week.
Grab Lunch: Malinche
"Mexican food, prairie ingredients." This four-word tagline perfectly captures the Malinche food truck, which has spent the last couple years popping up at various Regina festivals in addition to occupying a spot outside Malty National in the Heritage neighbourhood. This summer marks their first season with the RFM, and with a few Wednesday lunch sell-outs already under their belt, it's safe to say they're a hit!
Behind it all is chef and owner Mariana Brito (pictured above). Originally from Tijuana, Mexico, Mariana grew up with the traditional cooking of her nana and brought those culinary traditions with her when she moved to Regina in 2010. The abundance of the prairies resonated with Mariana, and she started the pop-up restaurant The Backyard to learn more about local ingredients and producers. Malinche was created not long after to showcase the points at which her heritage and her new home meet. The Malinche team is committed to supporting local agriculture and the importance of feeding our bodies healthy food. They work with eight local producers in addition to maintaining a garden that supports the business.
You can find Malinche and all their delicious labours of love at our Wednesday markets this summer! AND: do you have 20+ punches burning a hole through your Flok digital punch card? Your are in luck because this Wednesday you can redeem those punches at Malinche for a FREE tote bag AND patrona!
Building Community
This year Queen City Pride celebrates their 30th anniversary, and we are very proud to partner with them on their annual Community Fair, which will take place adjacent to the farmers' market on Saturday June 8. Visit the Community Fair to learn about organizations and businesses serving and supporting LGBTQ2S members of our community.
What Can You Expect For The Rest Of May And Into June?
JazzFest will be programming the Plaza stage during market on Wednesday June 12 and Saturday June 15
104.9 The Wolf will be on location from the RFM on Wednesday June 12 and Wednesday June 26
SaskExpress – these colourful young dancers will perform on the Plaza Stage on Saturday June 15
Wanda Gronhovd will be performing on the Plaza stage on Wednesday June 26
Saskatchewan Writers' Guild will be programming the Plaza stage for a special Canadian Multiculturalism Day performance on Saturday June 29
---