This Week at the RFM (May 29 & June 1)
---
---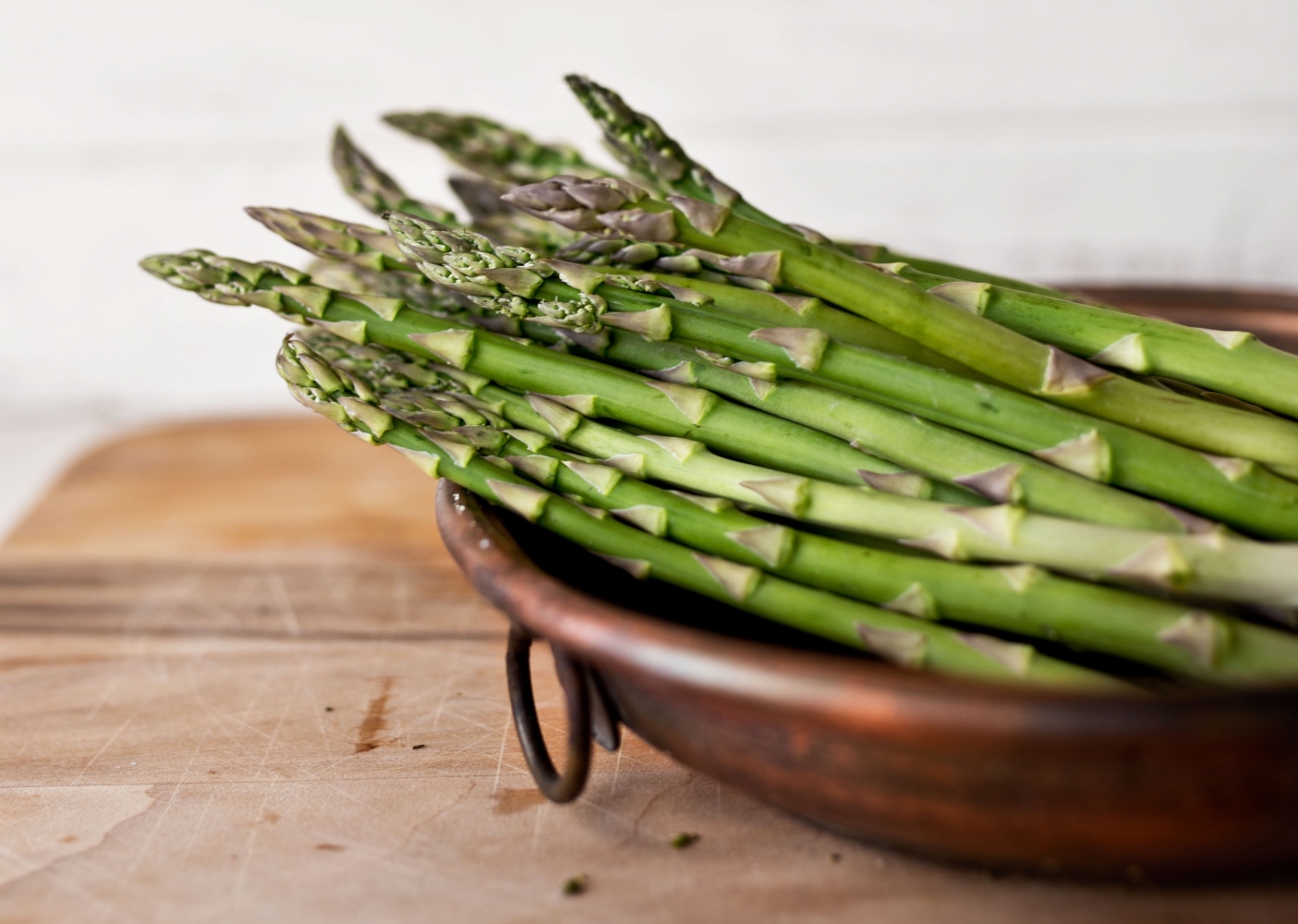 June is coming and the weather is finally heating up! Join us at the Regina Farmers' Market this week on Wednesday May 29 and Saturday June 1. Farmers' Markets take place on City Square Plaza from 9 am to 1 pm.
What's in season RIGHT NOW (and where can I find it)?
First Markets of 2019
Vendor Profile - Yorkton Bakers
Insider Tip (How to beat the heat)
Grab Lunch: Latino Bake Shop
Back in after a break
Building Community
What can you expect in June?
Click the dates below to visit our Market Calendar and see a complete list of scheduled vendors:
Wednesday May 29
Saturday June 1
What's In Season RIGHT NOW (And Where Can I Find It)?
Asparagus: One of our earliest SK harvests and a sure sign that spring is in full swing, fresh asparagus is a true seasonal treat! Find some of the earliest this Saturday at Heliotrope (pictured above) and Southland Colony. Here's a simple tip for preparing your asparagus.

Keep the salads coming: Find your lettuces, spinach, radishes, and green onions to make that perfect, freshest-ever spring salad! Find all your salad fixings at Heliotrope (June 1), Kaleidoscope Vegetable Gardens (June 1), Kangro Gardening (May 29 & June 1) and Floating Gardens (May 29 & June 1)!

Garden Starts & Perennials: Haven't finished getting your garden in? Never fear. Grab your garden starts at Clay's Plant World (Saturdays & Wednesdays), Fishley Farms (Saturdays & Wednesdays), and Miller's By-Gone Farm (Saturdays only); and beautiful perennial plants from S & S Flowers (Saturdays and some Wednesdays), and seed potatos from Heliotrope.

Hanging baskets: Don't miss Kangro Gardening's (pictured above) gorgeous hanging baskets (pictured here), including their epic tomato baskets, which you may actually need help transporting home!
First Markets of 2019
This week, look out for some familiar faces that you haven't seen in a while!
El Tropezon Food Truck - While we have seen Roberto and Valeria at markets all winter and spring, the El Tropezon Food Truck has not hit the Plaza since last summer! That is all about to change: find them on the Plaza this Saturday June 1 with their delicious, RFM People's Choice Award winning Mexican food.

PRO TIP: El Tropezon will only be bringing out the food truck on Saturdays in June... but you can find their frozen and prepared products on Wednesdays at their market booth. (You can also usually find their prepared and frozen products at the food truck when it's there!)

Jenny's Bow & Meow - If your pet's been missing Jenny's delectible pet treats, they need not wait any longer! Find Jenny on the Plaza this Saturday for the first time in 2019 (and then again on June 15, 22, and 29).

Prairie Juice Co. - Remember that awesomely refreshing coconut water and freshly-pressed sugar cane juice that hits the Plaza when it starts to get hot? It will be back on Saturday June 1, and then EVERY Wednesday and Saturday for the rest of June!
Vendor Profile: Yorkton Bakers
"Are the Yorkton Bakers here?"
It's pretty much a given that we'll answer that question at least once a market. With traditional Saskatchewan-style baking just like grandma used to make, Ron and Darlene have become a popular stop for many market-goers during their many years at the RFM. Their poppy seed roll is so well-known that it's become synonymous with Ron and Darlene. Not partial to poppy seed? Don't worry, they've got an array of baking from pies and tarts to shortbread and butterscotch confetti. And if your tastes venture towards the savoury side, they've got perogies, sausage, and other goodies that are sure to satisfy! Customers love the wide variety of sweet and savoury; there is something for everyone.
You'll find the Yorkton Bakers at most outdoor and indoor markets this season (including May 29 AND June 1... and then again on June 5, 12, 15, 19, 22, and 29. And if you don't see them, don't hesitate to ask!
PLUS: this Saturday June 1, Ron and Darlene will be offering the Flok reward! So if you've collected 20+ punches on your Flok digital punch card and have a hankering for some fresh baking, pop by their booth to redeem you punches for a FREE loaf of bread PLUS a sweet treat!
Insider Tip (How to beat the heat)
With temperatures set to soar to an incredible 29 degrees this week, it pays to know the best spots for a refreshing break. Here are a few good bets:
Klassic Kulfi - if you haven't tried this traditional Pakistani frozen treat, this week's markets will provide a perfect opportunity! Not sure which to try first? Don't worry: they'll be happy to hook you up with a sample! Find them most Wednesdays and Saturdays.

Regina Made Lemonade - whether you opt for classic lemon or raspberry, there's not much that's more refreshing than these delicious lemonades on a hot day. These fair weather vendors are scheduled to be on the Plaza Wednesday May 29!

Prairie Juice Co. - watch them crush sugar cane to a pulp... and then enjoy the fresh sweet juice that results! Or wander down the Plaza with a whole coconut full of delicious juice! We're expecting to see these folks this Wednesday and Saturday... and then at every market in June!
Grab Lunch: Latino Bake Shop
Operating since 2010, Latino Bake Shop (pictured above) has become a fixture at the RFM with their delicious empanadas. An original cultural food from Latin America, empanadas are made by folding dough over a stuffing that can consist of meat, cheese, corn, or other ingredients. Latino's empanadas take particular inspiration from Chile, but also incorporate flavours from other Latin American countries to showcase different cultural cuisines. They come in a variety of flavours, including chorizo, chicken, and veggie.
At the helm is owner and operator Gustavo Roger, whose passion and experience combined with a background in South American cuisine has made him an RFM favourite. Prompted by a desire to reach more people, Latino started out at the RFM selling frozen empanadas for customers to enjoy at home. Since then they have acquired a food truck and customers can now enjoy a tasty Latin American street food fresh and hot at the market!
Find the Latino Bake Shop booth and food truck at most outdoor markets this season! PRO TIP: When visiting the Latino Bake Shop food truck, you can also try a delicious hot lunch from new RFM vendors Karachi Foods or Good Morning Springrolls.
PLUS: If you've collected 20+ Flok punches, you can redeem them at this Wednesday's market for a ready-to-eat empanada with salsa... with a forecast of 29 degrees, it looks like it will be the perfect day to enjoy lunch on the Plaza!
Back in after a break
If you've been missing these RFM vendors, we have good news! They'll be returning this week after a break:
Birds and Birds - amp up your garden with one of their handcrafted bird or bee houses (June 1)

Rosie the Flower Truck - we absolutely love it when Rosie's gorgeous display of flower arrangements hits the Plaza. Find her June 1 (and then again on June 8,19, and 29)

Something Sweet by Fadiah - pictures speak louder than words, so we'll let this Rhubarb Galette speak for itself! Find Fadiah on May 29 AND June 1 (and again on June 8 and 29).

The Pupcake Bakery - yummy treats and accessories for your best puppy friends (returning this Saturday June 1).

The Very Berry Bun Company - find her fresh baking on Wednesday May 29 and then again on June 5 and June 19.
Building Community
We are pleased to welcome non-profits and community groups to the Regina Farmers' Market! This week be sure to visit:
New Dance Horizons (May 29 and June 1)

Saskatchewan Association for the Rehabilitation of the Brain Injured (May 29)
What Can You Expect For The Rest Of May And Into June?
SaskExpress – these cute-as-buttons mini dancers will perform on the Plaza Stage on Saturday June 1 and 15

Pride Festival – This year Queen City Pride celebrates their 30th anniversary, and we are very proud to partner with them on their annual Community Fair, which will take place adjacent to the farmers' market on Saturday June 8. Visit the Community Fair to learn about organizations and businesses serving and supporting LGBTQ2S members of our community.
---