This Week at the RFM (Wed Sep 25 & Sat Sep 28)
---
---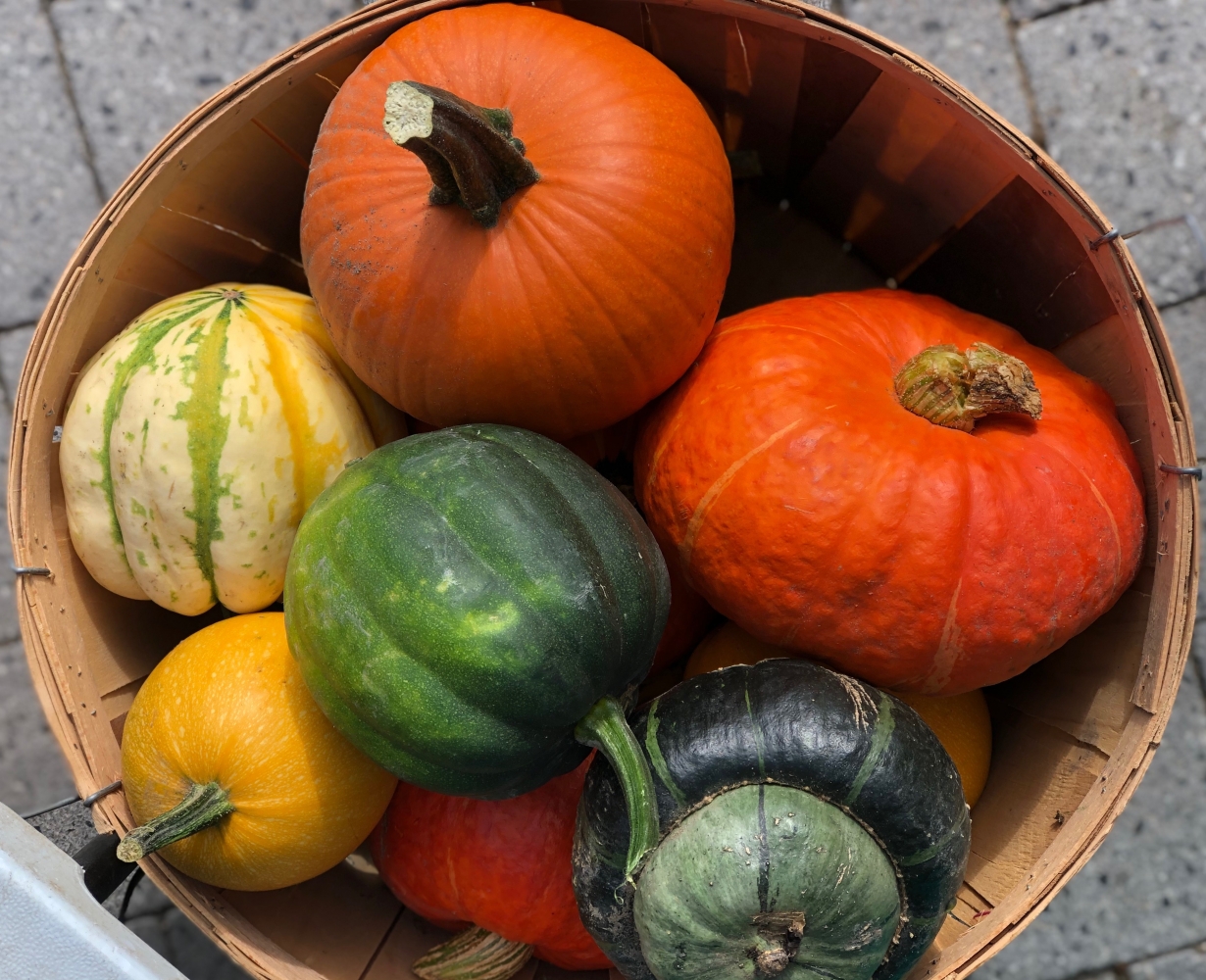 This week you can find us on Wednesday, September 25 and Saturday, September 28 from 9 am to 1 pm. Farmers' markets take place on City Square Plaza until Thanksgiving weekend (October 12), at which point we move to our indoor location at Core Ritchie Neighbourhood Centre.
What's in season RIGHT now (and where can I find it)?
Customer Reward (September 25) – The Very Berry Bun Company
Blink and you'll miss 'em!
New product alert! (Bacon fans take note!)
Customer Reward (September 28) – The Scandinavian Sweethearts
Culture Days at the RFM – While Having Soup
Click the dates below to visit our Market Calendar and see a Market Map complete list of scheduled vendors (updated the evening before market):
Wednesday September 25 (9am-1pm)
Saturday September 28 (9am-1pm)
What's In Season RIGHT Now (And Where Can I Find It)?
Roots, roots & more roots! It's root vegetable season, when our farmers have to dig a little deeper (literally) to bring you their bounty. Right now at the market, look for parsnips, beets, potatoes, carrots, and onions… and don't be shy to ask your farmers which are the best keepers so you can buy in bulk!
Pumpkins & Squash – from Kabocha to Spaghetti, Acorn to Butternut, we have a squash to suit every taste. Now is the perfect time to enjoy summer squash this week (think zucchini) or store winter squash for January (think Kabocha)! Visit Lincoln Gardens (pictured above) and all our veggie producers to find your favourite.
Pears, plums & apples – a little birdie tells us that Kim's Fresh Fruit might be running low on their stock of freshly harvested BC fruit. So don't delay stocking up on pears, plums and apples this week, because we can't guarantee their inventory will hold out to the end of outdoor market season!
Customer Reward (Sep 25) – The Very Berry Bun Company
When a vendor only brings a few select products to market, you know they make them well. The Very Berry Bun Company is one such vendor. RFM members since 2005, they haven't changed their baking line-up much in the past 14 years. On their table you'll find cinnamon buns, pizza buns, saskatoon and cranberry scones, puffed wheat cake, fruit smoothies, and most importantly, Saskatoon berry cinnamon buns. And that's it.
If you're an early morning market-goer, you'll often find the cinnamon buns still warm, having been pulled from the oven shortly before arriving at the market. Because The Very Berry Bun Company offers limited variety, you can be sure they're big on quality. Eating a Very Berry cinnamon bun is a gooey, messy, and delicious affair – as it should be!
Stop by tomorrow as it will be Very Berry's last market this year – AND, if you have 20 Flok punches, cash 'em in for any two items off the table ($5-7 value).
Blink and you'll miss 'em!
Last markets of the season sneak up on us at this time of year. In some cases vendors can give us lots of notice about when their season will wind down… in other cases it comes as a complete shock! If you're fans of the following, please don't blink or you'll miss 'em 'til 2020:
Kim's Fresh Fruit (pictured above) - last market date is coming… see PSA above!

Prairie Smoke & Spice – last markets of the year this Wednesday and Saturday.

Spring Creek Gardens - last date of the year will be soon, but we don't know when... so be sure not to miss them!

The Very Berry Bun Company – last market this Wednesday!
New product alert (bacon fans take note)!
If you like your bacon extra crispy, make sure to check out Golden Prairie Wild Boar's newest product: Rind-on Bacon. This old-fashioned style of bacon gets uber crispy while maintaining all the delicious flavour of wild boar meat. Visit Robert (pictured here) at Golden Prairie this Wednesday and Saturday, and he'll tell you all about it!
Customer Reward (Sep 28) – The Scandinavian Sweethearts
Pros at all things pickled and preserved, The Scandinavian Sweethearts are the vendors to go to when you need toppings for a burger or if you've got a hankering for Scandinavian baking. Synde (a.k.a. the Sweetheart) has been vending with the RFM since 2008, and over the past 11 years her booth has become a stop for many market-goers.
On their table you'll find not just pickles, but pickled carrots, beets, asparagus, eggs, and preserved fruits. If you're into sauces, they've got you covered there too – they make a Thai chili sauce and different kinds of mustard (spice levels vary). And if that wasn't enough, you can also find Scandinavian baking at the Sweethearts' booth; specifically, lefse, a traditional Norwegian flatbread, as well as vinarterta around the holidays.
Swing by the Sweethearts' booth at your next market – and if you have 20 Flok punches, redeem them for 10% off your purchase!
Culture Days at the RFM – While Having Soup
This Saturday at the RFM, from 10 am to 1pm, Common Weal Community Arts presents Le Temps d'une Soupe (While Having Soup) by Montreal artist collective ATSA (When Art Takes Action). The public are invited to participate in this relational artwork by sharing in conversation around relevant social issues... all while having soup! The event is documented and screened in real time as poetic portraits; photographs that capture the participants and reflect their conversations. The project has been running in locations across Canada and abroad since 2015, most recently in Mauritius, Madagascar, and France.
Saturday, September 28 | 10:00 am to 1:00 pm
The Regina Farmers Market
ASL Interpreter will be available between 11:00 am and 1:00 pm

and if you miss it at the market, check it out on:

Sunday, September 29 | 7:00 pm to 11:00 pm
Nuit Blanche YQR
This work is presented thanks to local community partners, SaskCulture, Regina Downtown Business Improvement District, Multicultural Council of Saskatchewan, the Conseil des Arts et Lettres du Québec, and the Programme d'appui à la Francophonie Canadienne.
---