This Week at the RFM (Wed Aug 21, Thurs Aug 22 & Sat Aug 24)
---
---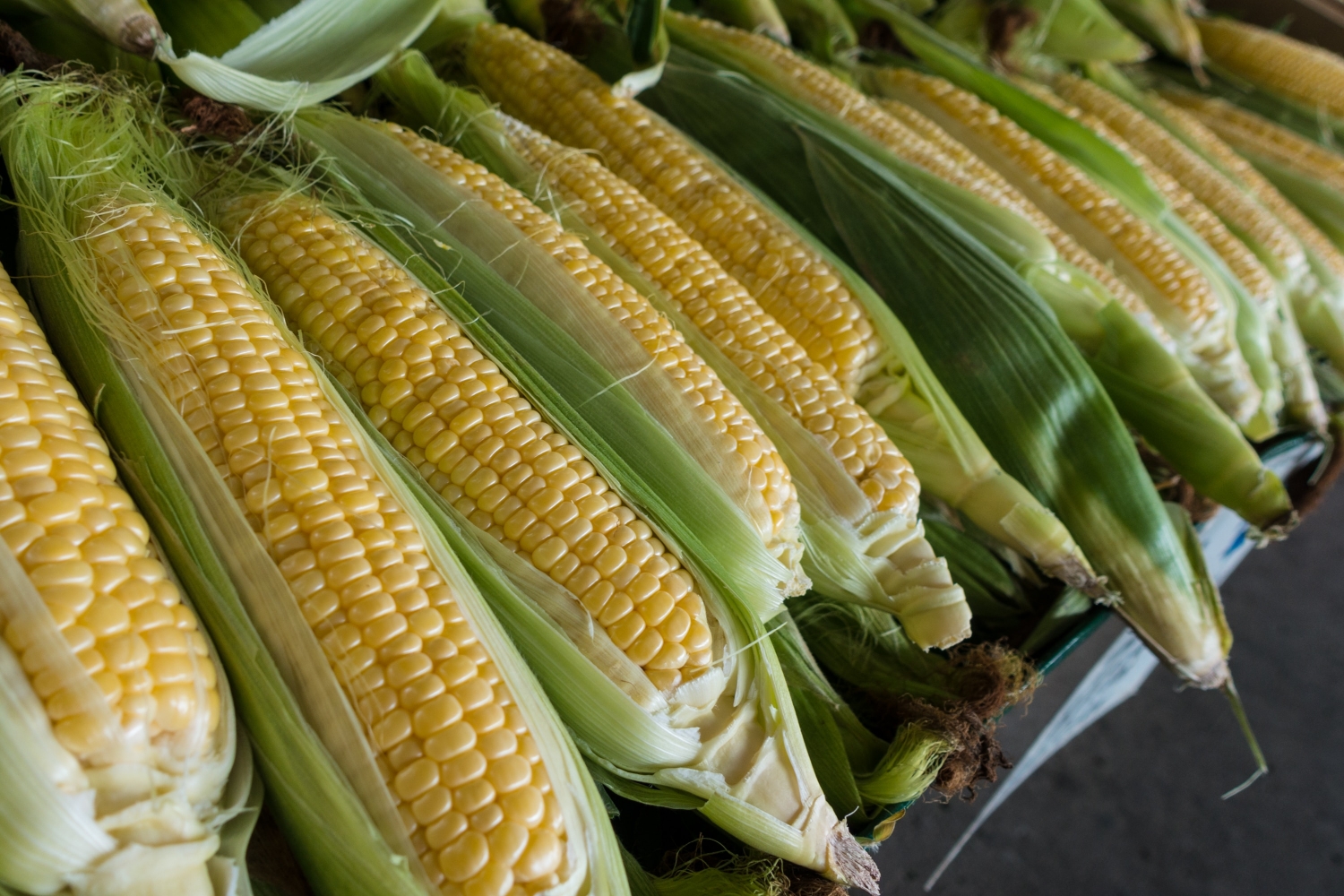 This week you can find us on Wednesday, August 21 and Saturday, August 24 from 9 am to 1 pm. PLUS, visit us at our SECOND LAST Summer Evening Market of the season on Thursday August 22, from 4 to 9 pm!
What's in season RIGHT now (and where can I find it)?
Customer Reward (August 21) – Past Print Designs
NEW VENDOR ALERT! Back To YouRoots
Customer Reward (August 22) – Happy Hi
Summer Evening Market featuring Marentin Fehr
Customer Reward (August 24) – Peregrine Farm
Congratulations Malinche!
Click the dates below to visit our Market Calendar and see a Market Map complete list of scheduled vendors (updated the evening before market):
Wednesday August 21 (9am-1pm)
Thursday August 22 (4-9pm)
Saturday August 24 (9am-1pm)
What's in season RIGHT now (and where can I find it)?
Corn – It's happening: fresh cobs are appearing on the Plaza! Boiled, grilled, frozen for winter… however you prepare it, now is the time to start enjoying corn season at the farmers' market!
Dill pickles – The early bird gets the worm when it comes to pickling cukes! Make sure you come to market early to get your cukes, as well as the fresh dill, garlic, and hot peppers (if you like 'em spicy) you need for that perfect, crisp pickle.
Apples – Saskatchewan apples aren't ready quite yet, but we are seeing the earliest of the BC varieties. Right now, find Sunrise apples (pictured here) at Kim's Fresh Fruit. PRO-TIP: Keep your eyes peeled Gala and Honey Crisp soon, as well as delicious SK varieties, which will start appearing at Rocky Acres Orchard in a couple of weeks!
Beans – still lots of beans available, in many beautiful shades!
Tomatoes – Nothing beats a truly fresh tomato. Whether you're looking for slicers, canners, or paste tomatoes, you will start seeing more and more in the coming weeks!
Customer Reward (Aug 21) – Past Print Designs
If you agree that one can never have enough jewelry, then fuel your addiction at Past Print Designs! New to the RFM this year, Past Print has been bringing their cabochon jewelry to daytime and evening markets for the past couple months. (Cabochon refers to a method of shaping and polishing gemstones which results in a dome-like shape.)
Owner Allison Schmidt's interest in cabochon began after years of bringing home gifts for family and friends during annual trips to her native Australia. She researched the process and began making her own jewelry. She makes use of second-hand prints and books that go behind the cabochons, which then are mounted in bezel settings. All the images she uses are up-cycled – hence the name Past Prints! Allison has a variety of products; including pendants, earrings, rings, and cuff links. She also has gifts for the kiddos (which use images from children's books). She's also an avid knitter, and has recently added some beautiful knitted items to her product line.
If you've collected 20+ RFM customer reward punches (powered by the Flok app), redeem them on Wednesday, August 21 for a FREE pair of earrings from Past Print Designs!
NEW VENDOR ALERT – Back to YouRoots
If you've already discovered the wonders of fermentation, brand new RFM vendor Back to YouRoots will be right up your alley! And if you're new to the flavours and health benefits of fermented foods, founders Bernie and Conrad will be happy to share the good news!
These folks are about as passionate as you can get, having lived first-hand the transformative health effects of a whole-foods, plant-based diet. Not only have they transformed their passion into a line of fermented foods including Enzyme Salad (a.k.a. fermented cabbage), preserved lemons, Kimchi and meatless pulled pork, but they're also active bloggers, and even have a regular online cooking show that features different recipe ideas and Back to YouRoots products.
Pop by Back to YouRoots starting this Wednesday August 21 to welcome Bernie and Conrad to the RFM community and sample their beautiful products! And find lots of whole-foods inspiration at their website, backtoyouroots.com.
Customer Reward (August 22) – Happy Hi Coffee
e"Do-nut worry, be happy" – this is especially easy to do with a Happy Hi Coffee donut in your hand (more like in your mouth, they tend to disappear fast). Formerly known as Do Si Donuts, Happy Hi joined the RFM in 2017 and it was the beginning of a tasty friendship.
What started with donuts has since expanded to other tasty treats like croissants, cookies, and even sourdough bread. Baking is second nature to owner Lindsay Klassen, who grew up making all kinds of baked goods and helping her mum and grandma in the kitchen. In fact, the donut recipe that Lindsay uses comes from her grandma.
Late in 2017, Happy Hi had the chance to open a tiny shop in a building on the corner of Victoria Ave and Halifax St., which meant taking a little break from weekly markets. A little over a year later and they've graduated to their own stand-alone coffee shop in the Cathedral neighbourhood. We've been thrilled to have them vending at the RFM while they work on the new shop.
Swing by Happy Hi's booth at your next Summer Evening Market or Saturday market! PRO-TIP: a little birdie told us they are even planning to add a few Wednesdays to the mix in September!
Plus, if you've collected 20+ RFM customer reward punches (powered by the Flok app), redeem them at Summer Evening Market on Thursday, August 22 for TWO FREE donuts from Happy Hi Coffee!
Summer Evening Market (2nd last of the season!)
It's hard to believe that there are only two Summer Evening Markets remaining this year! Join us this Thursday August 22 from 4 to 9 pm for shopping, dinner, and drinks from your favourite RFM vendors... as well as live music, salsa dancing, and yoga in the park!
This Thursday from 5 to 7pm, we'll be featuring Saskatoon-based singer/songwriter Marentin Fehr. An emerging artist from small town Saskatchewan, Marentin's music ranges from dreamy, acoustic numbers, to uplifting pop tunes and even punchy indie rock, all consistently sprinkled with optimism but grounded in reality.
In 2018, Marentin was nominated for a Saskatchewan Music Award for Indigenous Artist of the Year, and was the youngest artist nominated in any category! In addition, he was runner-up to Living Skies Teen Vocalist of the Year in the Living Skies Teen Vocal Showcase, and was the First Place Winner in the inaugural Saskatchewan's Got Talent competition at the YXE Food Truck Wars. Marentin released his debut EP "Tonight's Performer" on August 25th, 2018, and has since been performing at stages and festivals across Saskatchewan.
And incredibly, Marentin does all of this while also teaching music lessons to children and youth in the community! Catch him from 5 to 7pm on the Plaza Stage, followed by Yoga in the Park by Zenhouse productions (7-8 pm) and salsa lessons and dancing by the Regina Salseros (7-9 pm)!
Customer Reward (August 10) – Peregrine Farm
The most recent farmer to join the RFM, Jeff Kinash of Peregrine Farm joined us in December of last year and has quickly become a favourite of many market-goers. Located just west of Wishart, Peregrine Farm is an off-grid farm (about 99% pasture) focused on low-impact, regenerative agriculture.
Jeff discovered his love of farming in 1995, when he hitchhiked down to Honduras and spent 3 months in a little town on the coast. He learned to fish, farm, and live off the land, and it was this experience that got him thinking he could apply similar practices to his own farm. Currently, Jeff not only raises chickens, but also grows vegetables and produces honey. Peregrine is also very much a family operation as Jeff has three daughters who frequently pitch in with day-to-day farm tasks.
Pop by Peregrine's booth at your next market for some free-range poultry – and recipe ideas!
Plus, if you've collected 20+ RFM customer reward punches (powered by the Flok app), redeem them on Saturday, August 24 for HALF PRICE on ground chicken ($10...regular $20) from Peregrine Farm.
Congratulations Malinche!
One of the best (and most bittersweet) feelings is when one of our vendors evolves into a bricks and mortar business! We love being able to offer a platform and helping hand to new and small businesses as they grow their operations, and we celebrate their success as our own!
This week, former RFM vendor Pile O' Bones Brewery and current RFM food truck Malinche are celebrating the opening of their new location at 1808 Cameron St, in the heart of the Cathedral neighbourhood. Congratulations on your opening... we wish you every success!
The good news? Malinche is still attending the farmers' market! Your can find them this week on Wednesday August 21 and at Summer Evening Market on Thursday August 22!
---