This Week at the RFM (Wed Aug 28, Thurs Aug 29 & Sat Aug 31)
---
---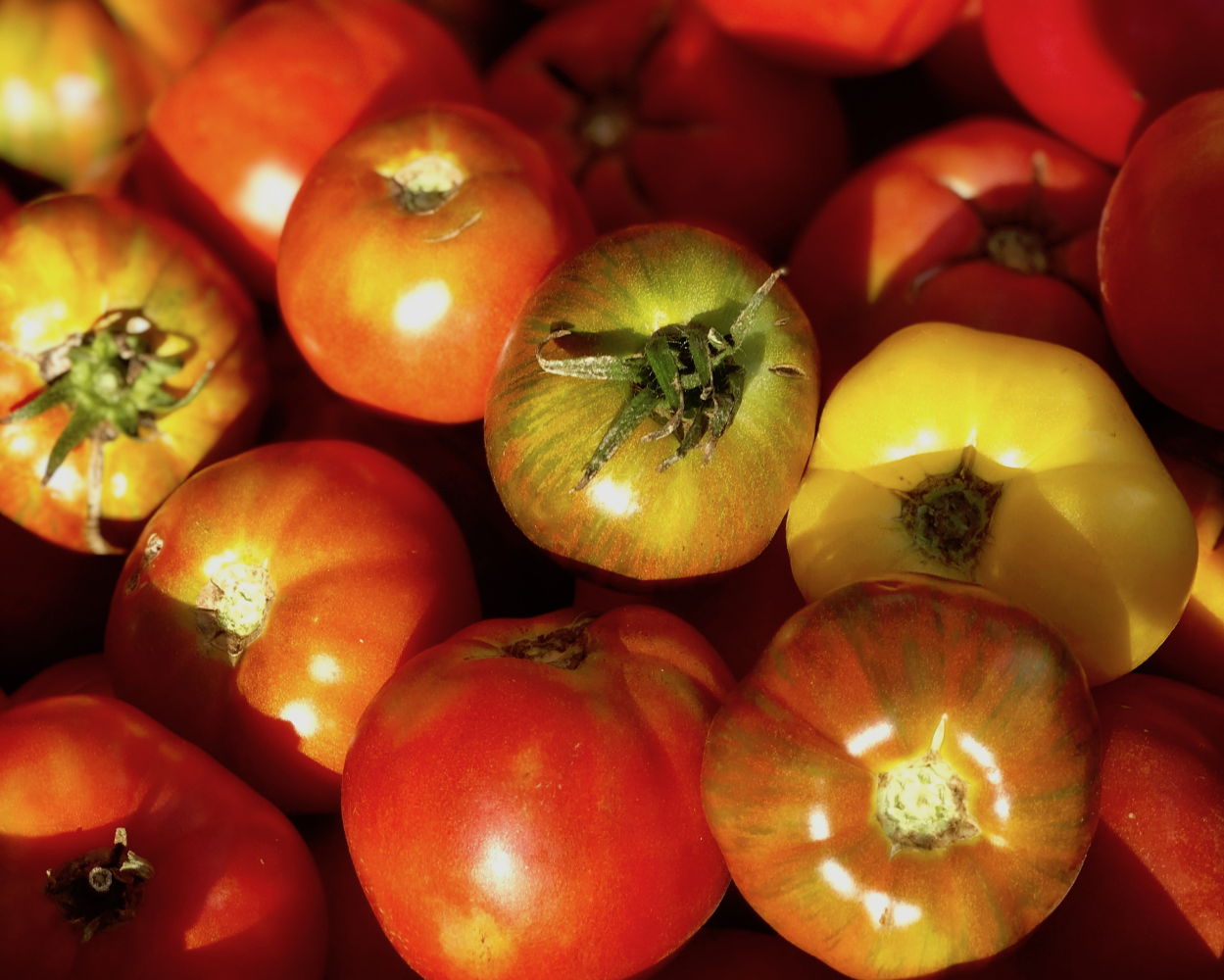 This week you can find us on Wednesday, August 28 and Saturday, August 31 from 9 am to 1 pm. PLUS, visit us at our VERY LAST Summer Evening Market of the season on Thursday August 29, from 4 to 9 pm!
What's in season RIGHT now (and where can I find it)?
Customer Reward (August 28) – The Bannock House
LAST Summer Evening Market of the season
Customer Reward (August 29) – Over the Hill Orchards
Shout out to RFM Super Staff Holly
Customer Reward (August 31) – Pure T Organics
Congratulations Mila's!
Click the dates below to visit our Market Calendar and see a Market Map complete list of scheduled vendors (updated the evening before market):
Wednesday August 28 (9am-1pm)
Thursday August 29 (4-9pm)
Saturday August 31 (9am-1pm)
What's In Season RIGHT Now (And Where Can I Find It)?
Tomatoes – Nothing beats a truly fresh tomato. Whether you're looking for heirloom varieties, cherry tomatoes, slicers, canners, or paste tomatoes, you will be seeing more and more of these red (and orange and black and green) beauties in the coming weeks! The ones pictured above are from Heliotrope.
Corn – Boiled, grilled, or frozen for winter… however you prepare it, now is the time to enjoy corn season at the farmers' market! You can pick some up from Wayne (pictured here) at Lincoln Gardens.
Squash – with an incredible number of varieties to choose from, ranging from zucchinis to patty pans to spaghettis, acorns, and more, the Sask squash options are nearly endless! And we're just getting started… look out for more varieties to keep appearing at every market from now until Thanksgiving.
Apples – Whether you favour crab apples or Honey Crisps, you will find lots of apples to choose from right now at the market. Look for Saskatchewan-grown fruit at Heliotrope, Over the Hill Orchards, and Rocky Acres Orchard, and BC-grown varieties at Kim's Fresh Fruit!
Customer Reward (Aug 28) – The Bannock House
"Don't panic, we have bannock" – and boy, do they ever! From bannock burgers to fry-bread to the Indian Taco, The Bannock House is bringing Indigenous culture to RFM's food truck fleet. Owned by Pamela Carpenter, The Bannock House made their RFM debut just this past May and it wasn't long before they had the Wednesday lunch crowd buzzing.
Viewed as the Indigenous staff of life, bannock is common to virtually all North America's first peoples. The European version originated in Scotland, and was made traditionally of oatmeal, while the bannock of Indigenous peoples was made of corn and nut meal along with flour made from ground plant bulbs. Today, bannock is most often deep-fried, pan-fried, and oven-baked and is one of the most popular and widespread Indigenous foods; served at pow-wows, festivals, and family gatherings.
Try a bison bannock burger or even just a piece of bannock at your next market!
Plus, if you've collected 20+ RFM customer reward punches (powered by the Flok app), redeem them Wednesday August 28 for a FREE Mini Bannock Taco Bowl (bite-sized bannock topped with beef, cheese, tomato, salsa, and sour cream)!
LAST Summer Evening Market of the Season!
Huge thank yous to all the RFM customers and vendors that have come out in July and August to enjoy and support our Summer Evening Market series! Our last Summer Evening Market of 2019 will take place this Thursday August 29 from 4 to 9 pm.
Join us this week for:
• Live music by Rah Rah's Marshall Burns, from 5 to 7 pm on the Plaza Stage
• Yoga in the Park by Zenhouse Productions from 7 to 8pm (min $5 donations, with proceeds going towards the YWCA of Regina)
• Free salsa lesson and dancing by Regina Salseros from 7 to 9 pm at the Plaza Stage
• A refreshing local beer, cocktail or glass or wine or mead from Black Fox Farm & Distillery, Over the Hill Orchards, Prairie Bee Meadery, or our fabulous event sponsor District Brewing Co.
• Loads of local shopping and eating options from your favourite RFM vendors!
Customer Reward (August 29) – Over the Hill Orchards
A little gem located 15 minutes northwest of Regina, Over the Hill Orchards is nestled in a section of the Qu'Appelle valley and grows a variety of fruits, some of which might make you say, "you can grow that here?"
Owned by Dean and Sylvia Kreutzer, Over the Hill Orchards has been a market vendor for the past 12 years; bringing fruit, wine, and more to market-goers since 2007. Both Dean and Sylvia have always been fruit lovers, but it was a tour of a local nursery that sparked their desire to apply principles of fruit growing and tourism here in SK as it had been done in places like California.
Before the dream could become a reality, there would need to be a lot of research. Dean and Sylvia made many trips to fruit-growing regions in North America and connected with growers around the world. Even with all their gathered knowledge, the transition from plan to reality wasn't smooth and there were some hard lessons learned from Mother Nature.
Thankfully, they adapted and kept planting, and now Over the Hill Orchards has blossomed into an orchard and winery; offering tours, seminars, and hosting suppers on their patio. Stop by their booth at your next market to learn more! PRO TIP: On Thursday evening, make sure to look for Over the Hill inside our licensed area, where you can sample their fruit wines AND shop their beautiful fruit spreads, juices, and more.
Plus, if you've collected 20+ RFM customer reward punches (powered by the Flok app), redeem them at Summer Evening Market on Thursday, August 22 for a FREE Cherry Bark (value $5) from Over the Hill Orchards!
Shout out to RFM Super Staff Holly!
You see her at every market: clocking thousands upon thousands of steps hiking up and down the Plaza, supporting customers and vendors alike, and applying a friendly yet firm hand to the unwieldy beast that is farmers' market management!
RFM Operations Manager Holly Laird is the person that manages all the details so that they align to become a killer market experience week in and week out. From vendor bookings to traffic permits, health inspections to cheerleading demos, Holly's the glue that holds it together.
The RFM has been blessed to call Holly one of our own since 2015, when she joined the market as a vendor hawking yummy grass-fed gummies and other naturally-sweetened treats. She went on to volunteer on the RFM Board of Directors before finally taking the plunge and joining the staff in 2018.
If you haven't met Holly, pop by the RFM Info Booth to say hi, or look for the gal with the clip board making her rounds at every market. Thank you Holly, for all you do!
Customer Reward (August 31) – Pure T Organics
Did you know that it's recommended that we eat ½ cup of pulses (dry peas, beans, lentils, and chickpeas) three times a week? Pulses are plant protein powerhouses (try saying that three times fast!) and bumping up our consumption of them improves nutrition by adding protein and fibre to our diets.
We've been fortunate to have a pulse producer here at the RFM for the past decade. David and Hazel Tanner of Pure T Organics have been providing market-goers (and other vendors; Ashley of Saltine Baking Co. uses both their rye and spring wheat in her breads) with pulses and flours since 2009. The Pure T Organics farm is located 10 miles west of Regina between Pense and Grand Coulee. Comprised of 600 acres and farmed by David and his son, they rotate between 12 varieties of grains and pulses, with green lentils and spring wheat being their two staples. They made the switch to organic in 1998 and became certified in 2001.
Looking to integrate more plant-based meals into your diet? Stop by David's booth at your next market to learn more about pulses, get some recipes, and of course try a spoonful of green lentil sprouts!
PLUS, if you've collected 20+ RFM customer reward punches (powered by the Flok app), redeem them on Saturday, August 31 for a FREE 1kg bag of lentils (your choice of variety) from Pure T Organics.
Congratulations Mila!
Yet another of our vendors is celebrating the launch of their own bricks and mortar location! Congratulations to long-time RFM staple Mila's on the recent opening of their new bakery, Baba's Dough Box. If you're a fan of Mila's traditional baking, don't miss visiting their new location at 751 Victoria Avenue East in Regina.
More good news? Mila's is still attending the farmers' market! Your can find them this week on Wednesday, Thursday, AND Saturday!
---