This Week at the RFM (Wed Aug 7, Thurs Aug 8 & Sat Aug 10)
---
---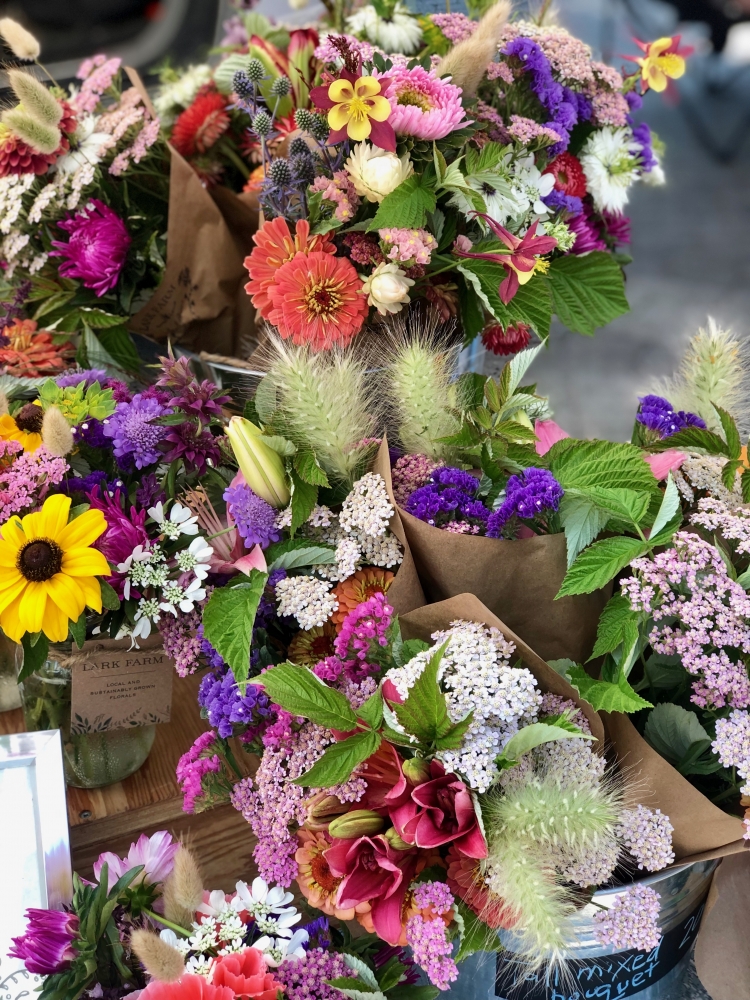 This week you can find us on Wednesday, August 7 and Saturday, August 10 from 9 am to 1 pm. PLUS, visit us at Summer Evening Market on Thursday, August 8, from 4 to 9 pm (and EVERY Thursday evening until the end of August)!
***PLEASE NOTE*** Due to the Regina Folk Festival (Aug 9-11), our Saturday market will be located on Scarth St (on two blocks between 12th Ave and 13th Ave)!
What's in season RIGHT now (and where can I find it)?
Customer Reward (August 7) – The Good Dog
Summer Evening Market, featuring Damase Elis
Customer Reward (August 8) – Sacred Earth Soaps
PSA: We are moving (on Aug 10 ONLY)!
Customer Reward (August 10) – Southland Colony
Click the dates below to visit our Market Calendar and see a Market Map complete list of scheduled vendors (updated the evening before market):
Wednesday August 7 (9am-1pm)
Thursday August 8 (4-9pm)
Saturday August 10 (9am-1pm)
What's in season RIGHT now (and where can I find it)?
• Flowers – so many beautiful flowers grow in Saskatchewan, especially at this time of year. This week, treat yourself to a beautiful bouquet from Lesley at Lark Farm (pictured above, find them this Wednesday). Need a Saturday flower fix? We'll also be welcoming Rosie the Flower Truck back to market on Saturday August 10!
• Garlic – the garlic has been rolling in for a couple of weeks, but we KNOW that garlic season is truly upon us when Anna of The Garlic Garden finally arrives at market. Find Anna starting this Wednesday and Saturday (and for the rest of the outdoor season) with fresh garlic.
• All the fixins for dill pickles – it's time to get pickling! Find your fresh dill and pickling cukes at market… starting NOW!
• Summer squash - now is the time to start looking for beautiful green and yellow zuchinnis, along with adorable Patty Pan squashes!
• Cabbage – lots of our farmers are starting to bring in fresh cabbage, so we thought we'd play a little game of "Name That Cabbage Head". Check out the photo above, and then visit us on Facebook or Instagram to give it your best shot: guess which farms these Cabbage Heads come from and we'll enter you in a draw for $40 worth of RFM Market Money!
• Plums are finally arriving at market! Be sure to visit Kim's Fresh Fruit this week (on Wednesday, Thursday, and Saturday) to pick up some of these juicy beauties!
Customer Reward (July 31) – The Good Dog
Bringing your furry friend to market? Be prepared for them to lead you right to The Good Dog's booth. Filled with handmade, chemical and preservative-free dog treats and kibble, it's been every dog's happy place since The Good Dog started vending at the RFM in 2018.
Owned by Jena Womack and Robin Johanson (pictured here), The Good Dog was started out of a desire to provide safe, healthy food and treats to their dogs. When they learned that they had both lost a dog to cancer, Robin and Jena started to look into the ingredients in pet food as well as the regulations and guidelines of the commercial pet food industry. Their research revealed that many ingredients in almost all commercially-made dog foods are not only unhealthy but can also be very harmful.
After more research they developed homemade, nutritionally balanced soft food and kibble recipes without harmful chemicals and preservatives. When family and friends became interested in their dog food, Robin and Jena decided to create treats as well. Some of their treats also include goat meat from JE Ranch (another RFM vendor).
Treat your pet at your next market outing! Plus, if you've collected 20+ RFM Customer Reward punches, you can redeem them on Wednesday August 7 for 10% off any purchase at The Good Dog!
Summer Evening Market, featuring The Chop Shop, Salsa & Yoga!
At this Thursday's Summer Evening Market we're welcoming a bevy of local Regina jazz musicians to the Plaza stage! Join us from 5 to 7 pm for The Chop Shop, featuring Carter Powley (saxophone), Danny Jones (bass), Phillipe Bouchard (guitar), and Brent Jefferson (drums). They'll bring us a couple of fabulous sets before the Regina Salseros take to the stage to lead us in salsa dancing from 7 to 9 pm! (Never tried salsa before? No problem... the Salseros always open with a salsa lesson that's perfect for brand new and experienced dancers alike!). And if salsa isn't your thing, bring along your yoga mat and take in some Yoga in the Park (7-8 pm), led by Zenhouse Productions. Yoga is by donation, with all proceeds going to Bright Eyes Dog Rescue!
Customer Reward (August 8) – Sacred Earth Soaps
If you're a fan of bath-bombs and scents like patchouli-cinnamon and lavender-sweet orange, then a visit to Sacred Earth Soaps is in your future! Sacred Earth (made up of husband-wife team Jordan (pictured here) and Laura) has been providing all-natural bath and body products to market-goers since 2012, and they celebrated 20 years in business in 2018.
It all began when Laura became a mom and started considering the safety of the products she was using in her daily life for her and her family. She started experimenting with all-natural soap recipes and eventually decided to have a booth at the Cathedral Village Arts Festival. After an enthusiastic response at the festival, Laura decided the business was worth pursuing.
She soon met Jordan, who after a few soap-making lessons, was sure that the business had potential. Slowly the business shifted to becoming his sole responsibility with Laura still involved with product development, marketing, and sales. Over the years they have increased their product line to include shampoo bars, beeswax candles, a full line of skincare products, and a healing salve that the RFM staff (among others) are big fans of.
Pick up a bath-bomb or some body lotion at your next market and pamper yourself! Plus, if you've collected 20+ RFM Customer Reward punches, you can redeem them at Summer Evening Market on Thursday August 8 for $10 off any purchase at Sacred Earth!
PSA: We are relocating on August 10 ONLY!
It's that wonderful time of year again, when the Regina Folk Festival takes over Victoria Park and brings us an incredible weekend of local, national, and international live music! This year, the RFF is marking its 50th Anniversary… what an incredible milestone! Happy 50th to all our friends at the folk fest!
As usual, folk fest weekend means a little adjustment for the farmers' market. On Saturday, August 10 ONLY, make sure to find us at our alternate location on TWO blocks of Scarth St, between 12 Ave and Victoria Ave, AND between Victoria Ave and 13th Ave. See you there!
Customer Reward (August 10) – Southland Colony
The RFM is fortunate enough to have three Hutterite colonies among our produce vendors. Hailing from Herbert, SK, the Southland Colony has been providing market-goers with fresh fruit and veggies since 2013.
On their market table you'll find everything from radishes to rhubarb, as well as eggs and chicken. Not only that, but you'll always find a gaggle of friendly workers ready to help you find the perfect produce. They are also many folks' go-to vendor for strawberries (which have been taking a little break but will hopefully be back this month).
You can find Southland Colony on the northwest corner of the plaza at outdoor markets this season. Plus, if you've collected 20+ RFM Customer Reward punches, you can redeem them at on Saturday August 10 for a FREE bag of carrots from Southland Colony!
---