This Week at the RFM (Wed June 26 & Sat June 29)
---
---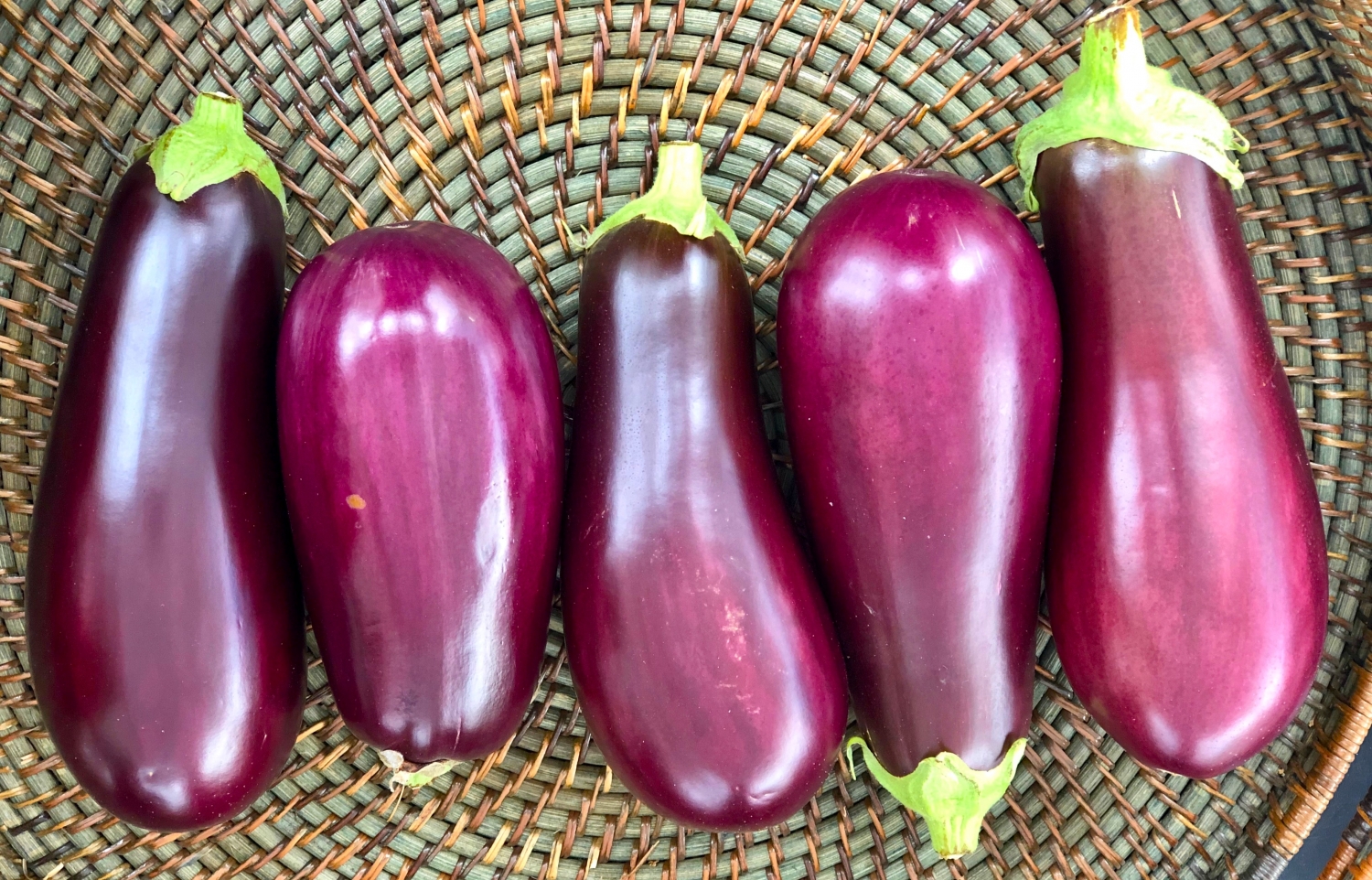 Join us at the Regina Farmers' Market this week on Wednesday, June 26 and Saturday, June 29. Farmers' Markets take place on City Square Plaza from 9 am to 1 pm.
What's in season RIGHT NOW (and where can I find it)?
Vendor Profile & Flok Reward – Crave Kombucha
RFM Summer Evening Markets start July 4!
Best End of the Year Teacher Gift = RFM Market Money
Special Events this Week
What can you expect heading into July?
Click the dates below to visit our Market Calendar and see a complete list of scheduled vendors:
What's In Season Right Now (And Where Can I Find It)?
• Eggplant - Not necessarily the first veggie you might think of in Saskatchewan in June, but these beauties will be on the Plaza this week and all summer long! Grown in the shelter of the Floating Gardens greenhouse in Osler, these gorgeous eggplants are pushing the envelope when it comes to seasonal Sask produce. You can find Floating Gardens on the Plaza EVERY Wednesday and Saturday. New to eggplant? Check out these recipes for some easy inspiration!
• Greens, green, and more greens! From leaf lettuce (pictured above, Heliotrope Farm) to kale to spinach and microgreens, your salads have never been fresher!
Vendor Profile & Flok Reward: Crave Kombucha
At the RFM, we pride ourselves on having not only a variety of foods, but beverages as well. Splashing onto the market scene in 2017, Crave Kombucha was originally driven by owner Tiffany's desire to share the unique recipes she'd been experimenting with in her own kitchen. The operation has since changed hands (it's now led by the visionary folks behind Mortise & Tenon), but the quality remains the same!
Never heard of kombucha? Here's the rundown: kombucha is a fermented, fizzy, sweetened black or green tea drink. It's produced by fermenting sugared tea using a SCOBY (Symbiotic Culture of Bacteria and Yeast), and often has juice, spices, or other flavourings added to enhance the taste. Crave Kombucha is naturally carbonated through the fermentation process, so there is a little bit of fizz – which makes it a good replacement for pop (or juice). Crave has a variety of kombucha flavours, including Raspberry Mint and Pink Lemonade, which can be enjoyed on their own or as an addition to your favourite summer cocktail.
Catch the booch that you 'crave' at most outdoor markets this season! And if you've collected 20+ punches on your Flok digital punch card, redeem them at Crave Kombucha for a FREE 355ml bottle of kombucha!
Summer Evening Markets start July 4!
Incredibly, RFM Summer Evening Markets (you know these as Market Under the Stars) are kicking off in just over one week's time! Our first evening market of 2019 will take place on Thursday, July 4, from 4:00 to 8:00 pm on City Square Plaza. (And then we'll do it again EVERY Thursday in July and August, bringing you weekly evening markets full of local food, drinks, and FREE live entertainment.
Our first Evening Market will feature singer/songwriter Bobby Dove (pictured below), who will join us all the way from Calgary with her poetic songwriting, powerful voice, and magnetic stage presence.
Born in Montreal, Canada, singer/songwriter Bobby Dove planted her musical roots singing and picking at the Wheel Club's weekly hillbilly nights, where she found a mentor in the resident lap steel player Bobby Hill: songwriter, educator, and pioneer of Canadian country radio in the 1950's.
In 2013 Bobby released the seven song EP, Dovetales, heralded by CBC's Brendan Kelly as "a stunner, repping the debut of an important new voice on our roots scene." She has since shared stages with artists such as Justin Townes Earle, JD McPhereson, Richard Thompson, and Mary Gauthier.
Produced by James McKenty (Blue Rodeo, Gordon Lightfoot), Bobby's debut full-length album Thunderchild was recorded with a strong cast of Canadian musicians including Anna Ruddick, Sam Weber, Bob Cohen, Laura Bates and Burke Carroll. Since the 2016 record launch, Bobby has been touring Canada, winning the hearts of roots music lovers with her poetic songwriting, powerful voice and magnetic stage presence.
"Bobby Dove is a gifted artist, and a brilliant new light on the songwriting scene. Her songs speak to my heart. Her work is a link in the chain that binds the future to the past. A time traveler, Bobby's songs meld genres with the touch of a master. I am a fan." Mary Gauthier
"A strong debut from a talented newcomer." Barry Hammond, Penguin Eggs Magazine
"She invokes a young female Hank Williams with an old soul and a much better future. Thunderchild, her debut CD, is a gem!" Richard Flohil
Find everything you need to know about Summer Evening Markets at reginafarmersmarket.ca. And share your experience with us by using the hashtag #RFMSummerEveningMarkets
Huge thank yous to our sponsors: District Brewing Co. and the City of Regina. And to our good friends at Regina Downtown BID!
BEST End of the Year Teacher Gift = RFM Market Money!
Are you still looking for that perfect (and EASY!) end of year gift for those amazing teachers in your life? Look no further!
Sold in strips of $20, RFM Market Money works like cash at ALL RFM events, with EVERY RFM vendor. It doesn't expire, and it gives you access to every wonderful product that the Regina Farmers' Market has to offer. It's a perfect gift for the teacher* who has everything!
You can pick up Market Money at any RFM event. Just pop by the RFM Information Booth, where we'll accept your Debit tap (up to $100), credit card, or cash payment.
*or bride/groom, or graduate, or retiree, or birthday person, etc., etc., etc.!
Special Events this Week
104.9 The Wolf will be on location from the RFM on Wednesday June 26
Wanda Gronhovd will be performing on the Plaza stage on Wednesday June 26, from 11am to 1pm.
On June 29, the Saskatchewan Writers' Guild and the Multicultural Council of Saskatchewan are pleased to partner with the Regina Farmers Market and Regina Public Library to present, "Stories Under a Living Sky" in celebration of Canadian Multiculturalism Day in June. Find all the performance details here.
What can you expect heading into July?
RFM Summer Evening Markets start Thursday July 4th, and run EVERY Thursday until August 29!
---