This Week at the RFM (Wed Sep 4 & Sat Sep 7)
---
---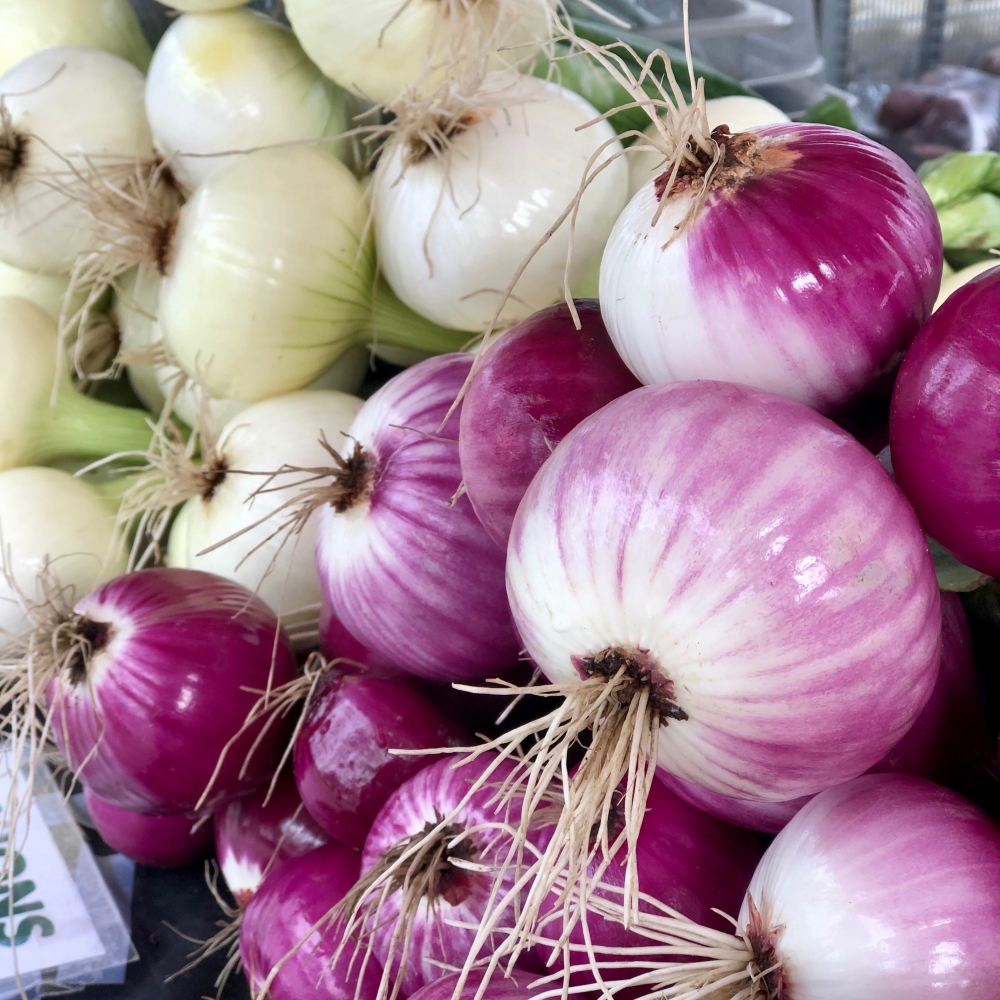 This week you can find us on Wednesday, September 4 and Saturday, September 7 from 9 am to 1 pm. Farmers' markets take place on City Square Plaza until October 12, at which point we move to our indoor location at Core Ritchie Neighbourhood Centre.
What's in season RIGHT now (and where can I find it)?
Customer Reward (September 4) – Mr Spudd's Poutinerie
That's a Wrap on Summer Evening Markets
Customer Reward (September 7) – Belle Plaine Gardens
How to use the Market Map
Click the dates below to visit our Market Calendar and see a Market Map complete list of scheduled vendors (updated the evening before market):
Wednesday September 4 (9am-1pm)
Saturday September 7 (9am-1pm)
What's In Season RIGHT Now (And Where Can I Find It)?
Onions - Now's the time to start stocking up on this pungent, healthy, and delicious multipupose allium!
Peppers - From sweet to spicy, you'll still find lots to choose from!
Gourds & Squash – with an incredible number of varieties to choose from, ranging from zucchinis to patty pans to spaghettis, acorns, and more, the Sask squash options are nearly endless! And we're just getting started… look out for more varieties to keep appearing at every market from now until Thanksgiving... like these pretty gourds from Rocky Acres Orchard.
Apples – Whether you fancy crab apples or Honey Crisps, you will find lots of apples to choose from right now at the market. Looks for Saskatchewan-grown fruit at Heliotrope, Over the Hill, and Rocky Acres, and BC-grown varieties at Kim's Fresh Fruit!
Customer Reward (Sep 4) – Mr. Spudd's Poutinerie
An outdoor market fixture since 2013, Mr. Spudds Poutinerie is one of the longest vending trucks in the RFM's food truck fleet. Over the years, the cheery red and yellow truck has amassed a legion of poutine-lovers – not hard to do when you offer 35 different kinds of poutine! Not a poutine person? No problem – they also serve flame-broiled burgers, hot dogs, fish & chips, and several other types of food truck fare.
Behind it all are owners Kevin Harty and Jacqueline Grad, as well as the numerous cheerful staff who serve up lunch with a smile at every market. And we mean numerous – Kevin and Jacqueline have employed close to 500 summer students over the 21 years they've been in business in Regina.
Stop by Spudds for your next market lunch and try a poutine! (This writer's favourite is the caramelized pineapple and bacon – sweet and savoury). PLUS, if you've collected 20+ RFM customer reward punches (powered by the Flok app), redeem them Wednesday September 4 for a FREE Classic Montreal Poutine.
That's a Wrap on Summer Evening Markets!
Thank you to everyone that came out to take in one or more Summer Evening Markets this summer! We had a great time with you, eating and dancing our way through the summer!
None of it would have been possible without the generous support of our event sponsor District Brewing Company, which allowed us to showcase live music and craft alcohol samples each and every week throughout July and August.
We won't lie, it was no joke holding three markets per week for two whole months, and we're looking forward to a more relaxed two market per week schedule from now until Thanksgiving! We learned a lot from this year's Summer Evening Markets, and look forward to making changes for next year. We'd also love to hear from you! What did you like about Summer Evening Markets, and what would you like to see change for next year?
Customer Reward (Sep 7) – Belle Plaine Gardens
With their 30-foot spread of fresh farm veggies heading up the Scarth Street section of the market, Belle Plaine Colony has become a common customer request during our outdoor season. Hailing from the town of Belle Plaine, colony members Frankie and his wife Martha have been vending at market for 17 years. According to Frankie, the colony itself has been vending at markets for 45 years. Not only is Belle Plaine big on farming and fresh garden produce, but they're also big on livestock with 3,000 head of cattle to tend to. Quite a lot for a colony of 85 people!
Catch Belle Plaine on Saturdays this fall! PLUS, if you've collected 20+ RFM customer reward punches (powered by the Flok app), redeem them on Saturday September 7 for a FREE item (your choice, up to a value of $10) from Belle Plaine Gardens!
Making Use of the Market Map
Looking for that special vendor this week? We can help point you in the right direction. In addition to posting the map online the evening before every market, we also post the map at the RFM Information booth at each market. Our trusty canvas map is updated every morning and shows every vendor. Can't find who you're looking for? Never fear! Knowledgeable RFM staff are always on hand to help you find who you're looking for.
---