Vendor Spotlight: Ful Fibre
---
---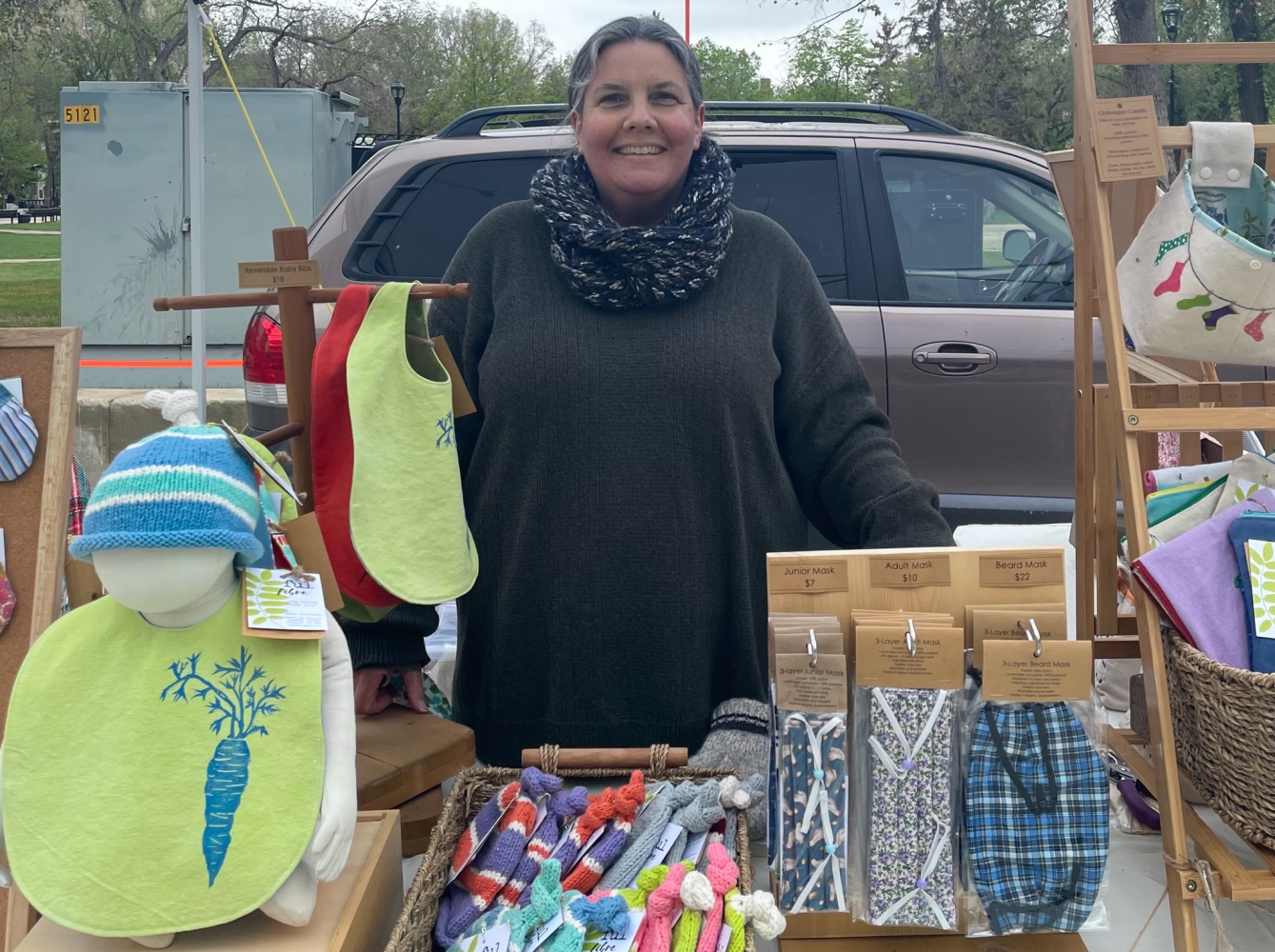 Leslie of Ful Fibre has been creating with fibre since she was a young child.
Leslie Charlton's grandmother was an avid recycler before recycling was cool and taught her to make rag rugs out of scraps, inspiring her lifelong love of textiles.
She tries to incorporate repurposed materials into all of her pieces. She often uses fabrics that would otherwise end up in the landfill and repurposes them into something new. Everything from discarded sheets, tent fabric, fasteners, billboard vinyl, denim, t-shirts, wool sweaters and other textiles which I make into new items.
The eclectic nature and range of her work is what inspired the name of her business: "I am a trained weaver but like to experiment with many different textile disciplines. I chose the name Ful Fibre because under that name I can pursue several different techniques – sewing, printing, dyeing, spinning and knitting, to name just a few," Leslie said.
Leslie has an Applied Arts diploma in Weaving and studied Navajo weaving in New Mexico and loves to learn more about the history behind clothing and the processes used to create fabric.
She's been selling her handmade work at craft shows since 1997 and joined the farmers' market as a vendor in 2018. Of her experience as a new vendor Leslie said, "What stands out for me is the camaraderie and friendliness of the vendors. As soon as I set up my tent for the very first time, more seasoned market vendors were coming over to say hello, introduce themselves, and offering advice. I have honestly never been in a market atmosphere that is so welcoming."
Leslie's favourite products are her hand woven rag rugs and she says her most popular products are her hand printed items — particularly anything printed with a Saskatchewan grain elevator!
She has a ton of new products for you this summer as she further explores her craft. She says many of them will be items that replace commonly used disposables like reusable wool dryer balls, washable cotton makeup pads, soap savers, washable menstrual pads, washable wipes, lunch bags, and waxed cotton snack bags.
Speaking of new this summer — Leslie's son Seth has joined the market as a Market Ambassador! You'll see him at the market entrance offering hand sanitizer and a hello.
---