Vendor Spotlight: Harvest Foods
---
---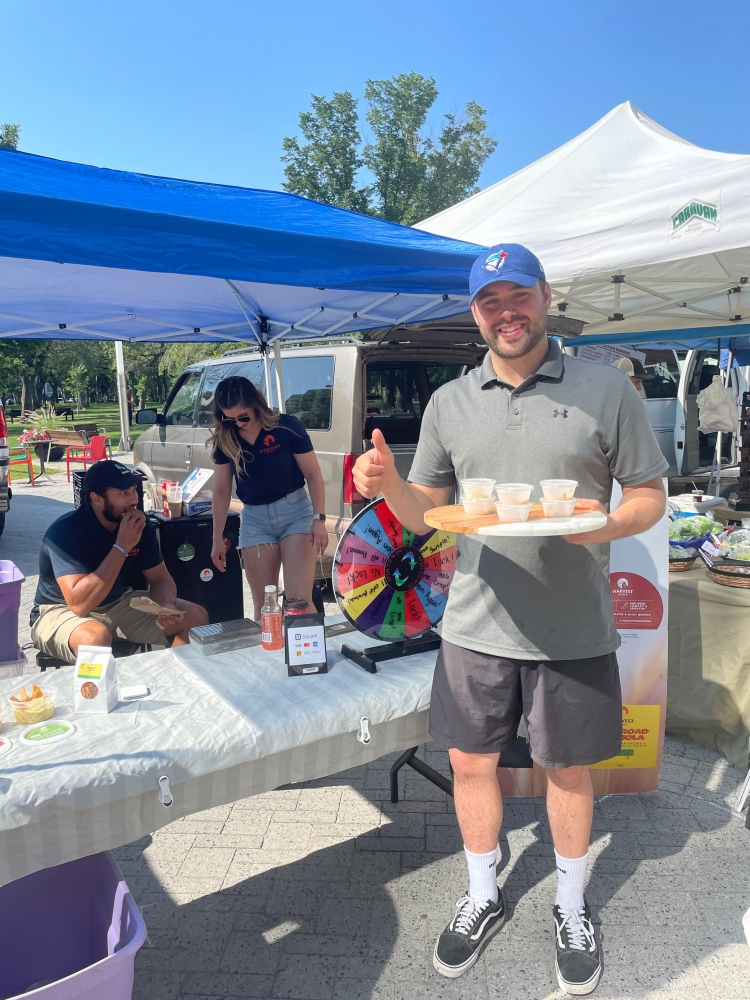 We spoke to Matt Degelman of Harvest Foods to get the low down on one of our newest vendors!
Harvest Foods came to be through a love of good food and passion for Saskatchewan Agriculture. They focus on using Saskatchewan farm fresh ingredients that are harvested every year by local hard working farmers. "Our name represents the quality and taste associated with farm to table food that can be enjoyed by anyone," Matt said.
At our market, Harvest Foods is most well-known for their Prairie Dill Hummus — made from Saskatchewan-sourced dill, garlic, and chickpeas! It is such a refreshing summer snack definitely a fan favorite among our customers. Nothing says Saskatchewan like fresh dill and garlic!
Harvest Foods products are made out of a commercial kitchen in the heart of Regina. That's the same kitchen they run their other business — local restaurant the ChuckWagon — out of! Its home of Regina's only "smash burger" and great place to grab an ice cream or Dole Whip treat on a hot summer day.
The Harvest Foods team have immediately become a staple at our market. Their booth is always lively! They often have a colourful wheel to spin for deals on their products or Matt standing out front chatting and giving away samples. Matt says his favourite part of coming to the market is getting to talk to the people who eat their products face to face, hearing their suggestions and exchanging ideas for new products!
Speaking of new products: they are working on their new "Udderless" oat milk made with Saskatchewan-grown oats! Matt says they're just finishing up testing on the recipe so keep an eye out at upcoming markets this year! Rumours are the flavours will be Original and Chai Vanilla...
Harvest Foods has been such a natural addition to our market. Come down to City Square Plaza any Wednesday or Saturday to meet Matt and the team!
---