Vendor Spotlight: Lark Farm
---
---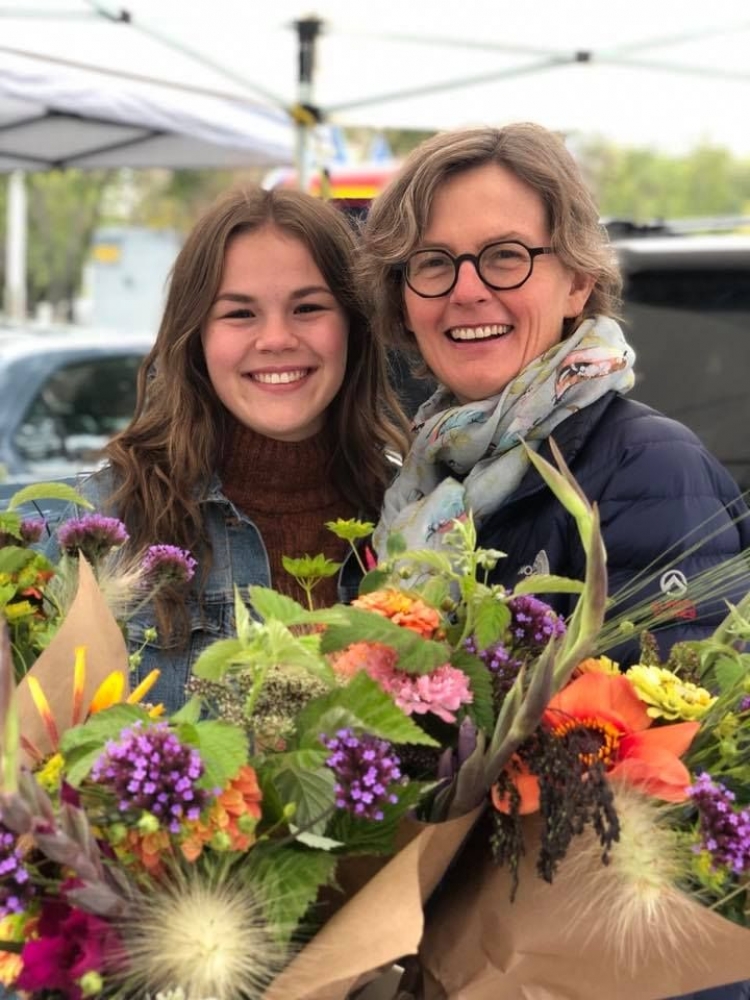 Did you know that Lark Farm grows every single flower that they sell?
Leslie of Lark Farm gave us some insight into what it means to be a Saskatchewan-based floral gardener. "Growing fresh flowers is very labour intensive. We grow on about a half acre and we are growing a huge variety of species, many with different needs and harvest requirements. There is so much to plan, to track and to learn! When we come to market we harvest the day before and give the flowers a chance to condition in a cooler before and after we design and wrap the bouquets. Each week is different, with different flowers blooming," Leslie said.
As for most farmers, growing is a year-round gig: "After the summer growing season, bulbs are planted and clean up extends late into the fall. Seeds are sourced and ordered before the end of the December and started in the basement in winter, some as early as January. Transplanting to the gardens, and some direct seeding, begins in April."
Luckily, she doesn't have to do it alone! Leslie calls Lark Farm a "true family endeavour."
"My husband Rob does so much work on the farm and I could never have done this without him. My mom has also been right by my side planting and weeding since the beginning – it has been not just a huge help to me but such a special opportunity to spend time together. My kids also work for me – delivering flowers and working at the farm and the market," Leslie said.
The name Lark Farm was inspired by a favourite bird of Leslie's — the Meadow Lark — and the sentiment behind the noun 'lark': "something done for fun, especially something mischievous or daring; an amusing adventure or escapade." After twenty years working with the provincial Government in habitat conservation and water policy, Leslie was ready for another adventure. In 2015 she took her love of gardening and dream of having land outside of the city and combined them into what is now Lark Farm. They joined the market in 2018 and in addition to their flower subscriptions, they sell at several retail locations in the city! "We have been so lucky to have a small business community in
Regina that has supported our flower sales as we've become established," Leslie said.
With Leslie's background in conservation, it's no surprise that Lark Farm is an environmentally sustainable business. "From the start we wanted to operate in the most sustainable way we could and look to improve all the time. We don't use any chemical pesticides, herbicides or fertilizers. We make our own compost, use crop rotations and exclusion netting for the really vulnerable flowers. We try to make sure we have a diversity of plants on the farm to provide habitat for birds, insects and other wildlife. We grow seedlings in soil blocks (no plastic pots!), wrap our bouquets in kraft paper and tie with jute twine — we really want to question every choice and always look for better options. This year we are trying to concentrate more on minimizing tillage and building soil health — there is a ton to learn! It is a privilege to bring the beauty of local flowers to our community and to celebrate where we live – all while respecting the other creatures — insects, birds, wildlife — that make a home here," Leslie said.
Leslie's favourite part of being an RFM vendor is visiting with customers and flower enthusiasts at the market: "Many people share stories with us – of how the flowers remind them of a grandparent's garden or of how much their mother loved peonies or gladiolas. Flowers make people happy and it is a wonderful thing to share them with our community. I also have enjoyed getting to know some of the other amazing RFM vendors!"
What's next for Lark Farms? "Over the winter we will shift to dried florals and wreaths. We have been harvesting, drying, and packing up the dried product all summer to have enough to get us through! This is a great way to extend the local flower season. Also for the last two years we started offering a limited number of cut flower garden seeding sets in the spring for those who want to grow their own flowers," Leslie said.
Be sure to catch them at their last few markets this season!
---