Vendor Spotlight: RMX Digital
---
---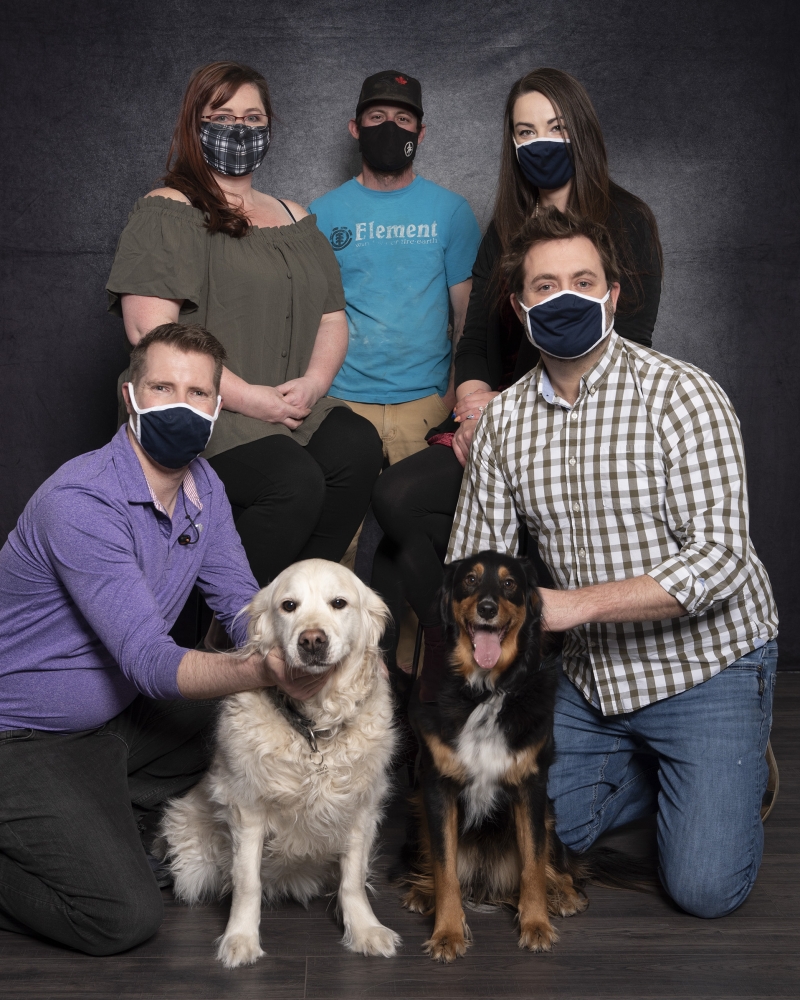 RMX Digital began in 2012 as a casual event and seasonal photography business and has grown into a brick and mortar community leader.
New to the market this year, RMX is best known for their photography services and beautiful wood engraved gifts and games. All of their wood work — from design to concept, build to assembly, paint, stain, and engraving — happens in their shop on Dewdney.
Robert Cumberland and Mitchell van Seters, along with their incredible team: Susan, Rob, Ashton and the office manager pups (Gracie & Apollo), are proud to operate a true family business. Not only Rob and Mitchell's own family but also the families of their team all come to lend a hand when needed!
In the wider Regina community, RMX is a leader in collaboration and lifting others up so joining our co-operative farmers' market felt like a no-brainer. Mitchell says he and Rob were both raised to respect the importance of supporting the community you call home, especially those in need, and they certainly operate their business with that same mindset.
In a regular year, RMX supports the Alzheimers Society with a Mirror Booth donation for their annual gala and offers support and regular donations to the LGBTQ2S+ community by way of Lulu's Lodge, the Gay & Lesbian Community of Regina, and The Regal Social Association of Regina. This past year they also partnered with the Southland Mall over the holidays to make a major donation to the Foodbank.
During the pandemic they donated team photos to several local sports teams by taking individual safely distanced photos of the players on a green screen backdrop and then photoshopping them into one team photo!
This year, for the months of April, May, and June they raised their regular 10% donation to Lulu's Lodge to 25% of all sales of their pride month mugs and merchandise from Canadian drag queen Flo Mingo. Lulu's Lodge is a transitional housing unit for LGBTQ2S+ youth run by the Regina branch of the John Howard Society.
Of their donation Mitchell said, "We understand how difficult it is for folks these days, especially organizations and non profits not regularly supported by the government."
RMX's Facebook page is a shrine to their love for the local Regina community. They frequently feature and shout out local businesses from Beachcomber Regina who gave them some unused wood to use for their custom gifts to Pat from Canadian Linen who changes the floor mats in their office!
Their most popular item is the adult version of their custom "Sticks" game. They used to play the game with friends and makeshift materials like popsicle sticks until they decided to make their own wood version for RMX.
Mitchell said their favourite items will always be the unexpected custom requests. You want it? They'll make it! Everything from engraved jewellery boxes to "Squirrel Saloons." With every custom order they branch further out!
The RMX team's favourite part of attending the market is being in the heart of the city with other awesome local vendors — getting outside, seeing people, and offering their products in a relaxed and "unsalesy" way.
Come visit RMX every Wednesday and Saturday at our outdoor markets!
---