Vendor Spotlight: Rosie the Flower Truck
---
---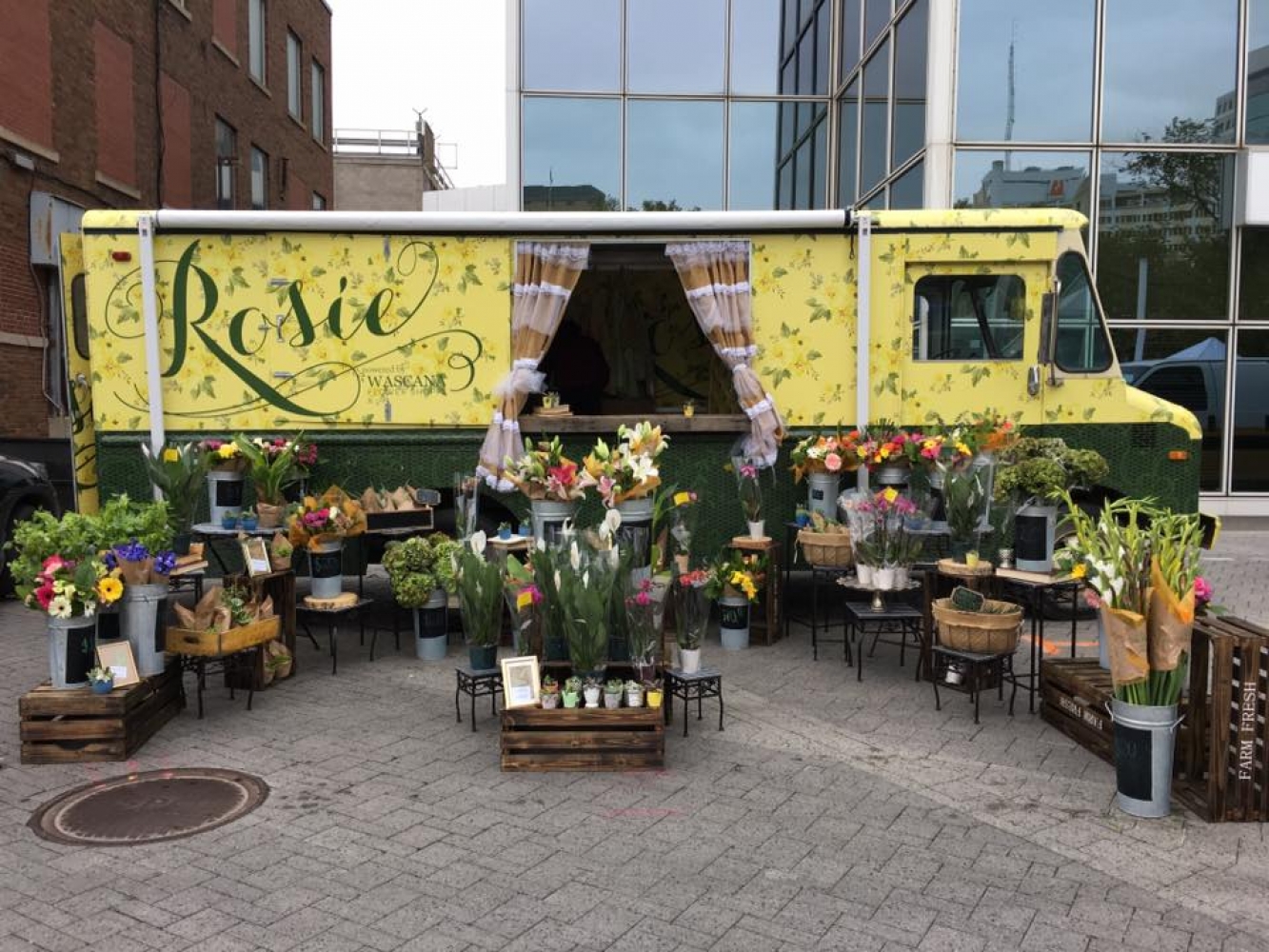 Rosie The Flower Tuck is a labour of love!
When Rosie is at the market she lights up our east entrance with 24 feet of a beautiful yellow and green floral patterned truck and overflowing flower displays.
Did you know that Rosie is a refurbished Grumman truck? She has been with us since 2015 and is Saskatchewan's only mobile flower truck. Run by the mother-daughter team at Wascana Flower Shoppe, Rosie is named after the favourite flower of creative directer Tanya's grandma and owner Petra's mother. At 89 years old she still comes into the shop to help them out!
Petra herself says after 41 years running Wascana Flower Shoppe she doesn't have a favourite flower — she loves them all. However, they think carefully about the flowers they bring to the market: "for The Farmers Market and for Rosie we try to source as many prairie-grown product as we can. We love the wild flower look for her. We also try to make Rosie affordable for everyone."
Their most popular flower changes with the seasons from daffodils and tulips to peonies to sunflowers to orchids. All of their floral arrangements are biodegradeable and Petra says they try to limit the amount of cellophane that they use. They also recycle all of their other packaging material cardboard.
Petra says her staff love the market and often argue about who gets to bring Rosie on market days! Of making the decision to join the market she said: "We loved the market atmosphere. We felt that was exactly what we wanted for Rosie. Fun and full of energy. Freestyle and happy. Maybe even a bit of a hippy vibe."
With the last 15 months being focused on surviving as a 24-person, family business Rosie didn't make any appearances in 2020, with the covid restrictions and people wanting to be able to touch and feel and smell the flowers Petra says it just wasn't doable. So her plan for 2021 is to get Rosie out and about as much as possible. Her uplifting energy is exactly what people need right now as they re-enter communal spaces like our market!
---