You deserve an RFM reward this summer!
---
---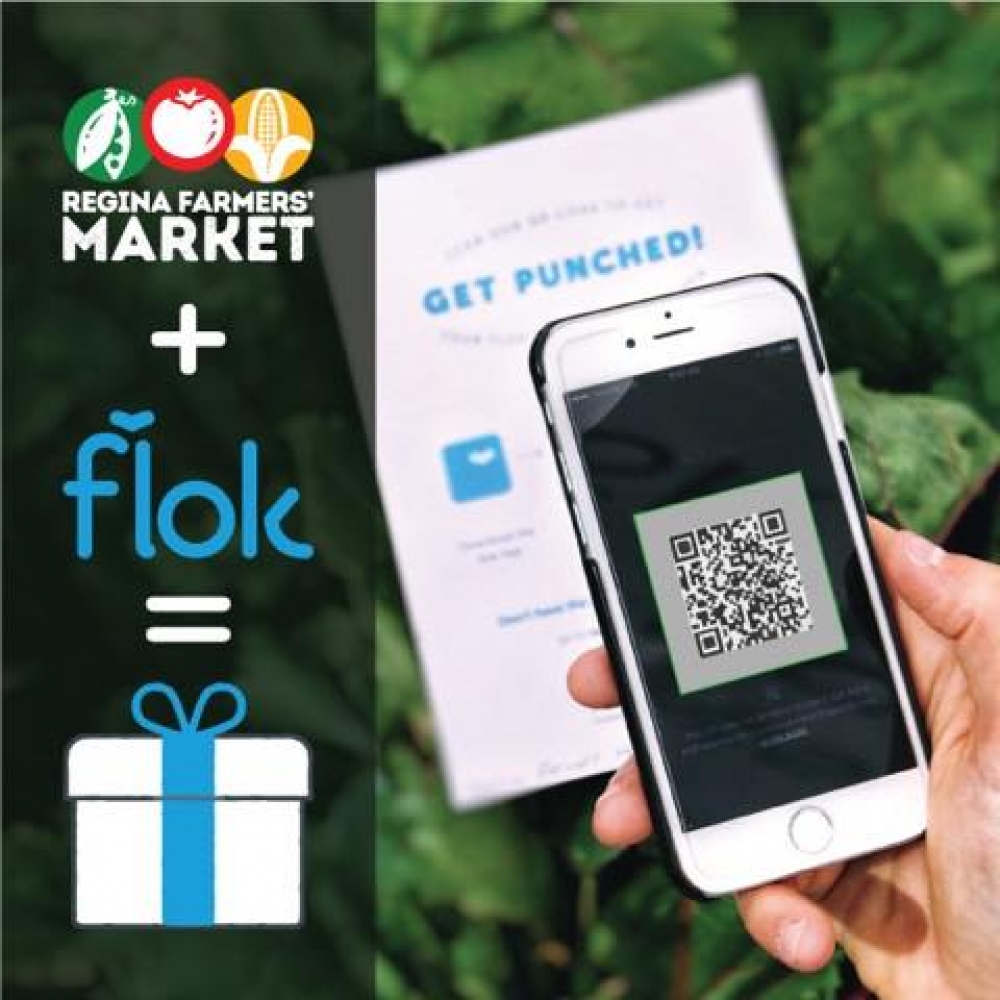 We love our customers, and we want to show you how much!
This summer, join our RFM Customer Rewards program, and get rewarded for EVERY SINGLE purchase you make at the Regina Farmers' Market.
Our rewards program (powered by Flok) allows you to use your smart phone to "punch" a digital punch card every time you purchase something at the market. Just use the Flok app to scan the QR code displayed at each vendor's table (or pop by the RFM Info booth if you need help!).
Once you hit 20 punches, you can redeem your punches for awesome RFM products. The reward changes every market, and you can redeem your punches whenever something catches your fancy! (Until then, just keep accumulating punches to get closer to your next 20-punch milestone.)
Here's what our vendors want to treat you to this summer*:
June 29: Howland's Honey (free 500g liquid or creamed honey)

July 3: Spring Creek ($5 off any purchase)

July 4: Kim's Fresh Fruit (small basket of cherries ($6 value))
July 6: Prairie Bee Meadery (A free jar of honey (value $9) or $5 off any bottle of mead)

July 10: Going with the Grain ($5 off any order OR "Get a lunch special for $2 or a bagel and coffee for $1".)
July 11: Klassic Kulfi (3 free kulfi- any flavour - $9 value)
July 13: Sweet Tree (Free 100ml jar of jam - any flavour $6 value)

July 17: Queen City Grill ($8 falafel platter)
July 18: Good Morning Springrolls (2 free ready to eat Spring Rolls - limit of 10 people)
July 20: The Pupcake Bakery (Choice of Large bag of Peanut Butter Smackers, Pawtastic Chicken Paws, or Piglets)

July 24: 29 Eleven (Free $10 item or $10 off a larger purchase)
July 25: Bon Burger (Free Bon Burger)
July 27: Sweets by Tsina (Half dozen macaroons - $12 value)

July 31: Absolute Zero (Free Prairie Cherry Sundae)
August 1: The Cookie Lady (Free package of Green and White football cookies)
August 3: Karachi Foods (50 % off purchases)

August 7: The Good Dog (10% off any purchase)
August 8: Sacred Earth Soaps ($10 off any purchase)
August 10: Southland Colony (Free carrots)

August 14: Baechu Kimchi (Free jar of kimchi)
August 15: Amber- Rayne Designs (50% off 4mm bracelets)
August 17: Cobblestone Farm (Free pack of breakfast or Cumberland sausage - up to $10 value)

August 21: Past Print Jewellery Designs (Free pair of earrings)
August 22: Happy Hi (2 free doughnuts)
August 24: Peregrine Farm (Half price ground chicken - $10 (regular $20))

August 28: The Bannock House (Free Mini Bannock Taco Bowl (bite-sized bannock topped with beef, cheese, tomato, salsa, and sour cream)
August 29: Over the Hill Orchards (Free cherry bark)
August 31: Pure T Organics (1kg bag of lentils - your choice of variety)
New to our Customer Rewards program? It's easy to join: just download the Flok app and collect 5 free punches for joining our RFM club! Need a hand? Just pop by the RFM Info Booth and we'll hook you up!
*prizes are subject to change
---