Pueblo Chili Co.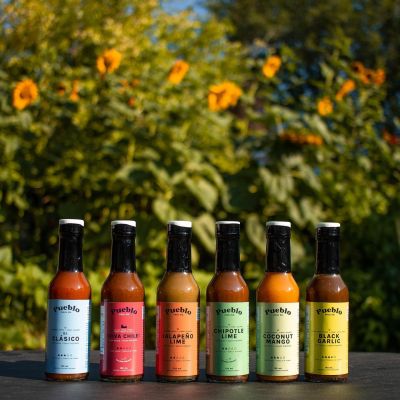 Small batch hot sauce.
The concept for Pueblo Chili Co. was born in 2013 when the founder, Raquel Vigueras, was in graphic design school at VCAD in Vancouver.
It was in a second semester conceptualization class where Raquel was tasked with developing a solution to a design problem in an industry of her choosing. Raquel chose the hot sauce industry, and took a non-existent brand from concept to brand identity, to packaging design, to marketing. She was hooked from the start.
After completing her graphic design diploma, Raquel moved to Regina, Saskatchewan where she constantly thought about pursuing her dream of starting a hot sauce business. After a hot five years, she eventually took the leap.
In 2019, Raquel hosted a dinner party with her friends, and she had no idea what to serve alongside the appetizers. Desperately looking in her fridge for ideas, she came across all the ingredients to make a homemade hot sauce. It was a hit. Everyone loved this homemade hot sauce, and the next day she headed out to buy a Vitamix blender and give hot sauce making a real shot. She spent countless hours researching the proper food-safe techniques and developing recipes.
Photos