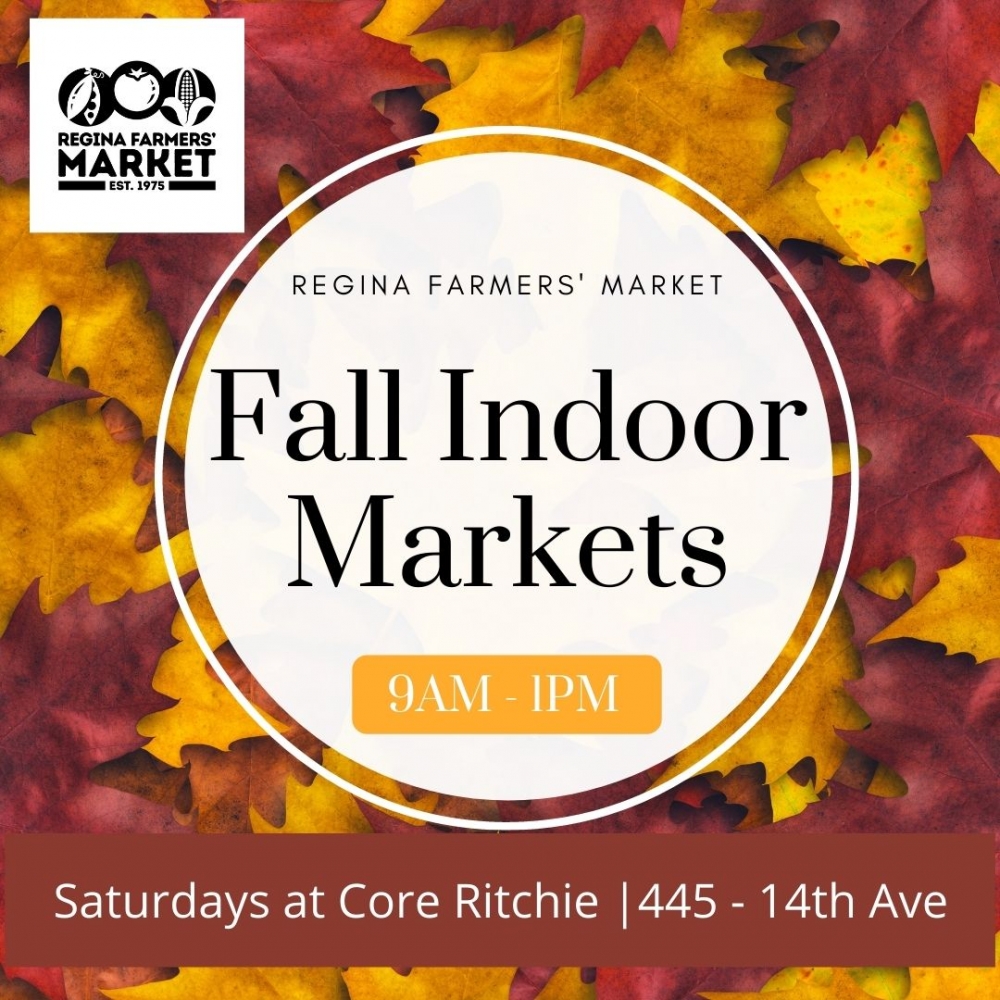 Visit the Regina Farmers' Market Indoors at the Core Ritchie Neighborhood Centre
Find us Inside on Saturdays ONLY from 9am - 1pm at 445 - 14th Avenue
2021 Fall Indoor Season: October 16 - December 18

Please note the Regina Farmers' Market is closed for its annual Holiday Break December 19 - January 4

2022 Winter Indoor Season: January 8 - April 30
What You Can Expect:
Our objective continues to connect the community to local food in a safe environment. For those able to attend indoor markets, plan to see tables full of a variety of Saskatchewan made, baked, and grown harvest goods! Be sure to check our Market Calendar the evening before market day for a list of vendor attendance! For those not ready to attend in-person markets, the RFM Online Store will continue to operate year-round with Drive-Through Pick-Up, pre-ordered Core Ritchie pick-ups and Contactless Home Delivery.
Community Food Donations to fill the Community Fridges + Newo Yotina Friendship Centre will also be accepted at the RFM Info Booth. To learn more, please visit our website here or ask one of our Farmers' Market Staff for more information.
Kid's Club weekly craft will be cancelled in our efforts to keep the space as contactless as possible
Digital/Tap payment is preferred: If there are cash-only vendors Market Money will be available for purchase with Tap payment methods at the RFM Info Booth. Market Money acts like cash, and can be used at any vendor booth at any in-person market.
Hand Sanitizer will be available at the entrance and is strongly encouraged to be used
COVID-19 Safety Measures:
As per Government of Saskatchewan and City of Regina guidelines all Indoor Facilities are under a mask mandate including attedance at the Indoor Season of the Regina Farmers' Market. We kindly ask guests and vendors to bring (and wear) your own mask. Please note there will be complimentary masks and hand sanitizer available on-site. In addition, proof of vaccination will be required for entrance to the Indoor Markets. We want to thank all patrons in advance for your continued patience, respect and understanding on these safety measures.
Accepted Proof of Vaccination include:
Wallet cards received at time of immunization
A printed copy of MySaskHealthRecord (MSHR) vaccine certificate (with or without QR code)
A screenshot of a MSHR vaccine certificate (with or without a QR code) saved to your device
An earlier version of a MSHR COVID-19 vaccine certificate
A COVID-19 vaccine printout from Saskatchewan Health Authority Public Health
A QR code/MySaskHealthRecord vaccine certificate uploaded to SK Vax Wallet (this app can be downloaded from the App Store or Google Play store
For Instructions on Mobile Device: Watch the Video Here
For Instructions on a computer: Watch the Video Here
A negative covid-19 test taken within 72 hours will also permit access.
*Residents under the age of 12, who are currently unable to receive a COVID-19 vaccine, will be exempt from the proof of vaccination requirement including the alternative of a negative test.
Re-Usable Bags:
Re-usable Tote Bags are Welcome at the RFM Indoor Markets! Stay tuned as Winter Tote Bags are expected to arrive in November!
For any questions or concerns, please feel free to complete and submit a feedback form or e-mail management at [email protected]
---