2021 Season: Guidelines + Restrictions
---
---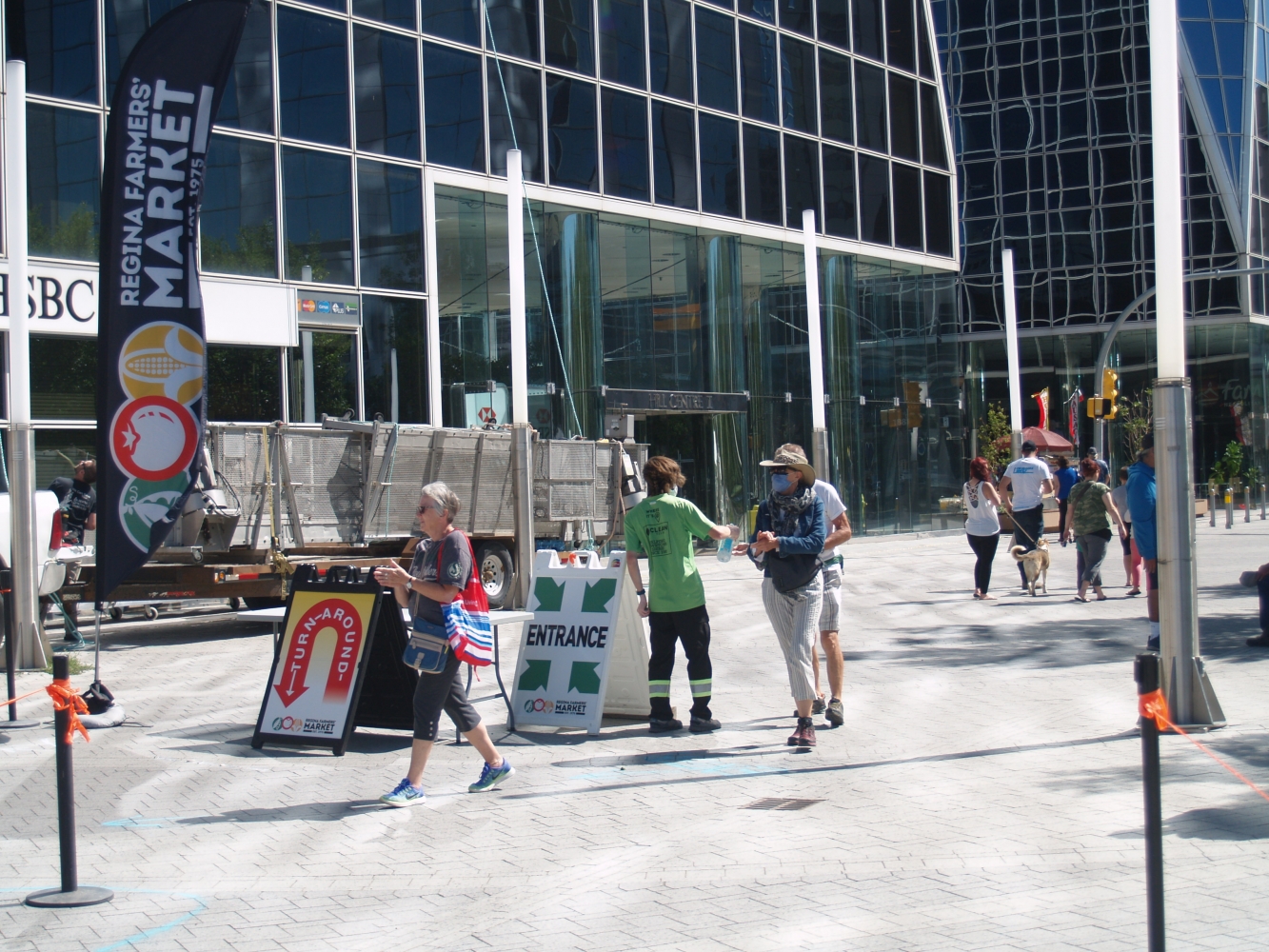 Welcome to the 2021 Open-Air Market Season!
We find ourselves preparing for our second season at City Square Plaza in a covid-19 landscape, with the same objective: To keep the community safely connected to local food and goods. Safety of customers, vendors, staff, and volunteers remains a top priority for the Regina Farmers' Market. Please continue reading below for the full list of guidelines and policies that are in place to ensure we host safe farmers' markets this season:
'21 Open-Air Market Expectations and Modified Set-up:
Social Distancing measures have been implemented: All vendor booths are set-up with a minimum of 6ft (2m) of space between one another. Additionally when customers enter there is an expectation to remain socially distanced from one another
There is a one-way flow of traffic at the market which is indiated with stantions, signage, and arrows chalked onto the sidewalk. There are turn around points for convenience. Similar to driving: slower traffic stay right, passing traffic stay left.
There are two entrances/exits to the market that will have staff and/or volunteers offering hand sanitizer upon arrival and monitoring capacity levels of the market.
Wearing face masks are required for entrance to open-air markets this 2021 season. If you forget to bring yours, there are single-use masks available at the RFM Info Tent (located on the West entrance). We understand some folks will disagree with this policy. As mentioned above, our priority is to keep the community safely connected to local food and goods. This policy paired with our other numerous protocols allows us to operate in a covid-10 landscape. Unfortunately patrons without a mask will not be permitted admitance to open-air markets this season. For more dialogue on this, we encourage you to reach out directly to management. See below for management contact details*
High Touch Surface Areas will be wiped down frequently throughout the open-air market
Digital payment or Tap payment options are preferred. Cash is still accepted, but there is a strong preference for contactless options.
Please let our vendors serve you, and refrain from touching displays, tables, and product.
Dogs must be on leash and under control to enter open-air markets
Please budget extra time and be patient. if there is a line-up for the vendor you would like to shop with, please join the queue of customers ahead of you. Our vendors will serve you as soon as they can.
Washing and sanitizing of hands frequently is strongly encouraged
All food is for take-away only, please do not
If attending markets in person is uncomfortable, we encourage you to utilize the contactless home delivery and/or drive-through options of our RFM Online Store. Please note, all online orders must be pre-ordered between Monday Noon - Thursday Noon for Saturday distribution.
'21 Open-Air Market Restrictions/Cancellations of the Season:
No Sampling will be permitted this season
Buskers and Live Musicians will not be permitted
Vendors, Customers, and Staff who are unwell, displaying cold/flu symptoms or are covid-19 positive are not permitted to enter the farmers' market this season
Please do not gather, create meetings at the Regina Farmers' Market - preference is to send
As with all markets, there is a strict policy that soliciting of any kind is NOT permitted. This includes signage, pamphlets, brochures, and other hand outs.
There is a zero-tolerance for violence or aggression at the Regina Farmers' Market towards vendors, staff, and customers. Please report all cases to RFM Staff or via our Online Feedback form
For the most recent government of Saskatcheawn re-open guidelines, please Click Here
*For any further questions, please do not hesitate to reach out to RFM Management or Check Out our FAQ's Post about the 2021 Season.
RFM Management Contact Info:
---