Celebrate Canada Day long weekend at the RFM!
---
---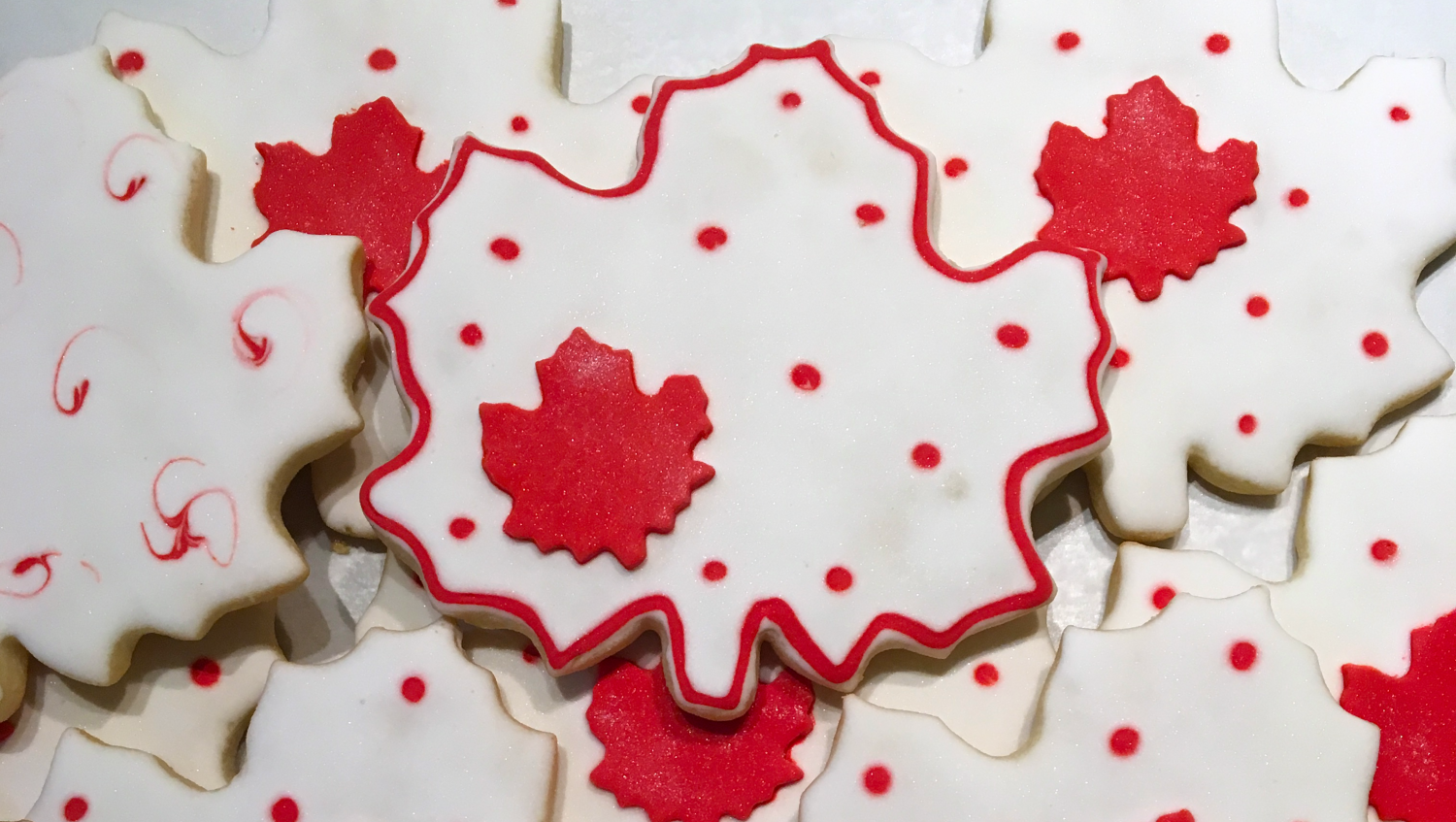 School's out, summer is here, and we're ready to celebrate with you this long weekend!
We'll be on City Square Plaza from 9am to 1pm this Saturday, June 29. For a complete list of vendors and the market map, please visit our Event Page!
The farmers' market is exploding this weekend, with nearly 75 vendors (including Something Sweet by Fadiah, pictured above) and a bunch of exciting firsts of the season! The Canada Day long weekend marks the true beginning of our summer season... with an incredible abundance of Saskatchewan-grown produce, and an incredible THREE markets per week starting at the beginning of July.
Here's what we have in store for you this long weekend:
ALL THE PRODUCE!
Our veggie producers are arriving en masse this weekend, with their bounty to share:
• Spring Creek Garden is joining us for the first time in 2019, and will be bringing radishes, onions, ALL kinds of lettuce (including leaf mix, Romaine, red leafy head, and green leafy head), kohlrabi, kale, and broccoli (pictured below);
• Kim's Fresh Fruit is also coming to their first 2019 market this Saturday, and will making the trek from Oliver BC with... CHERRIES (pictured above)! We wait all year for their arrival!!!
• Mitchell's All Natural Foods will also make their 2019 debut with green onions, radishes, rhubarb, and spinach!
• We'll also be welcoming lots of our other favourite veggie growers back this weekend, including
Belle Plaine Gardens
,
Floating Gardens
,
Heliotrope Farms
,
Southland Colony
, and
Waldeck Colony
!
Celebrating Canada and the many cultures that we are!
This Saturday from 11:30 am to 1:00 pm, in honour of Canadian Multiculturalism Day (June 27), we are excited to present
Stories Under a Living Sky: From many stories strength
. A partnership between the
Saskatchewan Writers' Guild
and the
Multicultural Council of Saskatchewan
, Stories Under a Living Sky will feature FREE live spoken word and music performance on the Plaza Stage.
Featured artists include Jolissa Simon, Mirtha Rivera, Nour Albaradan, Mays Al Jamous, Cassia Oddo, Mirabel Bonar, Jinhong Chen and the Andino Suns!
The event is FREE and everyone is welcome!
For more information, check out the
Facebook Event
.
Vendor Profile & Customer Reward: Howland's Honey
The RFM is home to many sweet things, but perhaps the sweetest thing is the locally produced honey. Howland's Honey is one of these sweet local producers: they are a three-generation, family-owned operation located in the heart of Saskatchewan's Parkland. They've been producing honey since 1976 and bringing the sweet stuff to the RFM since 1985.
Howland's (whose bees are pictured above) is a one-source operation, meaning that they produce honey gathered solely by their bees. The bees forage on local wildflowers, canola, and the clover and alfalfa that grow in the vast hay crops in the Parkland area. According to Howland's, hay crops are arguably some of the most sought-after honey crops in North America.
On the Howland Honey market table, you can find containers of unpasteurized liquid or creamed honey in various sizes in addition to raw, buckwheat, and cinnamon honey. Honeycomb is also available seasonally and beeswax can be ordered in bulk or smaller amounts.
Find these busy bees at most Wednesday and Saturday markets this summer! And if you've collected 20+ punches on your Flok digital punch card, you can cash them in on Saturday for a FREE 500g liquid or creamed honey!*
*Wondering what all the fuss about Flok is? Learn everything you need to know about the amazing RFM Customer Rewards your can get this summer here!
Summer Evening Markets begin next week!
Don't miss our first Summer Evening Market, which will take place next Thursday, July 4 from 4-8 pm on City Square Plaza!
Summer Evening Markets will take place EVERY Thursday in July and August, and will feature the best in SK-grown and made products; FREE live entertainment; a licensed area with locally produced craft beer, wine, mead, and spirits; and heaps of local supper options!
On July 4, enjoy two live sets (5-7 pm) by Calgary-based singer-songwriter Bobby Dove on the Plaza Stage. And then stick around to shake your tail feather with the Regina Salseros at 7 pm!
RSVP to our Facebook Event to receive all the updates!
---