This Week At The RFM (Wed Sep 18 & Sat Sep 21)
---
---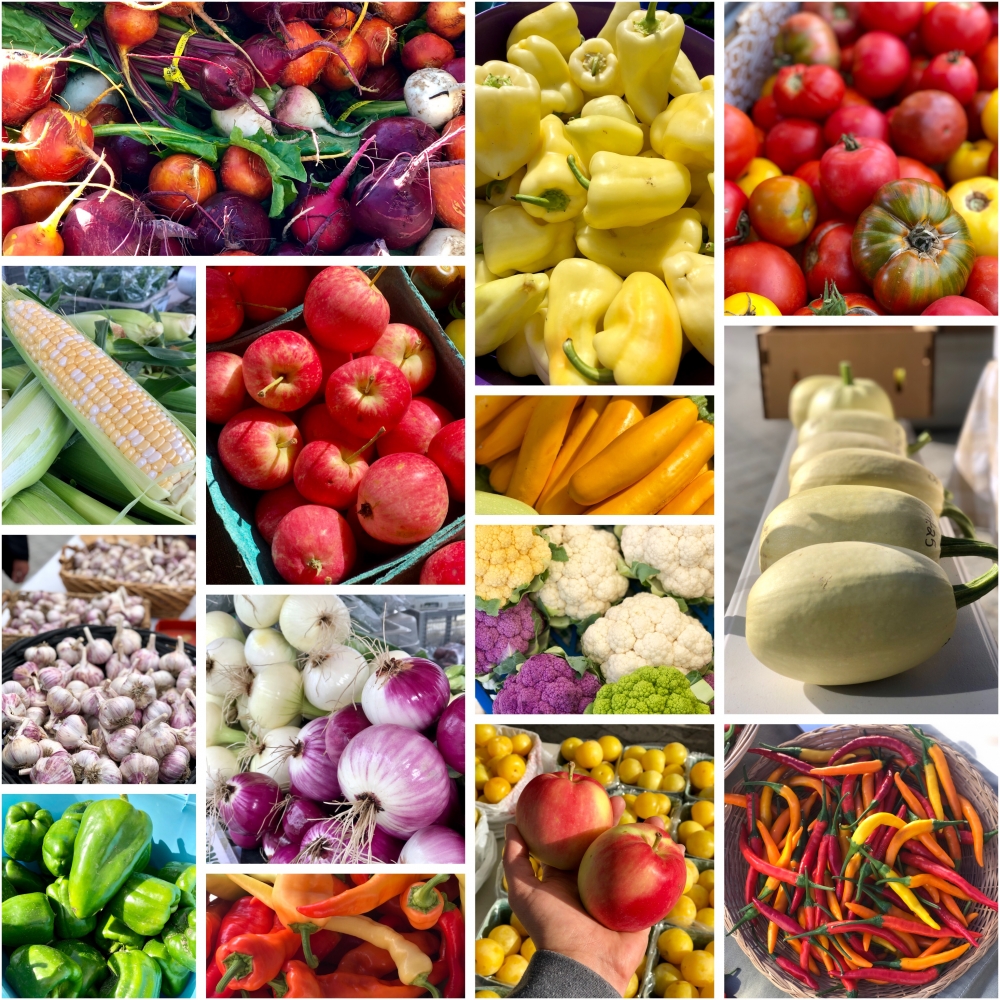 This week you can find us on Wednesday, September 18 and Saturday, September 21 from 9 am to 1 pm. Farmers' markets take place on City Square Plaza until October 12, at which point we move to our indoor location at Core Ritchie Neighbourhood Centre.
Click the dates below to visit our Market Calendar and see a Market Map complete list of scheduled vendors (updated the evening before market):
Wednesday, September 18 (9am-1pm)
Saturday September 21 (9am-1pm)
What's In Season RIGHT Now (And Where Can I Find It)?
There is so much local bounty to be had at the market right now. If you can grow it in Saskatchewan, it's likely you'll find mountains of it in our farmers' booths!
Corn - sweet and juicy corn abounds. There is nothing quite like fresh, locally-grown cob of corn. Get it while it lasts (or buy extra to preserve for a winter treat)!
Squash - so many varieties to be found at this time of year! From summer squash like zucchini to hardy winter squash like pumpkins you'll find them all at the market right now!
Tomatoes - we're in the midst of a tomato abundance! Paste 'em, sauce 'em slice 'em, can 'em!
Bartlett Pears and Prune Plums - more sweet offerings from Kim's Fresh Fruit!
Customer Reward (Sep 18) – Market Money
Are you a frequent Farmers' market-goer? Have you run out of cash before you got all your market goodies? Never fear - we can hook you up with market money!
Sold in strips of $20, RFM Market Money works like cash at ALL RFM events, with EVERY RFM vendor. It doesn't expire, and it gives you access to every wonderful product that the Regina Farmers' Market has to offer.
You can pick up Market Money at any RFM event. Just pop by the RFM Info Booth on Wednesday or Saturday from 9am to 1pm, where we'll accept your Debit tap (up to $100), credit card, or cash payment.
More good news - if you have 20 Flok punches, you can redeem them for $5 in market money! Get yourself a little mid-week treat at the market!
Our Executive Director Extrordinare: Nikko Snyder!
Have you met Nikko?
The Regina Farmers' Market is extremely fortunate to have a talented and passionate person heading up our team. Our Executive Director, Nikko Snyder, joined the RFM staff team in 2014 and has been steering the ship ever since. From board meetings to bylaws to blogging to budgeting, Nikko makes sure that all the i's are dotted and the t's are crossed.

Nikko is a local food champion, an advocate of sustainable food systems, and farmers' market super-fan. We're truly grateful for all that she does to make the RFM world-class. Thank you, Nikko, for all that you do--including braving the rainiest of days!
Customer Reward (Sep 21) – Maxine's Hand-knitting
With the fall weather upon us, the changing leaves and crisp mornings have us thinking of cozy blankets, warm drinks, and sweater weather. If you find yourself in need of a cozy sweater, look no further than
Maxine's Hand Knitting
.
Maxine Boyle of Maxine's Hand Knitting has been bringing her hand-knitted garments to the RFM since 2017. She has sweaters for adults and children alike but specializes in Cowichan sweaters. 'Cowichan' refers to a form of knitting characteristic of the Cowichan people of southeastern Vancouver Island, and is known for its distinctive pattern and heavy knit. It is a sweater that will keep you warm on the chilliest of fall mornings!
Snag a sweater from Maxine at your next market! AND,
if you have 20 Flok punches, redeem them for $5 off children's sweaters
- your little one will be the coziest cool kid on the playground!
---