FIRST Outdoor Farmers' Market
May 4, 2019
---
---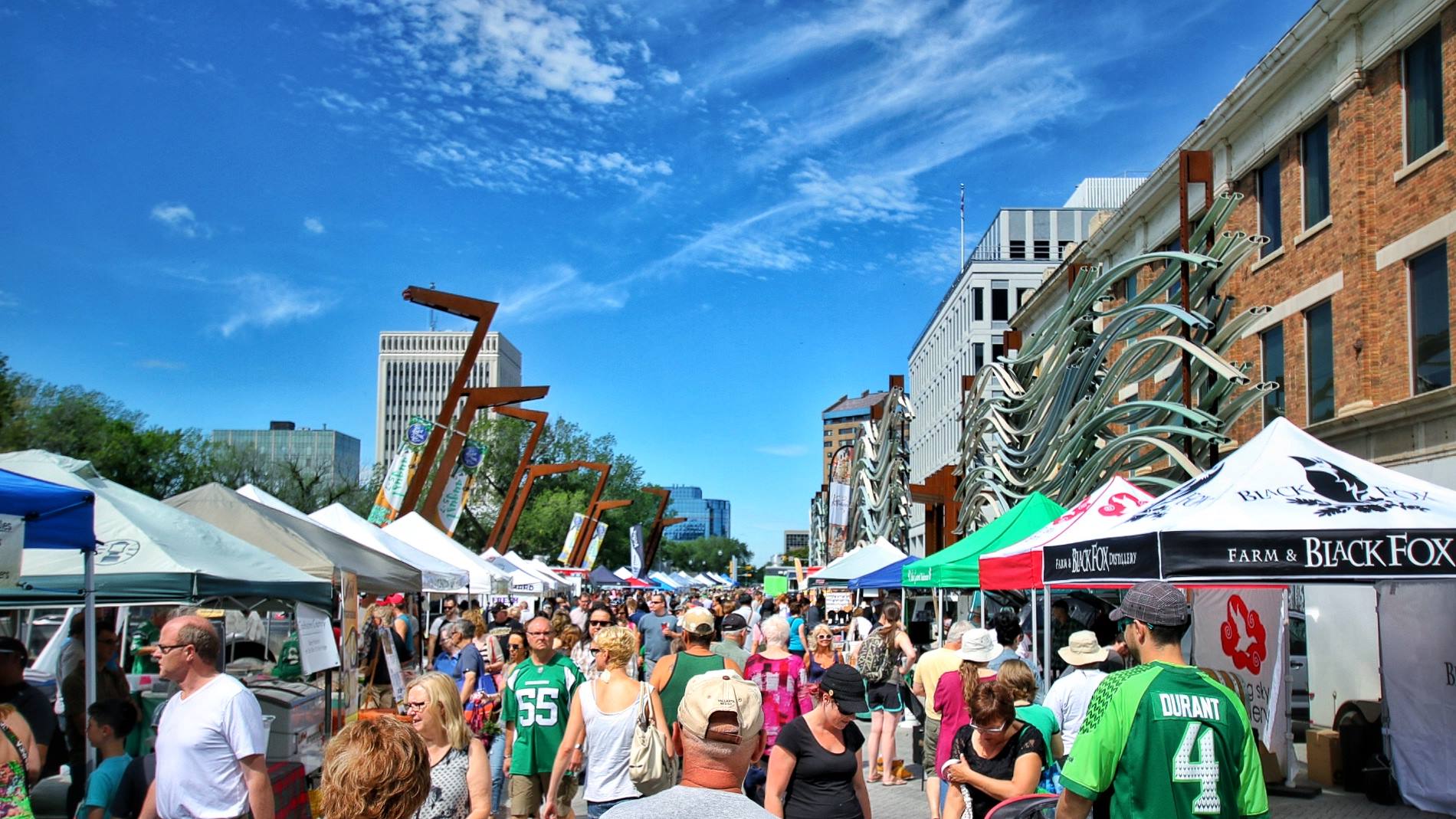 It. Is. Finally. Happening! The Regina Farmers' Market is moving to our outdoor venue on City Square Plaza this Saturday May 4.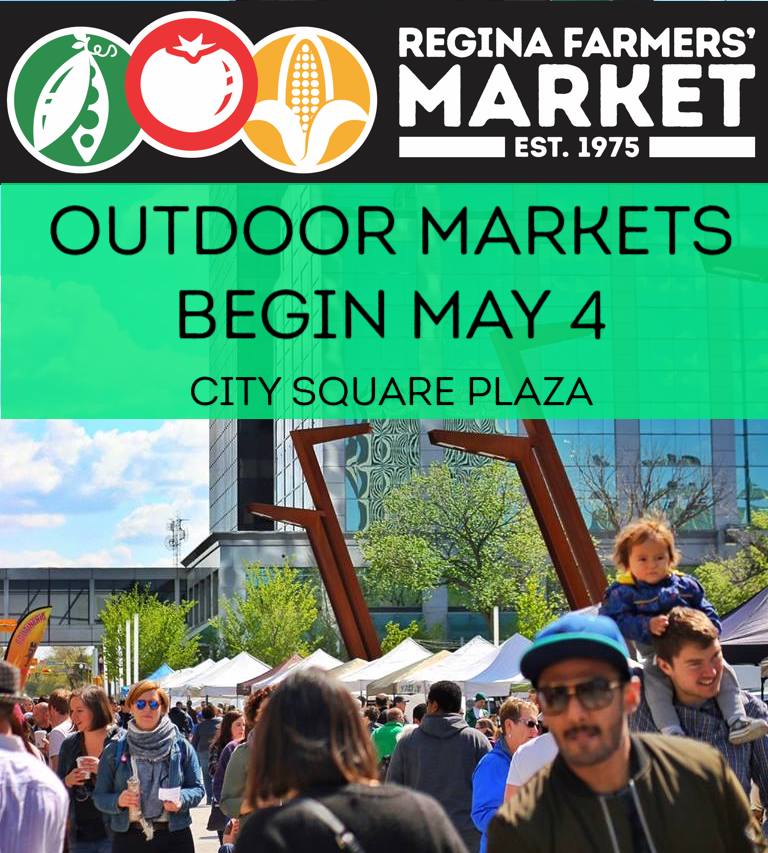 RFM vendors will be hitting the Plaza EVERY Saturday and Wednesday, from 9am to 1pm, all summer long… right up until Thanksgiving. (After that we'll move back indoors to our cozy home at the Core Ritchie Neighbourhood Centre, where we'll bring you Saturday markets right up until Christmas!)
Not only that, but this year we are expanding the RFM's Thursday evening Market Under the Stars series. Market Under the Stars will take place EVERY Thursday in July and August, from 4 to 8 pm. That's right, this year there will be 9(!!) Markets Under the Stars.
Join us this Saturday from 9 am to 1 pm and celebrate our first outdoor market with us! You'll find over 50 of Saskatchewan's finest producers on City Square Plaza.
(Scroll down for a complete list of May 4 vendors)
What's in season right now (and where can I find it)?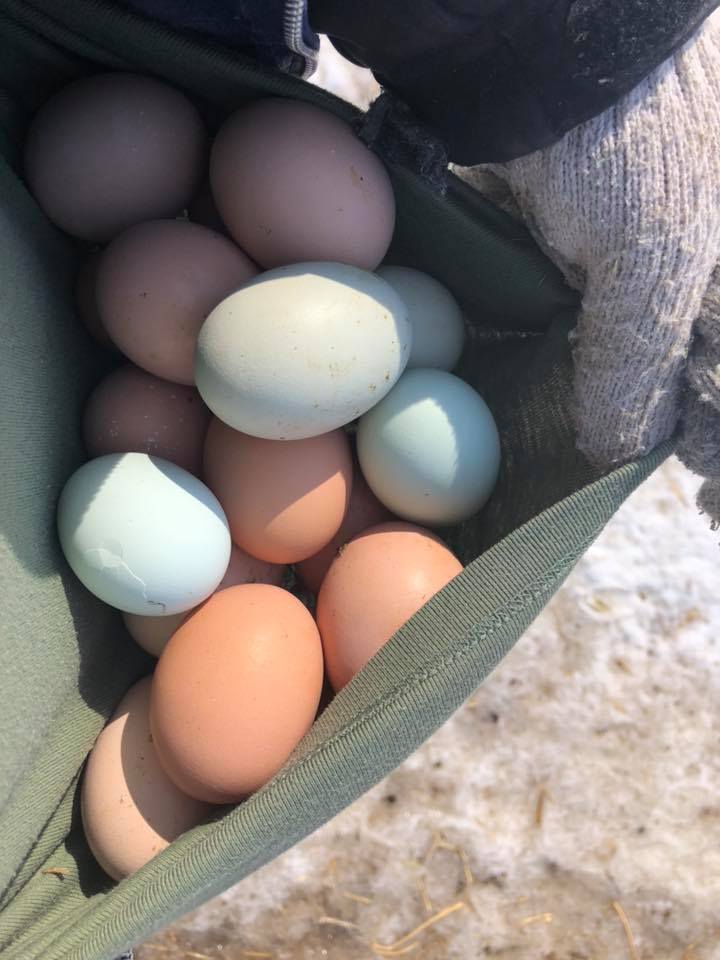 It's still early in Saskatchewan's growing season, and over the next few months the farmers' market will be flooded with more and more fresh, locally-grown produce. Here are the seasonal products you can expect at our first outdoor market:
• Eggs: The laying flocks of the RFM are loving the increasing daylight hours, which help them lay more eggs! The early bird catches the eggs, so make sure to come early to find eggs at Millers By-Gone Farm (pictured here, Saturdays only), JE Ranch (Saturdays and Wednesdays), and The Scandinavian Sweethearts (Saturdays only).
• Perennials: Looking to fill out your garden this summer? Check out S & S Vegetables and Flowers for a wide assortment of perennial plants.
• Cucumbers, lettuce, and basil: Wha??? Not in Saskatchewan in May, you say? Fortunately for local food lovers in Regina, we have Floating Gardens, a year-round hydroponic greenhouse in Osler SK. The folks at Floating Gardens have been supplying us with fresh green things at indoor markets since January, but their season is still just ramping up! And you'll find them at the market every Saturday and Wednesday!
Who & what will I see May 4?
There are a LOT of vendors making their first appearance of the year this weekend, and a couple that will be making their first appearance EVER! (attendance is subject to change)
First market of 2019
29 Eleven (pictured here) - 🌟NEW VENDOR ALERT🌟 Handmade cement planters

Birds and Bees - Bird and bee houses

Bon Burger - Food truck specializing in burgers, fries, poutine, hot dogs/smokies, taco in a bag

District Brewing - BEER!

D'licious Treats (pictured here) - fresh sinful baking, including her new line of donuts!

Last Mountain Distillery - Spirits and liqueurs

Mr. Spudd's Poutinerie - Food truck specializing in Poutines, Hamburgers, hotdogs, chicken fingers, fish and chips, cold drinks

Nacho Fiesta - Food truck specializing in nachos

Original Family Farm (pictured here) - chicken and bison products!

S & S Vegetables and Flowers - potted plants and perrenials

Sweet Tree - Preserves and confections (specializing in honey-based and low sugar products)

Tru North Concessions -🌟NEW VENDOR ALERT🌟Hot dogs for everyone!
Community Groups
We are pleased to welcome non-profits and community groups to the Regina Farmers' Market! This Saturday be sure to visit:
Special Programming
Visit the Plaza Stage for performances by the Mosaic Multicultural Dancers. These cultural performances will help get you in the mood to celebrate our multicultural city as we gear up for Mosaic – A Festival of Cultures (May 30-June 1).
The Mosaic Multicultural Dancers will perform on the Plaza Stage on May 4, 11, 25 (9 am-1 pm)
Producer Profile: Klassic Kulfi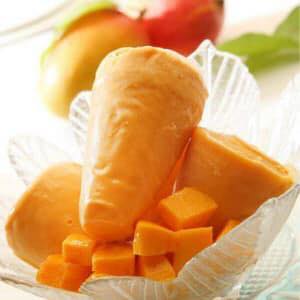 Klassic Kulfi is a new vendor bringing some international flair to the RFM. Run by Attia and her husband Muhammad, and using a recipe passed down to Attia from mum Samina, Klassic is bringing a sweet Pakistani treat to Saskatchewan. Kulfi is a traditional Pakistani ice cream, similar to Western ice cream in taste and appearance but with a denser and creamier texture. Klassic's Kulfi is hand-made and hand-mixed with natural products and no preservatives or chemicals. They also source fresh ingredients for their five flavours, which include pistachio and coconut.
A must-try for the foodie and non-foodie alike, Klassic Kulfi has been a hit with market customers and a sweet addition to the RFM vendor family. With outdoor markets starting and summer on the way, we forsee some tasty times ahead for Klassic Kulfi.
PRO TIP: kulfi takes longer to melt, so it will last during those hot July and August markets!
(Credit: Kerri Doidge)
This week's Vendor Pick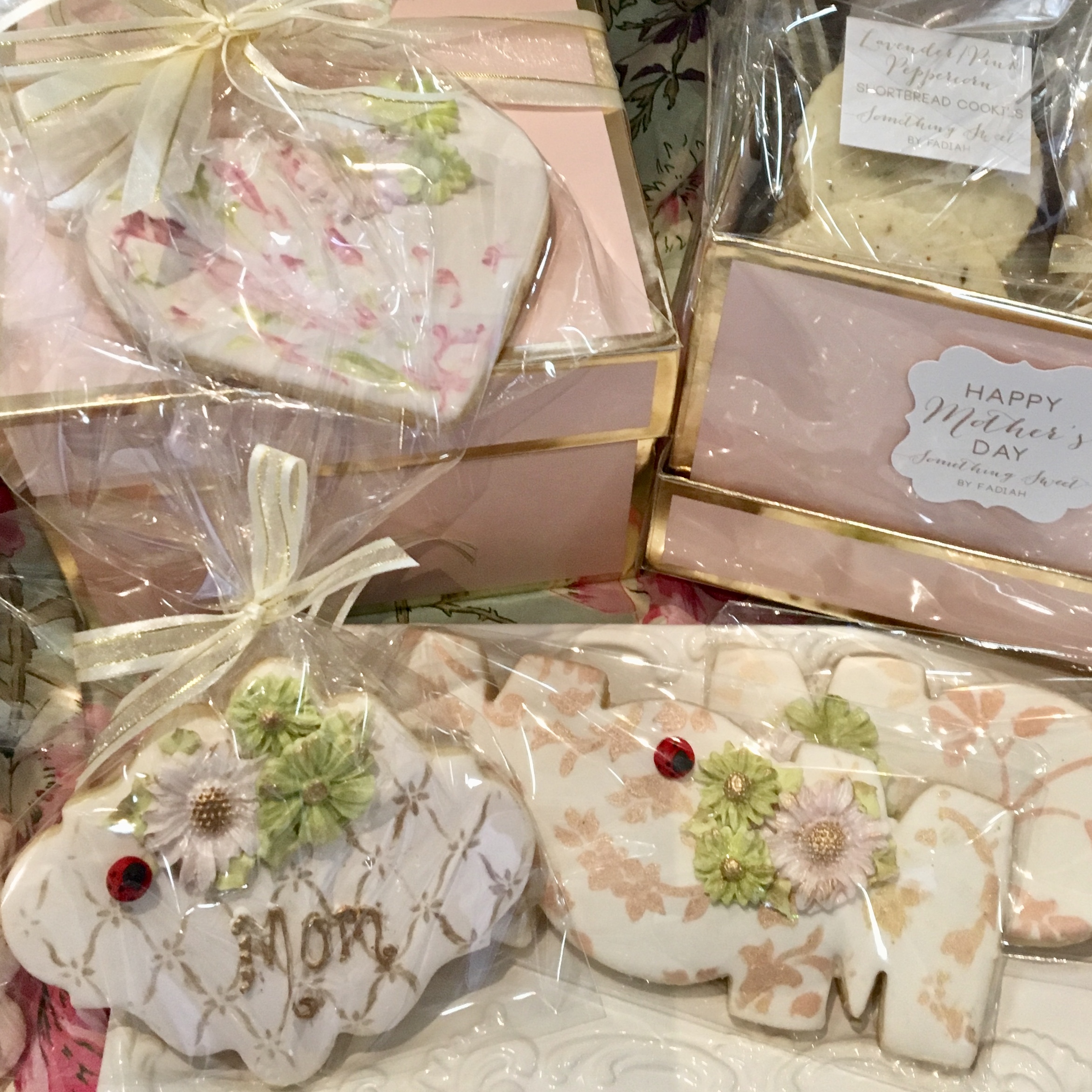 Ever wonder what RFM vendors shop for? Find out what those in the know never miss at the farmers' market! This week:
When asked about her favourite RFM vendor, Jamie of Amber-Rayne Bracelets and Designs did not hesitate: "Fadiah [Something Sweet by Fadiah] 100%!" she shared. "Her cakes are my go to for all family events and her treats have never disappointed. Whether it's a breakfast cookie, meringue, or a yummy cookie, it's where I spend the majority of my money."
You can find Something Sweet by Fadiah throughout May, on May 4, 11, 18, 22, and 29. And don't forget you can pre-order cakes and other treats for special occasions! For example, Fadiah will be taking Mother's Day cake orders this Saturday for pick up on May 11.
What can you expect for the rest of May?
Here's what's coming up at the Regina Farmers' Market this month:
• Farmers' markets take place EVERY Saturday and Wednesday from 9 am to 1 pm on City Square Plaza

• Don't miss our Mother's Day market on Saturday May 11! We'll have everything you need to make it a fabulous weekend for mom!

• The Mosaic Multicultural Dancerswill perform on the Plaza Stage on May 11 and 25, bringing festive multicultural performances to help us gear up for Mosaic!

• Join us at market on May 18 and stay to take in the Highland Gathering & Celtic Festival in Victoria Park!
Market Map And Vendors Attending
Find out where your favourite vendors are located by referring to the map below (click image for PDF version). See the full list of participating vendors below the map; click on the vendor name to see their Vendor Page.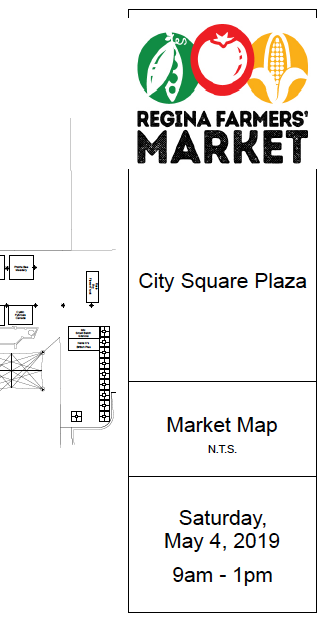 Vendors Attending
(subject to change)
---