Holiday Farmers' Market
Dec 15, 2018
---
---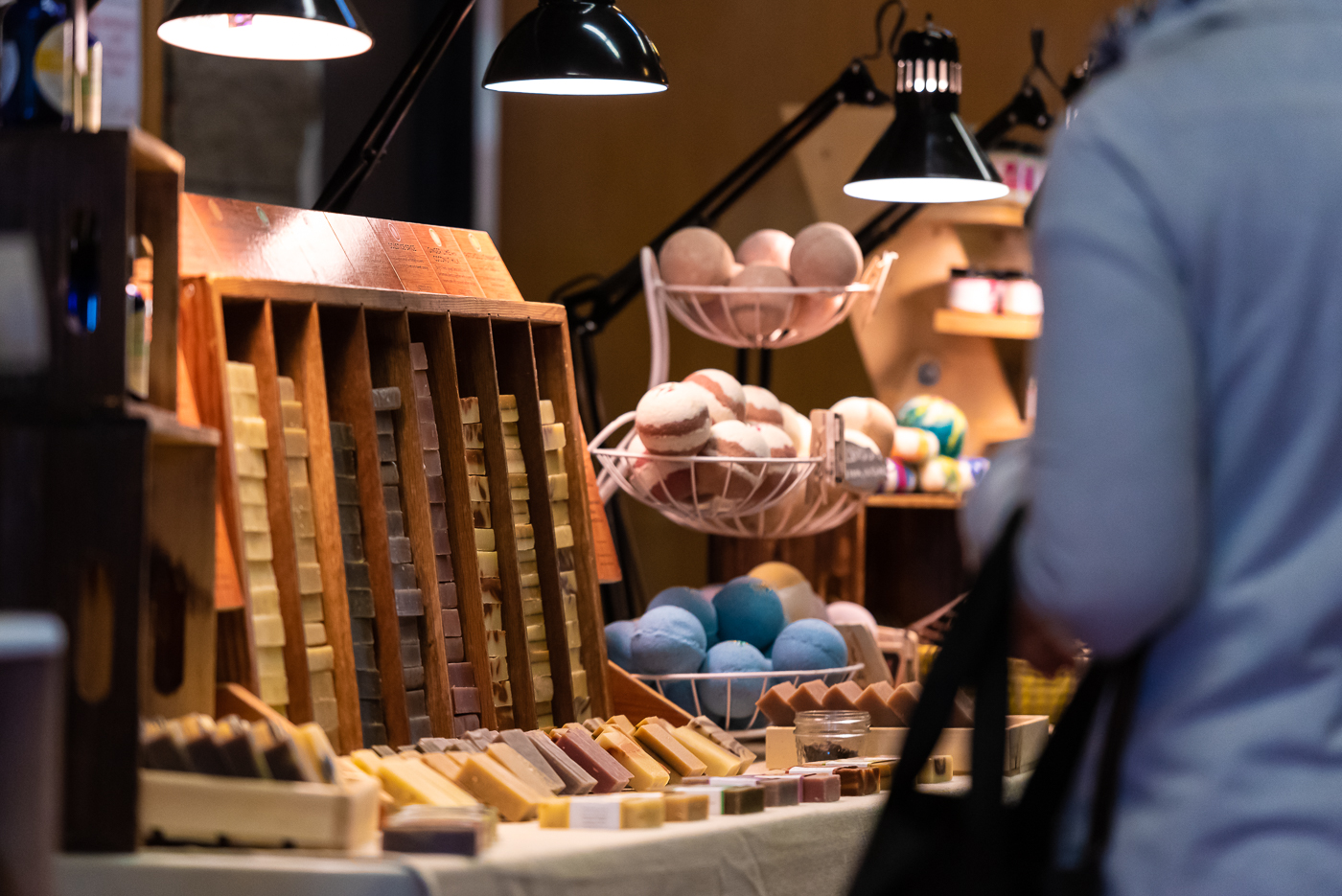 Only TWO MORE farmers' market left before Christmas!
Tomorrow (December 15) marks the second last farmers' market of 2018. Join us from 9 am to 1 pm at the Core Ritchie Neighbourhood Centre for shopping, brunch, and children's activities. We are a great, family-friendly destination to bring visiting family and friends around the holidays!
Holiday Night Markets: CHECK!
On behalf of the RFM staff (pictured here with our buddy the Grinch) and all our vendors, thank you to everyone who joined us at our final Holiday Night Market last night! It was an amazing night full of music, good food and drink, and festive merriment!
Everything you need for your holiday table!
There is nothing better than adding locally-grown, farm fresh food to your holiday table. We still have everything you need to prepare your holiday feasts:
Fresh veggies from Floating Gardens, Frontier Gardens, and Stellar Gourmet Mushrooms

Locally-raised meat, including pasture-raised chicken (some as big as a small turkey!) from Peregrine Farm, wild boar from Golden Prairie Wild Boar, beef from Hi Low Angus, lamb from Millers' By-Gone Farm, and beef and goat from JE Ranch

Preserves galore: pickles, jams, spreads, sauces, and more from Millers By-Gone Farm, Rocky Acres Orchards (pictured here), Sweet Tree Preserves, and The Scandinavian Sweethearts, Cheang's Sinofood, and Baechu Kimchi. Rocky Acres (pictured here) is also offering tomorrow's Flok reward: a FREE jar of pickles or jam (value $6)!

Baking, baking, and more baking! Check out Chubby Chick Bakery and Yorkton Bakers (both at their last markets of 2018!), Mila's, Lorraine's Kitchen, Something Sweet by Fadiah, and D'licious Treats!

Something nice to drink from Black Fox Farm & Distillery, Last Mountain Distillery, Over the Hill Orchards, District Brewing Co., and Prairie Bee Meadery (don't forget to ask for a sample in our licensed area!)

More staples, from 33 1/3 Coffee Roasters, Angela's Own, Mother Hubbard's Cupboard, and Pure T Organics, and Zee Bee Honey!
Perfect gifts for everyone on your gift list:
Visit the RFM's exceptional group of artisans, who have crafted countless unique gift options including:
Knitted, sewn, and printed treasures from Dressed by Les, Maxine's Hand Knitting, Miller's By-Gone Farm, Ponderosa Alpaca, and Sadza Art & Craft

Handcrafted Jewelry from Amber-Rayne, Loretta's Distinctive Jewellery, and Metal Majesty (pictured here)

Original artwork from Amarah Elizabeth and BarnCat Designs

Handmade soap from Miller's By-Gone Farm and Sacred Earth Soaps (pictured at top)

And the perfect gift for hard-to-shop for friends: RFM Market Money, which can be used like cash at any RFM event at any RFM vendor!
That's right: we're going YEAR ROUND!
You may have heard the rumours, and they're ALL true! For the first time in our 44-year long history, the Regina Farmers' Market Co-operative will be launching year-round markets in 2019.
Our 2019 season begins on Saturday, January 12, 2019, with indoor markets running EVERY Saturday until the end of April, at which point we'll move to our outdoor home on City Square Plaza!
This is a huge milestone for the RFM, and we hope you will come along for the ride! Holding Winter markets in January and February is something we're extremely excited about, but also something that can only succeed with the support of customers like you. Stay tuned for many more details, and in the meantime mark your calendars!
Market Map And Vendors Attending
Find out where your favourite vendors are located by referring to the map below (click image for PDF version). See the full list of participating vendors below the map; click on the vendor name to see their Vendor Page.
Vendors Attending
(subject to change)
---