Last Farmers' Market of 2018!
Dec 22, 2018
---
---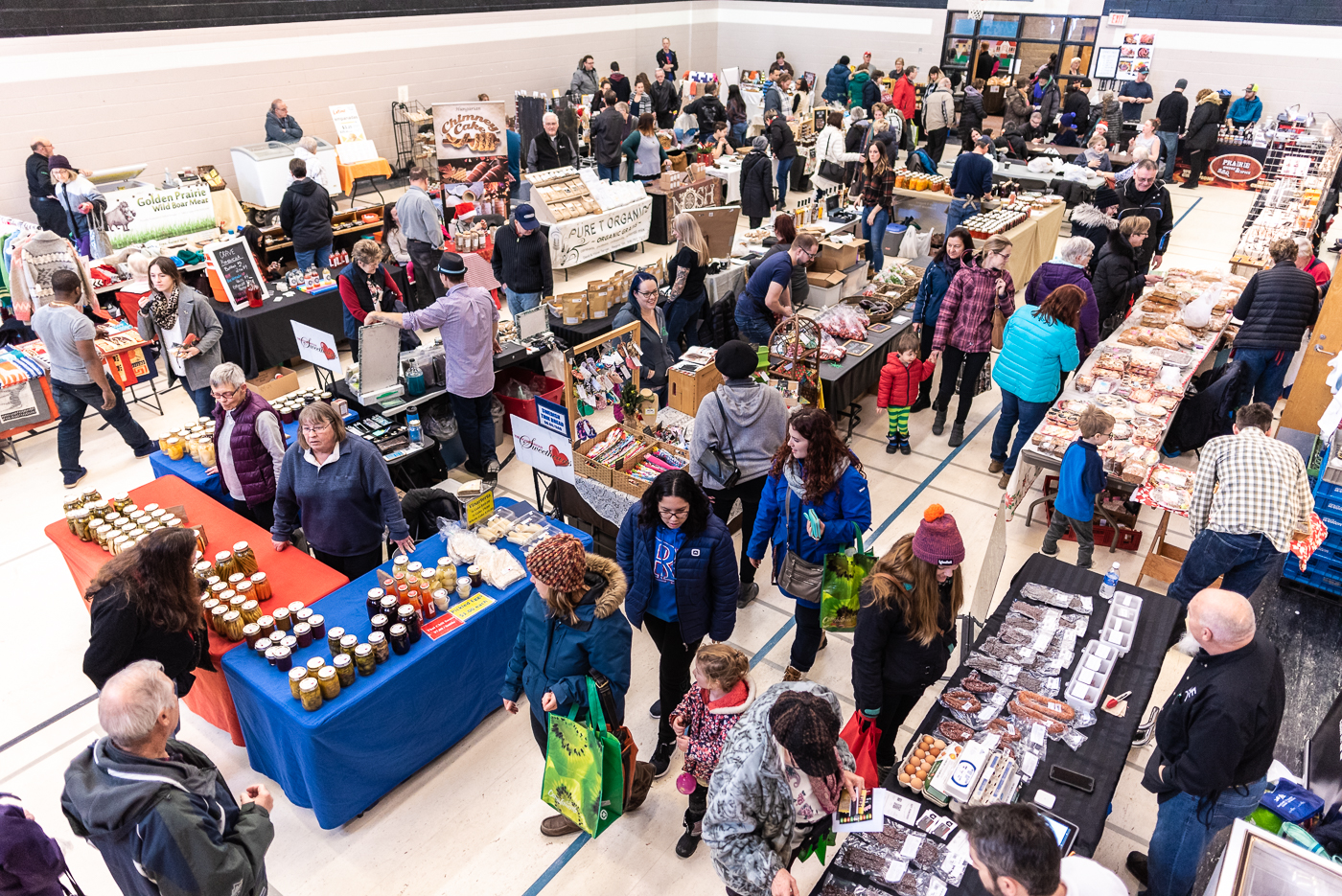 This is it: the last farmers' market of 2018!
Bring along the whole family - including out-of-town holiday guests - to our final market before the holidays, and stock up on everything thing you need to get through the holidays and into 2019:
Veggies!
Visit Frontier Gardens (at the north end of the Concourse) to stock up on your veggies for your root cellar. We likely won't see Lloyd and Marcy again until next Fall, so be sure to stop by to wish them a restful winter season!

Do not despair! We will have fresh SK-grown veggies in the New Year at our BRAND NEW year-round Winter Markets (starting Jan 12, 2019). We'll miss Floating Gardens tomorrow, but look for them at EVERY Winter market.
Meat!
We've got many options for your holiday feasts, including locally-raised beef (JE Ranch and Hi Low Angus), chicken (including some as big as a small turkey from Peregrine Farm!), wild boar (Golden Prairie Wild Boar), lamb (Miller's By-Gone Farm), and goat (JE Ranch).

And fear not: we'll be welcoming back Golden Prairie Wild Boar, JE Ranch, Peregrine Farm, and Miller's By-Gone Farm for Winter Markets in January 2019!
Baking
From sweet to savoury, there's something suited to all tastes. Find Chimney Cake (tranditional Hungarian Kurtos Kalacs), D'licious Treats (baking, fudge, confections), Mila's (traditional baking), Sweet Kingdom (specializing in Israeli, Argentinian, and Ukrainian baking), and The Cookie Lady (pies, cookies, etc.).
Preserves
Traditional SK pickles, jams, chutneys from Miller's By-Gone Farm, Rocky Acres Orchard, Sweet Tree, and The Scandinavian Sweethearts... as well as traditions from elsewhere in the world, such as kimchi from Baechu Kimchi or a variety of Asian sauces, dressings and marinades from Cheang's Sinofood.
Booze
Find local spirits and liqueurs (Black Fox Farm & Distillery and Last Mountain Distillery), wines and meads (Over the Hill Orchards and Prairie Bee Meadery)... and be sure to ask for a sample in our licensed area!
Eggs, Honey, and other staples!
Stock up on eggs for holiday brunches from JE Ranch, lentils and flour from Pure T Organics, coffee beans from 33 1/3 Coffee Roasters and honey from Zee Bee Honey. Also spices from Clark's Spices and Prairie Smoke & Spice.

And keep in mind: we'll have eggs on hands in January from JE Ranch, as well as honey from Peregrine Farm!
Last minute gift shopping?
No problem! We have many wonderful artisans joining us tomorrow, all ready to hook you up with that perfect accessory, body product, piece of jewelry, or one of a kind sweater.

And for the truly hard to shop for? Market Money works like cash at any RFM vendor at any RFM event, and makes an awesome stocking stuffer or teacher's gift!
But seriously, relax a little!
Most of us are busier than we'd like to be this time of year, but the holidays should also be a time to relax and enjoy the company of friends and loved ones. Bringing family and friends to the farmers' market is a wonderful way to share one of the most special things about Regina, and there is plenty to do besides shop:
Sit down and enjoy brunch form Larry's Bread Machine and coffee from 33 1/3 Coffee Roaster.

Have a mini massage from Universal Energy Healing

Make a Santa Beard mask (pictured here) (in the Kids' Club room) or a Birdseed Feeder Ornaments (in the Regina Public Library)

Bring your skates and go for a spin at the Core Ritchie's outdoor rink!
Market Map And Vendors Attending
Find out where your favourite vendors are located by referring to the map below (click image for PDF version). See the full list of participating vendors below the map; click on the vendor name to see their Vendor Page.
Vendors Attending
(subject to change)
---